Bailey Reid pic by Stephanie Lynn
Welcome to part three, the final part, of our preseason statistical prediction series. The past two days we've looked at hitters and starting pitchers. Today is all about those guys in the bullpen
One thing to keep in mind is that we are probably not going to pick Ben Leeper for any category because he's probably going to be in Chicago fairly quickly. We also see Ethan Roberts getting a midseason call up and Cayne Ueckert could be there, too. As a result, the players we are going to pick are guys that are going to be playing in Myrtle Beach, South Bend, and Tennessee all season. If a reliever is good at Iowa, they are not sticking around Des Moines; they'll be on the first flight to Chicago.
Let's get going!
Strikeouts
The 2021 leader in this category was Bailey Reid with his 75 strikeouts in 50.1 innings between Myrtle Beach and South Bend.
Jimmy Nelligan – Someone like a Locke St. John could take this category because he'll eat a lot of innings in relief in Iowa, but I'm going to pick a younger arm with Riley Martin. He was a multi-inning reliever for Myrtle Beach after being drafted in 2021, and I think that is his role with rotations throughout the system being bloated with talent. Martin already generates a lot of swings and misses, and if he gets 60+ innings he takes the title.
Greg Zumach – I have to go with Bailey Reid as the repeat winner in 2022. Reid comes armed with four pitches – fastball, cutter, curveball, and slider – and he entered this spring with the goal of increasing velocity and gaining comfort with his curveball. Reid doesn't need to make many improvements, but even small changes there could lead to a huge season. I'll say he finishes with 88 Ks.
Greg Huss – This is one of the easiest predictions for me among the three roundtables we've written here. Bailey Reid will repeat as the system leader in reliever punchouts.
Todd Johnson – This is a tricky category as some Cub relievers are two-inning guys and others throw just one. As a result, let's roll with Frankie Scalzo this year. I'd love to say Zac Leigh, but he might starting the year rehabbing in Arizona as he got a late start this spring. Let's go with 80 Ks for Frankie!
Saves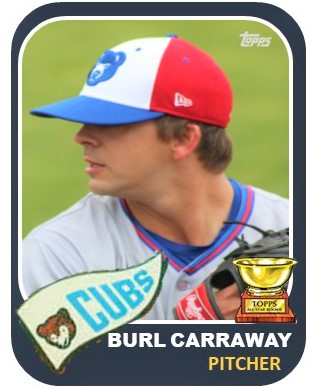 It is less common to see a prospect rack up a ton of saves in the minors as coaching staffs are more adept at utilizing pitchers in different roles and situations. Bailey Reid and Cayne Ueckert led the system in this category last year with eight saves apiece.
Greg Zumach – Burl Carraway takes a closer spot and runs with it. Teams still mix and match, but Carraway finishes with 17 saves.
Greg Huss – I think we are going to see a major bounce-back season from Burl Carraway this year. Improved control will force managers to use him in the ninth inning more often. He might crack the ten saves threshold.
Todd Johnson – Frankie Scalzo will also be the man for this category as he will be the clear cut closer to start the year in Myrtle Beach. 15 for the year sounds good to me!
Jimmy Nelligan – It's a bit of a hipster pick, but I think Eduardniel Nunez will lead the system in saves in 2022. He racked up 5 saves late in the season in August and September for South Bend, and I believe Nunez is poised for a breakout 2022 campaign. The only problem he could run into is the relief depth in Tennessee, but if he can tighten up his command his stuff is back end of the bullpen good.
Lowest ERA
Ben Leeper took the system by storm in 2021 with a 1.29 ERA, tops in the organization.
Todd Johnson – For this category, I am shifting gears to Jeremiah Estrada as he is just plain nasty. He should get in a groove this year and see an ERA around 1.50. It could be a little higher or a little lower.
Jimmy Nelligan – Give me Scott Kobos. He might have to pitch quite a bit for Tennessee in 2022, and he's already shown he can get outs in AA.
Greg Zumach – I'll throw out that I could see Cayne Ueckert getting a lot of ride out of the pen. His stuff is legit and I see him leading all Cubs minor league relievers in ERA with a 1.88 ERA.
Greg Huss – Brandon Hughes is my guy. I think he spends the season split between Tennessee and Iowa. He's somehow still underrated and will pitch to an ERA around 2.00 this year.
Lowest Batting Average Against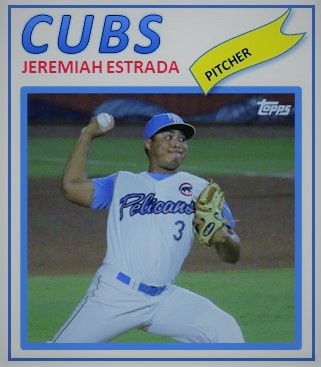 Relievers tend to put up just silly numbers in this category, and Ben Leeper was the silliest of them all in 2021, holding opposing hitters to a .124 batting average.
Greg Huss – Need I remind you that you can't get a hit off of Burl Carraway. You strike out or you walk. He will likely mimic his .142 average against from last year.
Todd Johnson – Estrada might take the cake here as well. He just dominated last year and I expect him to have a sub .150 batting average against.
Jimmy Nelligan – Burl Carraway. You aren't going to barrel him up His kryptonite has been command, and I don't think hitters are going to fare much better against him than they did last year.
Greg Zumach – Ben Leeper certainly has the chops to repeat, but I think he spends most of 2022 in the Windy City. When I watch Burl Carraway, I see a guy with some of the most elite stuff in the entire system. I think Carraway goes a long way towards establishing a high leverage role in 2023. Carraway finishes the year with a .164 BAA.
Strikeouts per 9 Innings
Jeremiah Estrada posted a system-best 14.87 K/9 in his 23 Low-A innings last year.
Greg Huss – Danis Correa finished second in the system last year with 14.59 K/9 and might have been selected in the Rule Five Draft this offseason if MLB owners wouldn't have canned it. Still in the system, he will put up gaudy whiff numbers yet again.
Todd Johnson – Once he is healthy, Zac Leigh should dominate this category with his upper 90s heat and nasty breaker. Let's roll with 15.5 per 9.
Jimmy Nelligan – Burl Carraway might average a walk or two an inning, but he's going to punch out a lot of dudes.
Greg Zumach – This isn't a volume stat, it's a stat that's all about impact. I think Burl Carraway fits that one to a tee. His stuff is wicked, albeit hard to control. The control doesn't matter as heavily here. I think he leads the Cubs in K/9 with 13.4 K/9 (78 Ks in 52 1/3 innings)