2023
PITCHERS: Jostin Florentino, Miguel Cruz, Emmanoel Madeira, Santiago Payares, Eduardo Castillo, Juan Archbold
CATCHERS: Daniel Campos
INFIELDERS: Derniche Valdez, Angel Cepeda, Ludwig Espinoza, Brailin Pascual, Omar Ferrera, Grenyerbert Velasquez, Albert Gonzalez
---
2022
PITCHERS: Freilyn Silverio
CATCHERS: Adan Sanchez, Carlos Altuve, Yidel Diaz
INFIELDERS: Alexis Hernandez, Jefferson Rojas, Moises Febrillet, Sandy Sanchez, Darlin De Leon
OUTFIELDERS: Josefrailin Alcantara, Josias Ramirez, Albertina Belliard,
---
2021
PITCHERS: Gabriel Agrazal, Ronny Corniell, Kenneddy Delgado, Carlos Garcia, Zhiorman Imbriano, Scarlyn Lebron, Adrian Martinez, David Olivo, Starlyn Pichardo, Welington Quintero, Luis Albert Reyes, Luis Rafael Reyes, Cristian Rojas, Tomy Sanchez, Joel Sierra, Runelvis Toribio, Alfredo Zarraga, Jensi Ramirez, Eligio Paredes, Yafrerlyn Vasquez, Kevin Valdez
CATCHERS: Moises Ballesteros, Fredy Montenegro, Carlos Ramos 
INFIELDERS:Cristian Hernandez, Geuri Lubo, Pedro Ramirez
OUTFIELDERS:  Wilmer Bolivar, Raino Coran, Daniel Ferreira, Raul Guzman, Oferman Hernandez
---
2019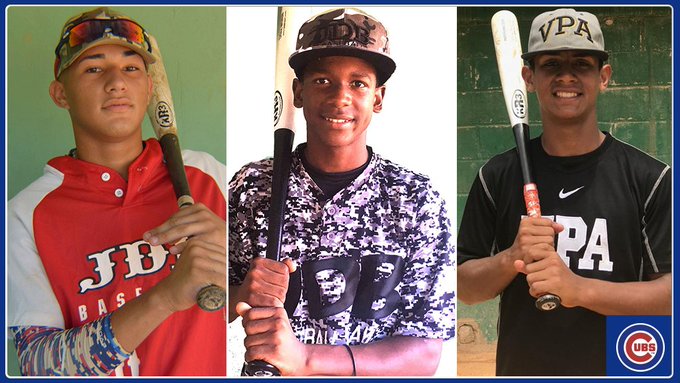 PITCHERS: Jose Acila, Rony Baez, Gregoris Carrasquel, Yohan Crispin,Joandy Duran, Waimer Fabian, Leury Gomez, Angel Hernandez, Jose Miguel Lopez, Anthony Martinez, Anthony Mendez, Edgar Mercedes, Gleiber Morales, Kenyi Perez, Dawel Rodriguez, Robinson Rodriguez, Oliver Roque, Jose Romero, Albaro Santana, Marino Santy
CATCHERS: Brayan Altuve. Dilan Granadillo, Jose Herrera, Ronnier Quintero, Wally Soto 
INFIELDERS: Andrws Cruz, Leonel Espinoza, Kevin Made, Luis Maza, Liomny Vasquez 
OUTFIELDERS: Gabriel Disla, Frank Hernandez, Anderson Suriel, Jerry Torres
---
2018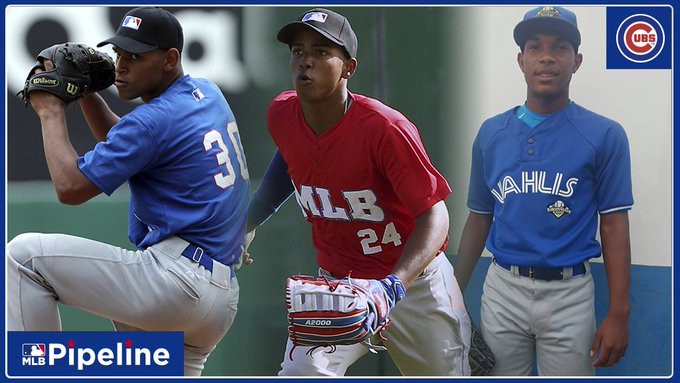 PITCHERS: Kelvin Abreu, Jonathan Alvarez, Jorge Arellano, Emir Blanco, Yovanny Cabrera, Enmanuel de la Cruz, Anderson Feliz, Wilfri Figuereo, Richard Gallardo, Ricardo Green, Darling Grullon, Manuel Heredia, Gabriel Jaramillo, Joel Jimenez, Joel Machado, Gregori Montano, Yander Montero, Marco Prieto, Samuel Rodriguez, Wilkin Ruiz, Andricson Salvador, Luis Valenzuela 
CATCHERS: Edgar Gamargo 
INFIELDERS: Edwin Castillo, Rafael Morel, Joanfran Rojas, Lizardo Rui, Ronny Simon, Esmarly Tatis 
OUTFIELDERS: Ezequiel Alvarez, Luis Berelleza, Samuel Duarte, Elias Fabian, Orlando Guzman, Jose Lopez, Starlin Mateo, Cristian More, Yohendrick Pinango, Felix Stevens 
---
2017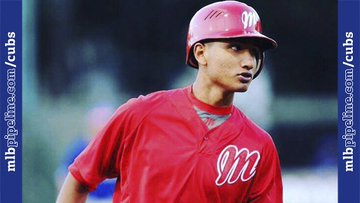 PITCHERS: Willy Cabrera, Alejandro Carrillo, Luis Devers, Moises Diaz, Manuel Espinoza, Kelvin Feliz, Francisco Fermin, Misael Garcia, Jesus Gomez, Andy Hernandez, Johan Lopez, Luis Marte, Raidel Orta, Luis Ramos, Jorge Remon, Luis Rodriguez, Alberto Sojo, Saul Vazquez
CATCHERS: Efren Aular, Pablo Aliendo, Alexander Guerra, Miguel Fabrizio, Brayan Mancilla, Malcom Quintero 
INFIELDERS: Augusto Acevedo, Flemin Bautista, Christhian Espinal, Reivaj Garcia, Nestor Heredia, Widimer Joaquin, Pedro Martinez, Juan Mora, Fabian Pertuz, Luis Verdugo, Orlando Zapata 
OUTFIELDERS: Josue Fernandez, Rafael Herrera, Kelvin Hidalgo, Kevin Miranda, Kevin Moreno, Carlos Morfa, Alexander Ovalles, Brailin Pena, Jonathan Rodriguez, Marco Valenzuela
---
2016
PITCHERS: Manuel Rodriguez, Jonathan Bruzal, Danis Correa, Carlos Paula, Francisco Garcia, Yovanny Cruz, Didier Vargas, Farrold Heredia, Chi-Feng Lee, Benjamin Rodríguez, Mario Meza, Elias Herrera, Kleiber Carreno, Jose Gomez, Denmy Sanchez
INFIELDERS: Josue Huma, Jeinser Brete, Vicente King, Oswaldo Pina
OUTIELDERS: Ricardo Verenzuela, Carlos Pacheco, Albert Hinrio, Carmelo Alfonzo
---
2015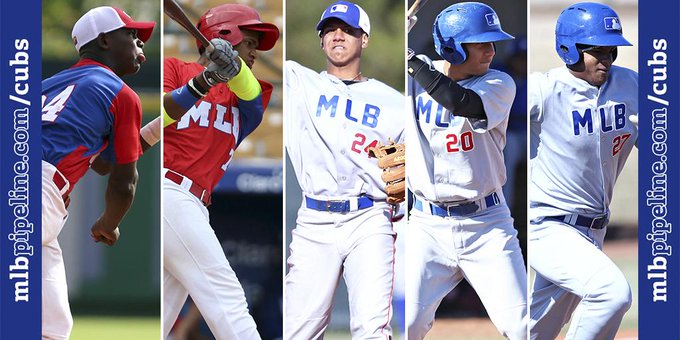 PITCHERS: Jose Albertos, Maikel Aguiar. Javier Assad, Faustino Carrera, Carlos Ocampo, Brailyn Marquez, Hector Matos, Yunior Perez, Jose MacDonna, Edison Novas 
CATCHERS: Miguel Amaya, Henderson Perez, Herson Perez, Kevin Zamudio 
INFIELDERS: Aramis Ademan, Luis Diaz, Christopher Morel, Orian Nunez, Yonathan Perlaza, Isaac Paredes 
OUTFIELDERS: Jose Gutierrez, Kwang-Min Kwon, Fernando Kelli, Eddy Julio Martinez, Ruben Reyes, Abraham Rodriguez, Jonathan Sierra
---
At this point, the full list of players signed gets a little sketchy. Hopefully I will be able to find complete lists in the coming months.
---
2014
PITCHERS: Wander Cabrera, Emilio Ferrebus, Riger Fernandez
INFIELDERS: Yeiler Peguero, Fidel Mejia, Rafael Mejia, Francisco Garay, Rafael Narea, Tony Rijo
OUTIELDERS: Jose Jules, Samir Lara, Yovanny Cuevas
---
2013
PITCHERS: Jen-Ho Tseng, Jefferson Mejia, Erling Moreno
CATCHERS: Johan Matos
INFIELDERS: Gleyber Torres and Wladimir Galindo
OUTIELDERS: Eloy Jimenez
---
2012
PITCHERS: Gerardo Concepcion, Juan Carlos Paniagua, Ramon Valera, Wagner Disla, Oscar de la Cruz, Luis Hernandez, Jose Morel, Adbert Alzolay
INFIELDERS: Frandy De La Rosa, Danny Gutierrez
OUTFIELDERS: Jorge Soler
---
2011
PITCHERS: Frank Del Valle, Christian Pieters, Carlos Martinez, Jose Paulino, Carlos Rodriguez, Pedro Araujo
CATCHERS: Mark Malave, 
INFIELDERS: Luis Enrique Acosta, Ricardo Marcano
OUTIELDERS: Yasiel Balaguert
---
2010
PITCHERS: Daury Torrez, Gilberto Abreu, Alexander Santana, Angel Mejias, Juan Yasser Serran, and Jin-Yeong Kim
CATCHERS: Alberto Mineo, Yaniel Cabeza
INFIELDERS: Antonio Gonzalez, Francisco (Daniel) Sanchez, Jeimer Candelario, Carlos Penalver
OUTIELDERS: Rubi Silva, Jeffrey Baez
---
2009
PITCHERS: Tzu-An Wang, Yao-Lin Wang
INFIELDERS: Pin-Chieh Chen, Willson Contreras
OUTIELDERS: Kyung-Min Na, Dong-Yub Kim
---
2008
PITCHERS: Adam Spencer, Cody Hams, Jae-Hoon Ha,Su-Min Jung
INFIELDERS: Carlos Henry, Joel Altagracia, Hak-Ju Lee
OUTIELDERS: Sean Williams
---
2007
PITCHERS: Dae-Eun Rhee, Hung-Wen Chen, Esmailin Caridad, Yohan Gonzalez, Ryan Searle, and Jose Tineo
INFIELDERS: Junior Lake
2006
RHP Larry Suarez and SS Starlin Castro 
2005
Pitchers Alberto Cabrera and RHP Alex Maestri 
2004
RHP Rafael Dolis and C Welington Castillo 
2001
OF Felix Pie and Pitchers Jae Kuk Ryu and Juan Mateo 
1998
LHP Felix Sanchez
1997
RHP Carlos Zambrano and RHP Juan Cruz
1996
RHP Francis Beltran