Bryce Ball – Picture by Todd Johnson
Over the next two-plus weeks, North Side Bound is going to have quite the preseason extravaganza! We will be rolling out our preseason All-Star teams, we will have affiliate previews starting on April 3, we will have our preseason players of the year predictions, and we begin all this excitement with a three-part look at statistics and who we envision being the statistical leaders for the Cubs system in several hitting and pitching categories.
Today, we decided to look at six hitting statistics and who we thought would lead the entire organization in these categories. We included home runs, runs batted in, batting average, stolen bases, OPS, and wRC+. A key thing to remember is that the players who are going to lead these categories will play all year long in the system. Let's say Brennen Davis goes up to Chicago in June or July, he is probably not going to lead too many statistical categories for the entire year. That sort of shrinks the pool quite a bit and also expands it at the same time. Anyone from PCA to Kevin Alcantara to James Triantos to Chase Strumpf to Nelson Velazquez and more could lead a category. It is anybody's guess!
Let's get going with the hitting stat predictions.
HRs
Nelson Velazquez led the system in home runs (by a prospect) a year ago, swatting 20 tanks between South Bend and Tennessee.
Greg Huss – I'm going to almost immediately rule out guys I think will spend a significant amount of time in Myrtle Beach simply because the ball refuses to fly out of that ballpark. So how about a guy that was hurt by that seaside air a year ago? Jordan Nwogu will surpass Nelly's total from last year and go for 24 bombs.
Todd Johnson – Bryce Ball could hit close to 20-25 this year. He is just a giant mass of pure power waiting to beat the crap out of baseballs. If the Cubs can train his eye to do damage to curveballs, he could hit 30. If that happens, we will all be stoked!
Jimmy Nelligan – Alexander Canario doesn't get cheated when he swings a bat. He really showed off his power soon after being acquired in the Kris Bryant Trade. If he can string together some consistent ABs he could hit 25+ home runs this season.
Greg Zumach – If Brennen Davis and Nelson Velazquez start popping off I doubt either spends the entire year in the minors so I leaned away from them here. I seriously considered Ball and Canario, but I can't shake the fact that I think Owen Caissie just unloads this season. He's a student of the game from a hitting perspective and has mammoth power. Truly, it's reminiscent of Kyle Schwarber when he was mashing in the minors. I'll go with Caissie with a clean 27 home runs.
RBI
Nelson Velazquez took home the RBI crown last year, driving in 73 runs in just 385 at-bats.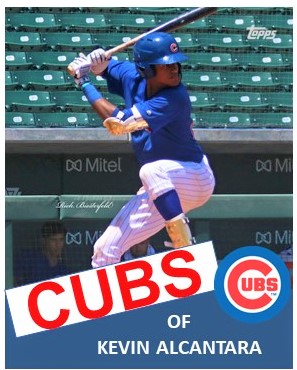 Jimmy Nelligan – Myrtle Beach's lineup 1-9 is going to be stacked, which means they will be scoring a lot of runs, which means a middle of the lineup bat could put up an impressive amount of RBIs this year. Like with a lot of categories, I'm going to pick Kevin Alcantara to lead the system in RBIs. He should be in MB for most of the season batting somewhere between 2-5 in the order. He is will be in the box with runners in scoring position pretty often in 2022. I'll give him 80 RBIs in 2022.
Greg Zumach – That lineup in Myrtle Beach could be insane, but it's a tough adjustment for any young hitter and it's a tough place to hit. Chase Strumpf is primed for a big year and he's set to be hitting alongside a group of solid hitters in the lineup. I'll go with Strumpf with 89 RBIs.
Greg Huss – Well, I've gotta find a middle of the order bat who is going to be playing at an affiliate with dudes at the top of the order that get on base. That feels like Yonathan Perlaza (64 RBI last year) who could find himself slotted into the five-hole of the Tennessee lineup, hitting behind the likes of Bryce Windham, Andy Weber, Chase Strumpf, and Bryce Ball.
Todd Johnson – This has to be someone at Myrtle Beach as that lineup will just be stacked. Kevin Alacantara looks to be a middle of the order bat who sprays the ball well. That could lead to 75-80 RBI this year. Plan B would be Owen Caissie who could hit in front of Alcantara or behind him.
Batting Average
Nelson Maldonado and his next-level hit tool led the system in batting average a year ago, hitting .303 in Tennessee.
Todd Johnson – James Triantos just seems to have this category sewn up. I see him hitting .310-.320 in Myrtle Beach. Coming in second for me is Pete Crow-Armstrong. It is going to be fun possibly seeing them hit first and second in the Pelicans' lineup.
Jimmy Nelligan – Give me Kevin Made as the system leader in batting average. He hit for a high average in Myrtle Beach and already this spring he has shown that he can make strong contact against older, experienced pitching. He'll be out of pitcher friendly Myrtle Beach this year, and I think he could hit for over .300.
Greg Zumach – I'm going with Pete Crow-Armstrong. Perhaps that seems blasphemous instead of James Triantos, but I've mentioned before that Myrtle is an incredibly tough assignment. I think Triantos will have a great year and finish in the Top 100, but I'll say that PCA finishes with a .312 batting average to lead the full-season qualifiers.
Greg Huss – In addition to his Gold Glove-caliber defense in centerfield, we will get the chance to see Pete Crow-Armstrong show off that elite hit tool in Myrtle Beach this summer. I think his batting average will hover right around .300, good enough to lead the system.
SBs
Delvin Zinn was insane last year, recording 44 stolen bases, a total that was 21 more than the second place finisher.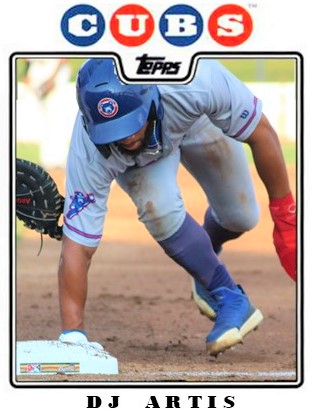 Greg Zumach – Delvin Zinn was on a torrid pace in great part due to his speed, but also due to the High-A Central's rules on pickoff attempts. I buy that Pete Crow-Armstrong will spend a good deal of time in the Midwest League and he's going to be testing his legs. I'll say that PCA leads Cubs hitters with 38 stolen bases in 2022.
Greg Huss – DJ Artis spent the entire 2021 campaign bouncing around from affiliate to affiliate, never really getting the chance to settle down in one place. But he still somehow stole 19 bases in just 196 at-bats. If he can get any semblance of consistent playing time, he will crack the 30 SB mark.
Todd Johnson – Jordan Nwogu has a distinct advantage playing in the Midwest League where throwovers to first are limited. Delvin Zinn stole 40 in the first half there last year. I see Nwogu doing a little bit less. Let's go with 30.
Jimmy Nelligan – Delvin Zinn takes the cake here again. I know he didn't swipe as many bases in AA, but I think he gets the green light in Tennessee whenever he is on the basepaths and he is still good for 25 steals in 2022.
OPS
Our guy Brennen Davis paced the prospects in the system in OPS a year ago, putting up a .869 OPS between South Bend, Tennessee, and Iowa.
Todd Johnson – James Triantos has the ability to do a lot of things with a bat in his hand. If he can lay off pitches outside the zone this year, he is going to run away with this award and have an OPS of near or over .900.
Jimmy Nelligan – Kevin Alcantara takes another category here in my opinion. He walked 13 times in 25 games and had an OPS over 1.000 in the AZL in 2021. I would guess he's going to do something similar in MB. I'll give him a .930 in MB this year.
Greg Zumach – I've mentioned that I think Caissie has a big year so it's only fitting for a player with his feel for hitting, power, and patience to lead the organization in OPS. For 2022, I'll guess Caissie finishes with a .922 OPS.
Greg Huss – I think Owen Caissie is the winner here in a landslide. He walks a ton, hits for insane power, and that will fuel an OPS above .900 this year.
wRC+
Among full-season players, Brennen Davis was your leader in the Fangraphs' stat, logging a 144 wRC+, meaning he was 44% better than the average performer on offense.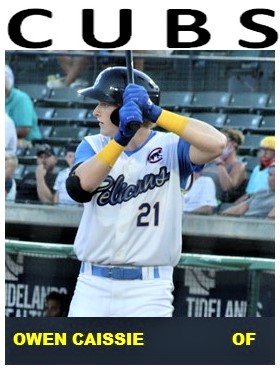 Greg Huss – Owen Caissie will lead the system in wRC+ this year, especially if he spends some time in Myrtle Beach where good offensive stats are even more impressive.
Todd Johnson – Alcantara is just going to drive in so many runs this year with Triantos and Crow-Armstrong getting on in front of him. I will go with 150 for him.
Jimmy Nelligan – Kevin Alcantara is going to take this one as well. Like Todd mentioned, he will have plenty of opportunities to hit with guys on base, and I think he'll make the most of him. He's a guy to really keep an eye on this year. But I'm sure after a month or two in MB a lot of fans will be hearing his name.
Greg Zumach – Broken record, but I'm going with Owen Caissie. Let's say he lands with a 156 wRC+.