Yohendrick Pinango photo by Todd Johnson
When I first saw Yohendrick Pinango in person, I was surprised that he was a little bit bigger than I thought. The then 19-year-old had just been promoted to South Bend and was more than holding his own in High Class A. While it was just 24 games, he hit .289 at South Bend and between there and Myrtle Beach, he had a .700 OPS for the year. He's all of 19-years-old and will be until May of 2022.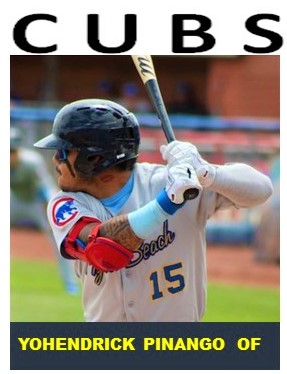 Basic Information
Age – 19
Height – 5-foot-11
Weight – 170 at signing
Bat's – Left
Throws – Left
2022 affiliate – South Bend, Tennessee
Signed as an international free agent in 2018
Pinango began his career in 2019 just after turning 17. He was one of the more impressive prospects that summer as he hit .358 with a .427 on base percentage. He did not exude a lot of power, but his ability to put the bat on the ball is something the Cubs like.
In the past, we've seen several prospects come stateside after tearing it up in the Dominican and fall flat. For Pinango, he had three hurdles to get over this year. One was that nobody played in 2020. Two, he was skipping the rookie league in Arizona. And three he was also skipping what would've been a short season stop at Eugene. So in all, he's basically jumping three levels. 
It didn't phase him at all.
Pinango hit .270 for the first three months of the season with Myrtle Beach and was known for going to left field quite often. In fact it was a constant barrage of balls to the left. You don't get to see that a lot from players in Low-A baseball. Usually, most guys are trying to pull the heck out of the baseball.
In the DSL, he went to left 51% of the time. That dropped to 39% at Myrtle Beach and 36% at South Bend. Those are still some amazing numbers.
I got to see him play quite a bit the last month in Beloit and Quad Cities and I came away with a pretty good sense of some things he needs to do for 2022.
2022 To-Do List
1. Relax
If you've ever dealt with a 19-year-old baseball player, one of the hardest things to get them to do is to relax at the plate. Pinango, he's always on the go constantly talking about the game, and good luck to anybody who tries to stop that. But one of the things I thought often was he would try to do too much in the moment. He just needs to relax and be in the moment. He can't get a ball and drive the other way if he's not pitched a certain way. He's got to be able to turn on a fastball with his hands or take it right back up the middle. He can only hit what a pitcher throws. If there is a man on base in front of him, take what the pitcher gives you and square it up in whatever direction is best.
2. Don't change anything else
 There's really not a lot to dislike here. You might want to see him elevate the ball some more or pull it more frequently as he's clearly not 170 pounds anymore. He knows where the weight room is and he's a pretty strong young kid. It's clear that he lives, breaths, and eats baseball 24 hours a day. The way he and Alexander Canario talk about how they're being pitched can only benefit each other in the long run.
There's really not much left for him to improve on. He's a pretty good defender. He could take better routes, but so could everybody in the minor leagues. His arm is solid and his head is in the game on every pitch. It's an obsession for him, which is what you want.
As for his career path, he is good enough to begin the year at Tennessee, but the Cubs are going to hold off on that idea for a couple of months. He turns 20 on May 7 and it would not surprise me to see him playing at Double-A at some point in June or early July. It's impressive that he'll be 20-years-old and at Double-A. And that's where his true test is really going to begin. I don't see High-A baseball being that much of a challenge for him. He just needs to polish up one or two things up. 
I'm wondering if we're going to see more power from him this year or are the Cubs not going to tinker with his swing any.
We'll find out soon enough.
Considering he had surgery after the season ended, that changes his offseason substantially. However, his cast/brace is below his elbow. That's a good sign as he will probably be ready for the season, maybe even spring training.