Welcome to my new series! This will be a short one, but I will be profiling several position players who should be heading north from the Dominican Summer League to play in Mesa this summer. Let's get going!!!
One of the more important things to look for when checking out prospects that the Cubs have in the Dominican is the potential for growth. That can be looked at in several ways. One, you could look at the stats/splits over time and see how a prospect is improving. You can also look at pictures of the players on their Instagram and how much they have physically changed over time. As well, you can check out the occasional video that leaks out from time to time.
Over the past year, one prospect I've been keeping an eye with regards to some of the aforementioned items is outfielder Anderson Suriel, an outfielder the Cubs signed in November 2019. He debuted last summer in the Dominican Summer League and will likely be playing in the Arizona Complex League in 2022.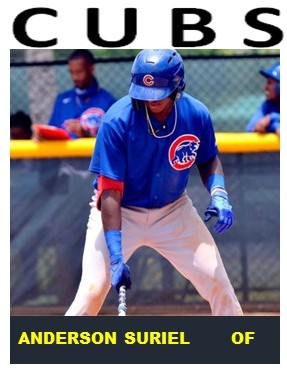 Basic Info
Age – 18
Height – 6-foot-1
Weight – 175
Throws – Left
Bats – Left
From Santo Domingo, Dominican Republic
When the Cubs signed Suriel in November 2019, not was much was known about him other than he did have some international experience and he was an outstanding defender. The first images showed that he could use a little weight and he also looked pretty athletic out there in center field.. 
Just based on how he looks now compared to when he signed, I'd say he's put on some weight and he might have grown an inch or two.
After the pandemic, Suriel debuted this last summer in the Dominican. His first month was not that great as he hit just .209. It was not anything to write home about. When August came around, Suriel began to adapt as he hit .299 for the month. In September, things only got better as he hit .355 with a .412 OBP. For the year, he wound up hitting .295 with 11 stolen bases and he drove in 28 over 50 games. 
Although he did not hit any home runs, Suriel wound up with an OPS of almost .800. He stroked 15 doubles and five triples. As he grows and matures, some of those extra base hits could turn into home runs the next couple years. 
Currently 18 now, Suriel will turn 19 in April and should begin this season in extended spring training and then head to the complex league in Arizona.
There's not really a rush on getting him going and moving through the system this year. Transitioning to the United States is going to be a big enough challenge. Still, Suriel could be looking to do a few things this upcoming season.
1. Get with the weight and nutrition program
Suriel's goal for this year should be to get ready for a 140 game season in 2023 by strengthening his body through weight training and nutrition. The hardest thing most prospects talk about is how much of a grind that first full year is both mentally and physically. To prepare for that, Suriel needs to get going this year to be ready on day one of next year.
2. Adaptation
Suriel is going to face more advanced pitching this year than he did last year in the Dominican. He's going to have to learn to adapt to how guys are throwing against him. He's also going to have to be patient and use game experience to constantly improve. The one thing most young Caribbean players most commonly lack is playing actual games and seeing advanced competition. He will see that in spades.
If Suriel can do these things this year, he might break out some this summer. However, the odds of him breaking out will be much better for next year if he completes this to-do list.
The lead photo is via his Instagram.