Ed Howard – Photo by Stephanie Lynn @SRL590
Ed Howard's first year was quite the roller coaster. Then 19-year-old shortstop had to overcome not playing competitive baseball for almost a year and a half and then injuries while playing at an advance level for his age. At times, he looked overmatched and struggled against pitchers with college experience. There were moments where he flashed his potential on a daily basis and that was usually in the field. The second half of the year went much better and hopefully alludes to great things to come in 2022.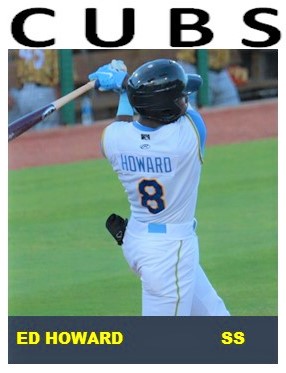 Basic Info
Age – 19
Height – 6-foot-2
Weight – 185
Bats – Right
Throws – Right
2020 first round pick
Cubs fans expected a lot from Ed Howard right from the get-go. He was a hometown kid who came with a heap of praise and some saw him to be the next big thing in the organization.
It was obvious from the opening night why Howard was called the best defensive shortstop in the 2020 draft. He flashed his glove early and often as well as his arm. He looked like a professional shortstop from day one.
At the plate, things did not go so well.
Before he went down lower body injury, Howard only played in 14 games and barely hit .200. When he returned in June, he did not get off to the greatest of starts when he came back hitting just barely .100 in 8 games that month.
It took him some time to adjust as he started striking out less, walking a little more, and making more solid contact. In August, things started to look much, much better as he hit .250 with a .315 on base percentage and he had an OPS over .700.
And his improvement didn't stop there as he hit .283 in September.
Along the way, Howard was moved off of shortstop and played second base 21 times.
He also had some of the weirdest splits I've ever seen. With bases empty, he hit .169. The more men that were on base, the better he hit including .500 with men on third base. In addition, he struggled mightily against left-handed pitchers hitting .160 and not even slugging .200 against them. As for right-handers, he hit .249 on the season and had and OPS of .647.
---
2022 To Do List
1. Jedi Mentality – "Be mindful of the future but not at the expense of the moment." Qui Gon Jinn
This  mindfulness type of quote could really cover a wide range of topics regarding Howard's development. For Howard, he can't do anything about expectations people have for him, he can only focus in on the moment. He needs to learn to develop his pitch recognition skills and that will really help improve his plate discipline. For most players, that usually comes somewhere in A ball.
2. Every pitch and every AB is a learning moment
From the looks of how Howard was pitched to the first few months, it didn't take long for pitchers to figure out how to attack him and, once he got healthy, he figured out how to attack back. If he begins 2022 at South Bend, he will see a few familiar faces from the Royals and Indians organizations but most of the teams he will face will have pitchers that he had hasn't seen yet. There's very little overlap between organizations in the Low-A East and the High-A Central. He's going to have to learn an all new set of pitchers. Luckily, he won't have to face anybody from the Rays' system for quite a while.
Howard took a tumble on most prospect lists this season. That doesn't mean he can't rise back up. How far he goes back up is really up to his performance next year. Most of his learning this year will have to be between his ears.