Richard Gallardo – Picture by Todd Johnson
Today was a busy day as all four teams got in their games before seven central. Thankfully, I picked up some fried chicken at Walmart along with some potato salad and I had a pretty good supper in which to finish watching Myrtle Beach and Tennessee. 
Pitcher of the Day
But for me, the big story of the day was none other than Richard Gallardo. The Cubs former top international free agent seems to be improving greatly this year. He's always been an innings eater, but he's sometimes struggled with control and pitchability issues in terms of leaving balls up in the zone. This year, he is taking much better care of himself and he started out the season in shape. He is much leaner than he was last year when I saw him in Wisconsin.
Today, Gallardo went six innings, struck out five, and didn't allow run. The biggest part of his performance today is that he leap frogged his way onto tomorrow's All-Star team as he lowered his April ERA to 2.84 and that's good enough to get on the team. He joins fellow teammates Luke Little and Brandon Birdsell on this month's squad. Sorry, I forgot to say spoiler alert.
As for the action on the field, Scottie McKeon had himself a game going three for four with two triples and a double while driving in three runs to help lead South Bend to a 7 to 4 victory over Peoria. he is now to an average of .333 with an amazing .983 OPS because he's hitting doubles everywhere.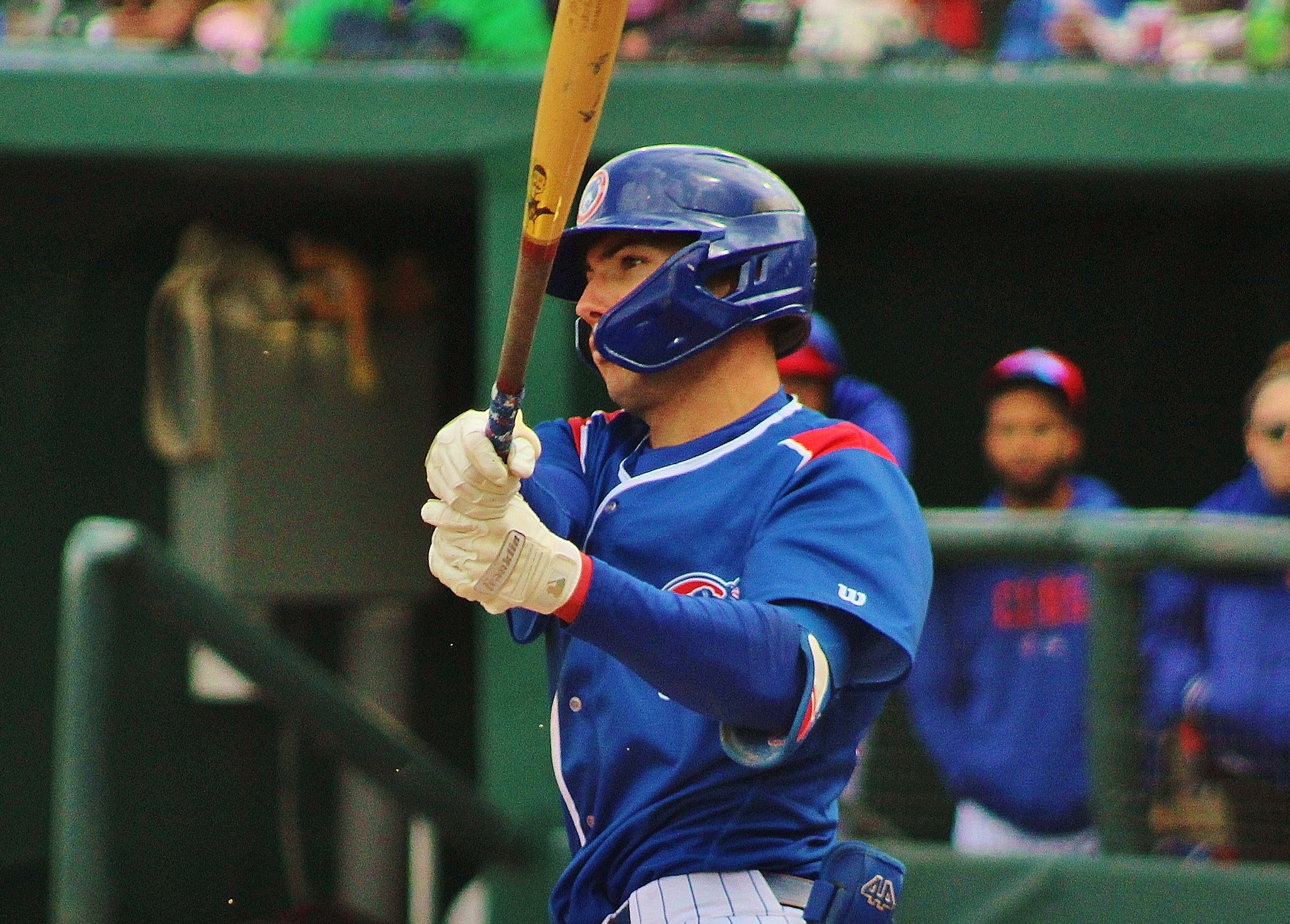 Stat of the Day
As for the machine known as the Iowa Cubs, they put up 13 runs again today. This is just getting ridiculous. It's hard to tell whether Iowa's bats are that good or Louisville's pitching is that bad. The answer is somewhere in between because this has just been the beat down three of the past four days. .. Yonathan Perlaza went yard again today. Javier Assad pitched 4.2 innings and struck out six and did not allow or run as Iowa had their first shutout in a long time as they won 13–0.
Another Matt Mervis Is Ready for Chicago Fact of the Day
Matt Mervis went 3-for4 with a couple of doubles. He also drove in three and scored four times.
Tweet of the Day
The Myrtle Beach game was nip and tuck for four innings as Charleston held a 1 to 0 lead heading into the top of the fifth. Over the next three innings, the Birds scored eight runs as Miguel Pabön and Andy Garriola both hit dingers. Garriola's was a three run shot while Pabon hit a solo homer.
On the mound,Brody McCullough pitched well going five innings. He gave up one run and struck out four and got the win as Myrtle Beach went 5–1 on the week against Charleston, who were supposed to be one of the top teams in the Carolina League.
I like how the Pelicans finished the month strong at 12-8. They did not win the affiliate of the month, but it was pretty close.
Web Gem of the Day
So it all came down to the Smokies for an affiliate Sunday sweep. It's always a good way to end the week. The Smokies got off to a 1–0 lead before Daniel Palencia gave up a two run bomb in the third to make it two the one, Birmingham. Palencia did go four innings and he gave up those two runs, but he also struck out five batters in his longest outing of the year. It's good that he made two starts this week because he'll only make one next week and the week after which will give his arm a chance to rest.
Tennessee came back to tie it in the fifth as Luis Vazquez drove in Nelson Maldonado with a sacrifice fly. After that, it became a battle of the bullpens. Unfortunately, Birmingham won 3-2 in a walk off bottom of the ninth. Tough loss and so much for that Sunday sweep.