Owen Caissie – Picture by Todd Johnson
Let's get right to the news…
Congrats to Jake who had a breakout month at Tennessee, the best in his career! It is a well deserved honor and hopefully he can keep it up in July!
In other good news, 2020 5th round pick pitcher Koen Moreno had his longest outing so far in Mesa. He went 3 frames, allowed a run, no walks, and struck out 3. Much improved over starts 1 and 2. We don't usually talk about the ACL until Rookie League Roundup on Sundays, but this news was worth mentioning for its positivity!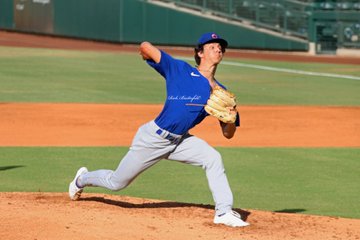 Let's get to the action on the field!
Unfortunately, the Pelicans were rained out as they were leading 4-0 with men on first and third with two out in the fifth. They will complete that game tomorrow. South Bend won 8-6 in dramatic fashion which you will read about in a minute or two. The Smokies got off to a fast start with a two run single from Matt Mervis and homers from my guys, Alexander Canario and Bryce Windham. Tennessee won 7-2. And Iowa made it a full season sweep with a 6-3 win for Cam Sanders as he had his best outing in a couple of weeks.
Web Gem of the Day
This goes to Felix Stevens of Myrtle Beach. Unfortunately, the Pelicans' game against Columbia was called in the top of the 5th due to rain.
Starting Pitcher of the Day
Chris Clarke pitched very well for Tennessee tonight with one of his better starts on the year. He went five innings, allowed just 4 hits, did not give up a run, and struck out 3. Probably could have gone to the sixth, but the Smokies did not want to push it after Clarke's last start where he also went five scoreless to get blown up in the sixth. Still, I really like how he is improving gradually throughout his time in Tennessee. I dig it a lot. He is looking more and more like a back end of the rotation kind of guy if he can steady the ship the next two months. He's going out there every time and getting in 5-6 innings.
Reliever of the Day
Zac Leigh of South Bend was called upon with one out in the seventh to stop the bleeding for South Bend. The young righty shut down Wisconsin for 2.2 innings tonight and kept his team in the game for the hitter of the day to do his thing. He gave up 1 hit and struck out two on the night.
Hitter of the Day
I still don't believe it.
Today was Owen Caissie's last day as a teenager. He ended it with a walk off grand slam to give South Bend an 8-6 come-from-behind win! This is the second time he's done this in 2022. For the day, he went 2-for-4 with 4 RBI and has just been on a tear since May 1. And, he doesn't turn 20 until Midnight!