Derniche Valdez – Picture by Chicago Cubs
Tonight's daily recap is going to be quick. Tennessee was rained out and that \meant that there would only be three full season affiliate games. South Bend lost their fourth straight to Cedar Rapids while Myrtle Beach fell 2-0 at home against Fredericksburg. That left the Iowa cubs is the only team to have a chance at winning. It was close as the Cubs won 2-1.
Hitter of the Day
Any Cubs player north of 30° north latitude did not have a good day at the plate. Myrtle Beach only managed three hits while South Bend scattered seven hits but only put up one run. And Iowa wouldn't have a whole lot hits either, but Derniche Valdez down in the Dominican did. The 17-year-old went 4-for-4 with two home runs and seven RBI. A legitimate break out performance for the Cubs top international free agent from this past January.
The Two Hit Club
As for everybody else, Ezequiel Pagan, Kevin Made, and Luis Verdugo (all of South Bend) each had two hits and that was it on the night for the Two Hit Club. The hotter than hot Alexis Hernandez had two hits by the third inning out in Mesa. He's just been amazing so far this year hitting .516.
Card of the Day
This pic was taken by the Pelicans (probably Larry Kave) and I placed it in a 2001 frame. It works well!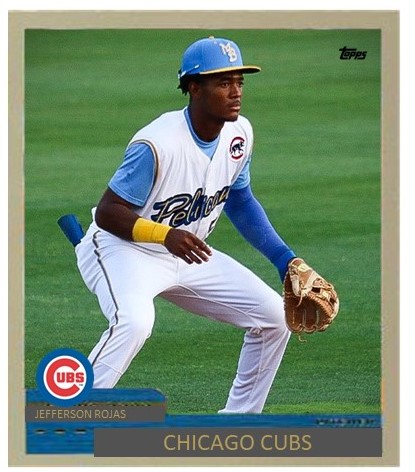 Starting Pitcher of the Day
Contestant #1 – Nick Hull went six innings for Myrtle Beach and struck out four while only allowing one run.
Contestant #2 – Riley Thompson threw five scoreless and had one of his better start to the year. He only walked one and struck out three while scattering four hits.
Let's roll with the shutout and Riley Thompson for today.
Fun and Sad Fact of the Day
I used to love staying up late and watching the Eugene games. They were so much fun as well interesting with other Cubs prospect nerds until midnight.