Cristian Hernandez's 2021 debut season should be considered a success. He showed an impressive patience at the plate as he walked almost 15% of the time. He flashed occasional power and held his own hitting .285 with a .398 OBP and an .822 OPS. In addition he had a 132 wRC+. For the most part, he lived up to some of the hype surrounding him.
Basic Info
Age – 18 (turned 18 on Monday the 13th)
Height – 6-foot-2
Weight – 175
Bats – Right
Throws – Right
Signed as an International Free Agent January 15, 2021
From – Santo Domingo, Dominican Republic
In a normal year, Hernandez probably would've debuted in Arizona. The Cubs have a penchant for taking their top international free agents and bringing them stateside as soon as possible. Because of Covid, Hernandez stayed in the Dominican and will be stateside when spring training begins here in a couple of months. He did get some stateside work during instructs in October.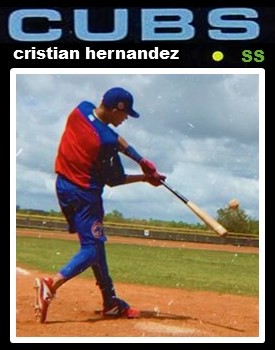 Aside from that, that's all we know.
The 18-year-old kid could start 2022 in Myrtle Beach and that would be quite a jump. Then again, Kevin Made did it last year at Myrtle Beach and really took off in the second half.
The Cubs have a couple options for what they can do with Hernandez next year. Option one involves just throwing him right into the deep end in the Low-A East. I'm pretty sure Buddy Bailey will know what to do with him.
In a poll on Twitter, 42% of you thought Option 2 of having him go to Extended Spring Training first and then to Myrtle Beach was the best path.
Option three involves him going to Extended Spring Training and then to the Arizona Complex League. That would also entail the chance of him making it to Myrtle Beach sometime in August.
Ideally, the Cubs want Hernandez to succeed wherever he goes and they need to figure out in spring training what the best path would be for his development to ensure that success. What you don't want is him going to Myrtle Beach and floundering at the beginning of the season. However, a lot of that depends on the confidence the Cubs have in his skill set and his own self-confidence.
Here is to do list for Hernández for 2022
1. Get ready for the grind
Hernandez is going to be 18 years old and his body is not going to be used to playing 140 games a season. He's going to have to keep his body in shape through weight training and nutrition and he's going to have to keep his mind sharp at the same time. He's going to go through ups and downs, he just needs to ride the storm and take the highs with the lows. In most photos you can see that he is still pretty thin. Adding muscle slowly will be the key for him.
2. Diversification
Hernandez played every game in the field last year at shortstop in the Dominican. He did DH a few times, but if his glove was on, he was at short. I wonder if the Cubs are going to have him play a little third base or a corner outfield spot from time to time just to give him a little bit more value in the long run. Then again, the Cubs may wait until later to work on that.
3. Tuning It Out
A lot of people are going to place a lot of expectations on Hernandez starting on day one in 2022. He's got to be mentally focused to not be aware of them. He can only do what he can do at any given moment. Living up to the hype that certain evaluators placed on him by comparing him to A-Rod and Manny Machado did not seem to faze him in 2021. He is still just a kid and he seems to be handling it pretty well.
I am really looking forward to visually seeing him play on MiLB TV every day at some point in 2022. Hopefully that's going to be Myrtle Beach in April. I'd rather that be sooner than later, but he'll be ready when he's ready. There's nothing you or I can say or do to influence that.
Lead photo of Hernandez by Rich Biesterfeld