There are only three weeks left in the Dominican Summer League Season. It is scheduled to end on August 22, and it doesn't seem like it is long enough. For most of the players, they will stay at the academy and train this fall and winter as they work on eating healthy and gaining weight/muscle. However, there are going to be a few prospects who will head north to participate in fall instructs in Arizona.. Some could be there as early as 1 September, and some may never leave..
Let's take a look at who is most likely to get the coveted call to come north.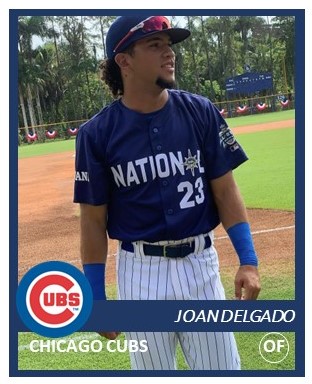 Joan Delgado has had a fantastic season. He played in the summer league All-Star game last week and went one for two. He's been an RBI machine this year as well as showing the occasional power. The young outfielder has improved greatly by adding good muscle over the past year.
Derniche Valdez – This was a no-brainer as he leads both teams in home runs. He did miss a couple of weeks during July on an unannounced injury. But I've seen some video of him and his swing is impressive. It's easy to see why he was the Cubs top ranked international free agent last winter.
The Cuban connection of Ramon Eriandys and Alexey Lumpuy both came in and were two of the best hitters in the system. In addition to actually getting the bat to meet the ball, they also showed good approaches and had pretty decent walk rates and I am excited to see them come stateside.
Outfielder Edward Vargas has been pretty steady this season, and I would expect him to come stateside. Whether that's for spring training or instructs remains to be seen. The same is true for Infielders Angel Ceoeda, Ludwing Espinoza, Brailin Pascual, and Catcher Carlos Altuve. They are all sort of on the fence along with Daniel Benschop, Andres Bonolis, and Moises Fibrillet.
Lots of Pitchers – I Pitching program in the Dominican. This year has been impressive. They've been a lot of players have really good performances. We are only at the stage of the season now we're guys are getting in four or five innings starting pitchers. I would expect to see Miguel Cruz, Juan Archbold, David Bracho, Zhorian Imbriano, Adrian Santana, Ronny Lopez, and a few more.
The missing Cubans – The Cubs signed Brander Guevara and Darian Rivero a little over two months ago and they have not pitched this season in the Dominican. I wonder if they are going to find their way north to Mesa for instructs to get some work in the season. Because of their age, the Dominican Summer League might not be for them next year.
I think we could see somewhere close to 20 come north for spring training next year. But when it comes to instructs, the Cubs are a little bit picky as they only tend to choose their elite prospects from the Dominican. They should be some of the names listed above.
Let's see what happened in game action this week as rain tended to mess with everything
The Red Squad
All summer, I have covered the Blue team first, but the Red team has been on a roll as they are getting pretty close to .500 on the season. They are getting excellent pitching almost every game, and they are also showing the ability to score runs in bunches.
They went 4-1 this week and they had 2 games suspended due to weather. The key has been excellent pitching.
The Blue Squad
Outside of a couple players, there's not much offense going on here lately. The starting pitching has been pretty good, but the relief core has been iffy, depending on the day. They went 1-4 on the week with one rainout.
Players of the Week
Sandy Sanchez hit .400 on the week with 5 RBI. He has been playing much better as of late.
Starting pitcher Juan Archbold went 3.1 innings and a gave up a run, but whiffed 7 batters in that short start.
Ramon Eriandys missed a bit of time but came back and hit .357 over the last week. His wRC+ for the year is an amazing 134.
Reliever Jostin Florentino pitched well in relief going six scoreless with 4 Ks.
Dinger of the Week
I know! Video from the DSL is a fun thing! We have one of Derniche Valdez going yard for the sixth time.