I've been saying for a few days that May 2 is going to be a busy day for moves in the Cubs' system. Historically, the Cubs have been big promoters when the first week of the month arrives. Well, it's here! 
By the time minor league games begin tonight, we will hopefully see a couple of promotions to Chicago, as well as moves all across the system from Mesa to Iowa. It is still uncertain just exactly how many moves they're going to be, but it could involve some of the biggest names in the pitching ranks, and maybe a hitter or two.
We did get one piece of news yesterday and that was Luke Little of South Bend has been moved to the bullpen. If you find that is odd, you are not alone. However, there are other things that we are not privy to right now. Luke was having great success as a starter this year with a 0.57 ERA in the month of April and he was in the running for the starting pitcher of the month. Then again, he could move a little quicker towards the majors this summer, especially considering the fact that he is rule five eligible this fall. 
In yesterday's Breakdown, I talked about five guys I thought should be promoted. Besides, Christopher Morel, and Matt Mervis. Four of them were pitchers and the other was Miguel Amaya. I feel pretty good about most of the pitchers moving, but we'll see. I didn't see a lot of movement yesterday on Instagram as players have tended to post themselves traveling when they get promoted. 
We'll see if we get any of that this morning along with the usual sources.
I will be back at 8:30 with an update and then I'll check back in throughout the morning and afternoon. 
9:07 AM
It's pretty quiet out there so far. I am expecting things to shake out between noon and 4.
10:05 AM
We are hearing things behind the scenes that are happening from Mesa to Washington, DC.
It's going to be big. REAL BIG!!!!!!!!!
10:15 AM
Miguel Amaya, whose name several of us heard last night, is in Washington. Whether he gets on the roster depends more on Yan Gomes being on the IL. This move could be precautionary…just in case.
Per Arizona Phil….Zac Leigh and Carraway could be moving.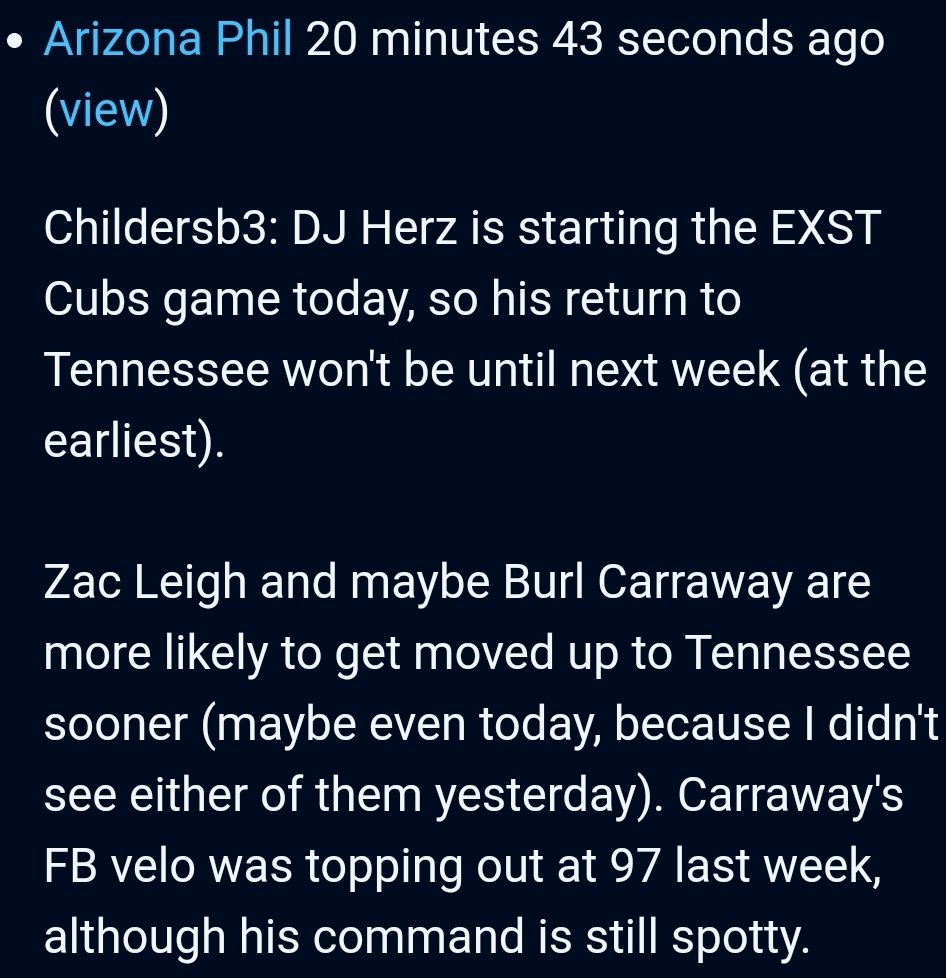 10:20 AM
Myrtle Beach Pelicans placed LHP Jack Aldrich on the 7-day injured list.
C David Avitia assigned to Iowa Cubs from South Bend Cubs.
Tennessee Smokies activated RHP Jake Reindl from the 7-day injured list.
More to come.
11:30 Breaking News!
Check out Greg Zumach's article on the news!
Other new moves
C Dilan Granadillo assigned to South Bend Cubs from Iowa Cubs.
Hayden McGeary is off to Tennessee!!!!!!!!!!!! Not shocked!
11:50 AM
It's been a pretty busy half hour here. I will be going to lunch here in about 25 minutes. We will go black for about a half an hour from 12:15-1.
11:51 AM – Amaya to Chicago official!
1:00 PM
No emails from Iowa or Myrtle Beach came into the mailbox over lunch. It could be any minute or it could be three to four hours before news "officially" breaks.
2:00 PM
The emails are in and no new moves other than what we listed.
2:15 PM
New spot open in Iowa
4:55 PM
Tennessee Smokies activated C Caleb Knight.