Haydn McGeary – Picture by Todd Johnson
Today was an extra busy day. I left school a little after 8 o'clock this morning on a bus with my history club kids. We arrived in central Illinois around 11:30 and ate lunch before heading to see some Lincoln sites. Needless to say, I got over 14,000 steps in today checking out Lincoln's New Salem, Lincoln's home, the Illinois Supreme Court building, the Illinois Capital building, and then we went to Cracker Barrel for supper. I didn't really get a chance to see any full games yet, so I'm just going off of the box score tonight and what I've seen on video as we didn't check into the hotel until eight.
Let's get to the action!
South Bend was the first game in the books. I was checking this game out all during supper and I got to see Brandon Birdsell pitch extremely well again. He threw four no-hit innings while walking one and striking out six. He lowered his season ERA to 0.84.
South Bend scored four unanswered to start the game over the first five innings. Haydn McGeary doubled in Kevin Alcantara and then Ethan Hearn drove in two in the fourth while Yohendrick Pinango hit a sac fly to score Bradlee Beesley in the fifth, Geat Lakes came back to score 2 in the seventh and the eighth and then Pinango and Pertuz drove in three runs in the ninth inning to seal the deal at 7 to 3.
Pinango was really clutch as he went 2-for-4 with three runs batted in.
As for McGeary, he went 3-for-4 on the night with one RBI and a double. Yeah, he is not going to be in South Bend long.
The Iowa Cubs held a 2-0 lead for an inning and a half before giving up three runs in the fourth and the fifth. 
Christopher Morel hit another home run but the bullpen buckled in the middle innings as Iowa lost 3 to 2. I am not sure why Morel is still in Iowa as is it becoming clear that he does not belong. I saw this tweet by Brendan Miller that shows how Morel has dropped his hands, à la Sammy Sosa, which allows him to generate a lot of power, but in a quicker manner.
I checked on the Smokies' score during supper as well and they were winning three to nothing. Then I checked about 15 minutes later and they were up 5 to 1 asthey cruised to a 7 to 1 win over Chattanooga. Ben Brown was outstanding going six innings and striking out nine while giving up just the one run on a homer.
The hitting stars for Tennessee were Nelson Maldonado, Miguel Amaya, and Luis Vazquez, who all hit dingers. Amaya wound up with 2 home runs and three RBI on the day while Maldonado and Vazquez had two RBI apiece
As for the Pelicans, Myrtle Beach struggled to score runs, but a costly two-run error in the fourth put them down to 2-0. Brody McCullough pitched four innings while striking out seven as allowed the two unearned runs on his throwing error. Kevin Valdez looked good again as he threw three scoreless frames. The problem for the Pelicans , outside of Reivaj Garcia and Cristian Hernandez, was that the youngsters failed to get on base as Garcia and Hernandez had four of the Pelicans seven hits.
Awards of the Day
Hitter of the Day – Miguel Amaya – two dingers will do it.
Pitcher of the Day – Ben Brown….STUD!
Good News/Tweet of the Day – This goes to NSB's very own Rich Bietserfeld!
Picture of the Day
It actually came from this past weekend, but I just love Stephanie Lynn's shot of Kevin Valdez!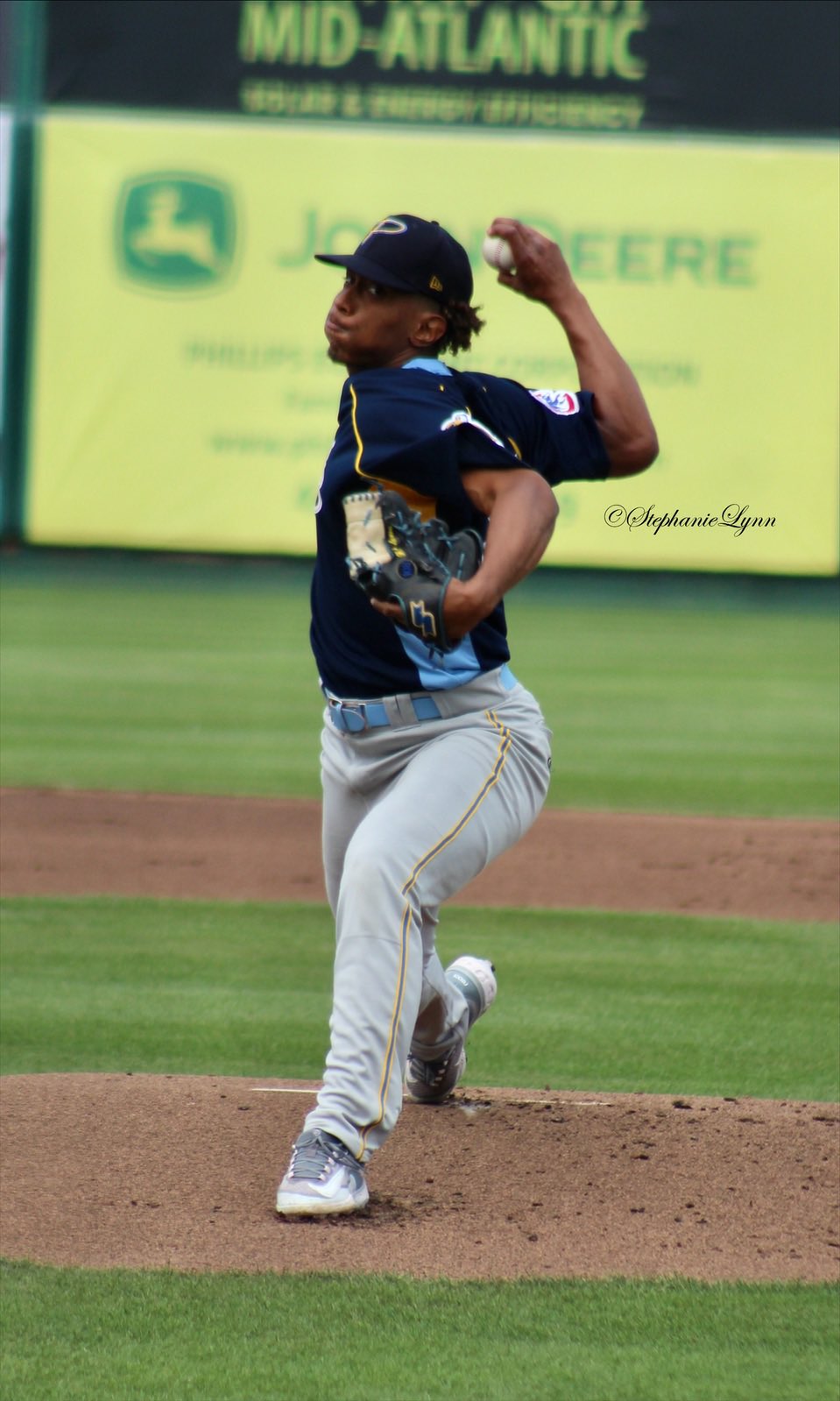 I will be back late tomorrow night as I attend Illinois HIstory Day during the day.,