Lots of things were going down this week. There were baseball games being played out in Arizona, there was a prospect list from MLB Pipeline, a farm ranking from BA, and there were lots of minor league players arriving in Mesa on Instagram.
Let's start with the games.
Lots of prospects saw lots of different types of action this week. Pete Crow-Armstrong, Darius Hill, Andy Weber, Yonathan Perlaza, and Brennen Davis all got in a lot of games with the big league club due to injuries. The biggest hitting news of the week belonged to David Bote, who is smashing baseballs left and right. It was really good to see Darius Hill draw some praise from Jim DeShaies as Darius found ways to hit the ball and get on base all week.
We also saw Caleb Killian, Javier Assad, and Hayden Wesneski getting some time with the big league club, and all three of them were outstanding in either a starter or piggyback role. 
Jeremiah Estrada began his push to make the big league club opening day roster and he looked amazing! We also saw Cam Sanders get in a clean inning and touch 99 as well being a part of a no-hitter with Estrada and Assad. Ryan Jensen was decent, although he have to work around some bass runners, but he did not allow a run. After a rough first outing, Danis Correa got the save yesterday
As this next week goes on, position players will probably get in five innings a game as they ramp up towards playing the full game room. Hopefully, starting pitchers will expand to about 60 pitches, so we may be seeing a little less of minor league prospects, but with the current slate of injuries, the Cubs really don't have any other choice and that's why they have a pitching depth.
Poll of the Week
With those things in the last paragraph in mind, I'm starting to wonder just exactly which prospects are going to break camp and head back to Chicago. Last year we saw Ethan Roberts make the journey.
And after a week of play, there are four or five guys who are currently shoving on the mound that they put themselves in that conversation. Sadly, I can only do four people in a poll which leaves out Javier Assad. Once I put the poll out, I thought for sure that Jeremiah Estrada would be the most likely candidate. The Twitterverse does not agree with me.
News of the Week 
Pipeline dropped their top 30 Cubs list this week and they were not a lot of surprises. Click on the link to check out our analysis of the list. That leaves just two major prospect list left – FanGraphs and marquee sports network still have to drop theirs.
Here are the current prospect list standings after seven major lists.
1. PCA – 7
2. Alcantara – 56
3. Brennen Davis – 50
4. Hayden Wesneski – 41
5. Cade Horton – 31
6. Matt Mervis – 25.5
7. Jordan Wicks – 24
8. Cristian Hernandez -20
9. Owen Caissie – 19.5
10. James Triantos – 13
Baseball America published their farm system rankings for 2023 and they had the Cubs at a head shaking 16th. Last year, BA had them at 15. So to drop 1 after all that talent acquisition and breakouts makes no sense whatsoever. Here is what they said: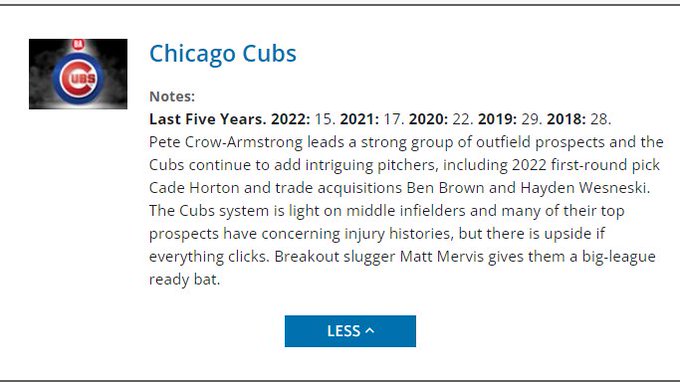 Sahadev Sharma and Patrick Mooney broke down Ben Brown's arsenal at The Athletic in a very interesting article. Brown talked about what the Cubs are doing with his arsenal and what they're not doing as well. I found the latter section to be very informative because some people have this perception that the Cubs need to change everything and have a cookie cutter style pitcher. Well, they don't. And in Browns case, they are pretty much leaving his fastball and curveball alone.
The Road to Wrigley and Videos of the Week
The Marquee Sports Network put out their first addition of Road to Wrigley this year. There were some cool interview segments that they put on the YouTube channel. The first one is of Kevin Alcantara, where he talks about, shortening up his leg kick and how it's allowing him to be quicker to the ball. There's another post where Lance talks with Hayden Wesneski. The one that is not on YouTube that was on the show is Lance's interview with DJ Herz where they talk about his slider and his new red contacts which should help DJ with his light sensitivity and help him see a little better.
Draft News
It's hard to believe that this is the third weekend of D1 baseball. I am paying attention, but I'm not getting into detail yet. That will probably happen starting next weekend where I'm going to do some diving into video and some analysis by other people about certain players the Cubs might take in the first couple of rounds. I am hoping that by spring break, which starts on March 24, that I can start working on a five or six round mock draft.
Speaking of mock drafts, Baseball America's writing staff got together and completed a first round mock for the summer. Ben Badler picked for the Cubs and he took him big, right hander Rhett Lowder out of Wake Forest. Lowder is pitching very well right now which leads me to believe that he might not be there at number 13 in 4 months. But in the comment that Badler wrote, you can clearly see that this year's draft class is much better than last year's draft class in the first round. He said, "They're getting a better prospect than they did a year ago with Cade Horton at No. 7 overall." That's some pretty heavy stuff considering the Cubs got the top pitcher in last year's draft.
Pics of the Week
Oooo, 2022 draft picks!
Coming Up Next Week
My busy season concludes this week with three events. On Monday, my scholastic bowl team goes to the HSA regional and on Thursday we play in the conference tournament down in Earlville. And on Friday, my kids finished their Illinois History Day projects
As of yesterday morning, I had nothing written for this week. Same is true as this was published. Hopefully I will get in the mood to do something at some point today.
Jam of the Week
As busy as I've been the past month between school, and home, I have to take advantage of time to relax. Music has always helped me to do so. There are some great albums out there that I always turn to to help me relax or to put me in a certain mood. I love the Cowboy Junkies "The Trinity Session" from the 1980s as a total mood record but this week I went with Chris Whitley's "Hotel Vast Horizon." There's a lot of space and I just love the sound of his national guitar and the tone that it has because it's rare to hear a three-piece acoustic set in the modern age. This album was released in 2003, four years before his death in 2007. My favorite track on the record is number six, "Assassin Song." But I just love to listen to the whole thing at one time.