After having gone to so many conventions the past few years, it was weird to sit down last and watch it on TV. It will be even stranger this year to watch several sessions today on Marquee Sports Network. I will be updating throughout the day. I will be paying extra attention to some afternoon sessions "The Road to Wrigley" which will feature all Cubs prospects. There will be some prospect news sprinkled in throughout the day.
As well, both Myrtle Beach and South Bend will have some video interviews throughout the day.
But before the day begins, let's recap some news from the week as there is no "Weekly" this week.
*The Cubs signed pitcher Ryan Borucki and outfielder Mike Tauchman to MiLB deals this week and assigned them to Iowa along with pitcher Nick Neidert
*Pete Crow-Armstrong was named one of the top defensive players in the minors by MLB Pipeline.
*Speaking of PCA, he is growing out his hair as reported and photographed (see below) by our own Rich Biesterfeld.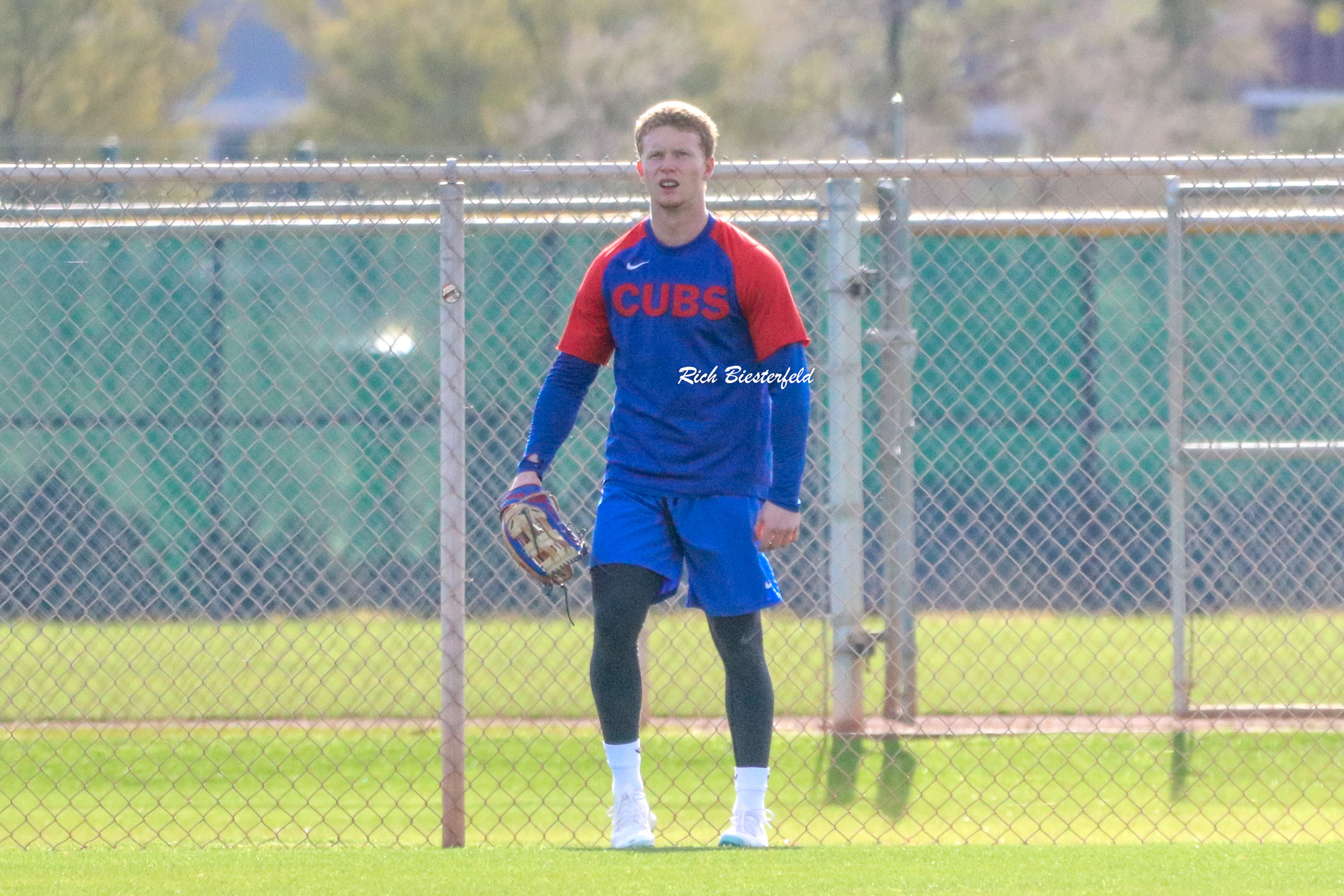 *The Jordan Wicks interview by Greg Huss and Bryan Smith for Cubs on Deck was straight up fire! Go watch or listen!
*The Cubs also put their own Ed Howard video this week that gave me chills.
Things I hope to hear today…
Coaching Assignments, DJ Herz's new pitch, Ethan Roberts and his love of his own cards, where Cade Horton might start 2023, injury updates, and much more!
I will be back around 9 A.M!
---
9:10 AM
I always liked going to the sessions on Saturday and asking the occasional question. I won't get in any queries this year, but it is nice sitting in the comfort of my own recliner and watching it on Marquee, which might be the best thing the network has done for the fan base. My main attention today will be prospect related news and info and relaying that to you.
Listening to the Ricketts Family Forum…
Laura Ricketts spent the first ten minutes talking about Cubs Charities and all the programs they are doing now. It was a little surprising to hear that the Cubs are starting an urban academy. The playground initiative was well known, but it cool to see that Cubs Charities are crating spaces for kids to play, an essential part of youth and creativity.
9:20 AM
Tom Ricketts talked a bit about the rebuild and how it was not originally part of the plan, but he emphasized that the Cubs do have a top 10 farm system and how each team that recently won the World Series had a Top 10 farm system in the years before. So, we got that going for us…sort of.
9:25 AM
The Ricketts are now taking questions…this is going to be good….or really bad. The obligatory Sammy Sosa questioned has been asked and not really answered.
9:40 AM
I am surprised by the mood of the fans so far. It's been pretty positive so far. There have been a couple of negative thoughts – one about day games and another about Sammy Sosa.
9:45 AM
Ryno will be getting his own statue! Too cool!
10:00 AM
Tom is wrapping it up with Cole Wright on Marquee and he is talking about how the plan is to get a good core group of players and supplement with free agency, trades, and prospects.
Jed Hoyer and Carter Hawkins are the next session! There should be some prospect stuff in there. There might even be a draft question or two!
10:03 AM
Jed said that filling out the roster will continue up until spring training starts. Likely could be adding a bullpen arm, a bench bat, and/or another bat.
10:12 – 10:15 AM
Jed giving some props to Craig Breslow, the Director of Pitching, for building the infrastructure to develop the current individualized pitching development system.
When asked about development and players being blocked, Carter Hawkins gave an excellent answer about developing guys because no one knows what the future holds and to just develop the players as best as possible.
Jed added that you always have to be thinking ahead as well as in the now when it comes to development and building a team.
10:22 AM
The new rules were brought up and I can add that I really like the 20 second pitch clock. I love it as a fan and a photographer. The game is quick paced, I am more focused, the action is always happening and there's not much to miss if you're aren't looking down at a phone when it takes a full minute in between pitches.
10:25 AM
Crawly asked his second question of the day this time about the outfield puzzle and included Brennen Davis and Alexander Canario in the mix centered around how an Ian Happ extension affects how the outfield gets put together. Jed and Carter didn't really answer that question other than it is a good problem to have.
10:50 AM
Got a little behind the scenes info on trades and Elise Menaker had a nice little interview with Ryne Sandberg about his statue. I hope to have a video of that interview up later along one with Myrtle Beach's interview with DJ Herz. Hopefully, South Bend and Myrtle will be rolling those out soon.
11:25 AM
David Ross, when asked about development of prospects, talked about his coaches helping to improve but he basically avoided the question.
Jordan Nwogu sighting!
Matt Mervis sighting!
11:30 AM
Dustin Kelly just gave a couple of shout outs to Matt Mervis and his 2022 season.
Also Ben Brown sighting!
11:45 AM
The theme I am getting from this morning is that the Cubs are going to be a defense oriented team that is getting a little bit ahead of the new rules that limit the shift and teams that have some fabulous players up the middle will be ahead the curve.
11:55 AM
PCA is now on Marquee getting interviewed and it is a fun gig to listen to as he is detailing every thing from fashion to his favorite play which was throwing a guy out at second who was initially on first base.
When asked about winning the championship and the bond it creates, Pete said that he loves the winning attitude of the Cubs and that everything they do in the minors is geared towards winning at the MLB level.
He also talked about his family and the Cub connection with his Mom and Dad as well as others including an aunt and uncle who came to the convention, but not to see PCA.
Pete also talked about how he loves picking other hitter's brain, mainly Owen Caissie.
As for his newfound power, he knew that it would come naturally. He credits his new stance and first move but not his swing. His two keys were Pelicans' hitting coach Steven Pollakov and Nick Madrigal.
12:15 Time for a Break
With Ian Happ's "The Compound" recording live, I will be eating lunch and going for a walk as there is likely not going to be much prospect or draft talk.
1:16 PM I'm Back
I have never seen Kyle Hendricks smile so much and still is a fan favorite. Says he should be ready in April or May. That's big to know as that could open a door for Wesneski and/or Kilian. Based on the fact that Wesneski is on the panel, that's kind of a big cue as to what the Cubs think of him.
When asked about his immaculate inning, Wesneski said he didn't really think about until the 6th-8th pitches. He said when he got to the 9th pitch, he basically knew he had a 50/50 shot and he just let it rip.
When asked about pitches they could get from someone else, several said Kyle's change, but Smyly said Wesneski's slider and Wesneski said Jeremiah Estrada's fastball. That's cool to hear!
Wesneski also said the stat that he pays attention to most is his walk percentage. Hendricks said that he looks more at his pitch design and how his balls move through the air. That's what he focuses on.
2:08 PM Owen Caissie Pub
2:16 PM DJ Herz Interview Is Out
Here are some highlights – He has a shortened arm action, throwing a slider for 2023 – also gained weight and muscle. Double-A was a huge learning experience. He said hitters have much more of plan at the plate and layoff pitches that don't fit with their plan. He said he needs to be more in the zone.
3:00 PM – South Bend Interviews Dropping on Instagram
Ed Howard
3:20 PM
I am watching the KIDS ONLY Press Conference and saw this on Twitter of Ethan Roberts…wow!
4:25 Lots and Lots of Cubs Prospects on the Dais
I don't know where to begin.
They began by talking about the depth and then it was interesting to hear Jordan Wicks and Chase Strumpf talk about how their partners keep them grounded.
DJ Herz will be wearing red contact lenses as he has a sensitivity to light. He said he was basically pitching with one eye and striking out 40% as a monocular pitcher. Imagine what he will do with two eyes open.
Weirdest thing I have ever hear at a Cubs Convention: Ben Brown tapes his mouth shut while he sleeps.
PCA and Kevin Alcantara both say that they don't feel any pressure as a result of being traded for legends.
Jordan Wicks grew up admiring Jon Lester. No shocker there.
When asked about advice from a youngster, Jordan Wicks said to have fun while Owen Caissie said to outwork everyone in the room. Matt Mervis said not to let people outwork you.
5:05 PM – Jared Banner Time…Finally!
Discussed the Mini-Camp a bit – 60 to 70 players working out all winter long.
Miguel Amaya – ready to go for spring training!
Brennen Davis – Full go!
Alexander Canario – Gonna be out a little while. Working extremely hard at his rehab. Sky is still the limit.
Sometimes difficult to be patient with their development. Sometimes management gets excited by performance.
Bragged about BJ Murray and Kohl Franklin being breakouts in 2023.
Kevin Alcantara's superlatives were endless. Jim DeShaies was profuse in his praise.
Cade Horton and Jackson Ferris also got some love as they should arrive in Arizona this week.
"Development breeds winning."
JD talked about how sharp and articulate the prospects in the panel were. Banner called them savvy!
And that is it for me today! See you tomorrow about 8 AM with updates about International Free Agency as I will be live all day!