Yesterday afternoon was quite exciting as the Cubs signed free agent shortstop Dansby Swanson to a seven-year $177 million contract. That should begin the shake up for the rest of the off-season as the Cubs still have several more moves to go.
But as for the Cubs' minor league middle infield prospects, how does the Swanson signing affect their future development?
The simplest answer right now is not much.
If you objectively look at where the Cubs top young shortstops are, they are down in the lower half of the system – which means that most are realistically three years away, two at the earliest. Odds are that Cristian Hernandez and Kevin Made are not going to be ready fairly quickly. That buys the prospects some time to develop.
As a result, the Cubs are left with a little time cushion to figure out what is best for the prospects individually and what is best for the organization/big league club. The Cubs have some depth as we saw in our recent shortstop and second base rankings and that gives the Cubs plenty of options to come to some decisions.
So, when spring training comes around, Cristian Hernandez and Kevin Made should still be playing shortstop. That is the position they are at the best at and that's where they're going to stay for the time being.
To be quite frank, which I usually am, we're not going know for a couple of years how this signing' 's impact will play out on prospects. Trades, injuries, and a whole host of other incidents could take place between now and then.
MiLB Signings
This week we also saw the Cubs add left-handed pitcher Eric Stout to the organization on a minor league contract along with outfielder Ben DeLuzio. Both were assigned to Iowa.
The Cubs also signed their last international free agent for 2022 in pitcher Ronny Lopez. I have  not been able to find anything on him just yet other than he's a pretty good sized kid at 6-foot-1 and 185. We are now less than a month away from IFA signing day for 2023. It is set for January 15 and my hope is that the Cubs can also sign a top 10 guy who has not been linked to a team and that is Jun-Seok Shim, a big pitcher from South Korea.
Videos of the Week
The Chicago Cubs also dropped their third and fourth short films about Cubs prospects. This week it was Cristian Hernandez and Kevin Alcantara. Both are really cool videos where they play up the character and work ethic of each player. Both are a lot of fun! Check them out!
Prospect List Season
Baseball America became the second major prospect list of this off-season as they put out their top 10 Cubs list on Wednesday. Greg Zumach covered that for you at North Side Bound. As for who was on it, I was completely stunned to see Miguel Amaya listed in their top 10. I found that odd because he hasn't thrown a baseball from behind the plate in almost 2 years.
My favorite part of BA list has always been the best tools section. It was cool to see which player they thought was the best in any one category. They were a couple of surprises as they had Ben Brown with the best curveball. And they had Brennen Davis as the best outfield arm. While both of those players do have excellent skills in those categories, I'm not so sure that Brennen Davis has the best arm. Others in contention for that best tool could include Alexander Canario and, this is going to come as a shock to some of you, Owen Caissie is not too shabby either.
Stat of the Week
Top 100 Draft List
As I talked about Thursday, MLB pipeline dropped their top 100 draft prospects list for 2023. I've only really explored about 15 of the players so far. At some point I'm going to dive a little deeper here in the next couple weeks and watch some video but not too much.
Tweet and Pics of the Week
Riley Martin as an action figure…I can dig that!
Card of the Week
I am digging this pic from the Smokies in a dark 2007 template. Cole is currently in Australia this winter trying to get his groove back, He has played in 23 games and is hitting .242 while walking a lot and he is also driving in runs as he is third on the team with 11 RBI.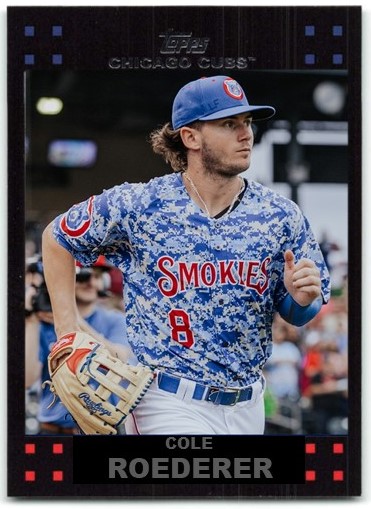 Album of the Week
This week's album is Jeff Beck's classic, Guitar Shop. It is an instrumental album and contains just Beck, drummer Terry Bozio, and keyboardist Tony Hymas. It is a tour de force of sounds! My favorite track is "Big Block." It gets a little dirty there.
Every time I watch Jeff Beck play, I am curious as to how coaxes some unreal sounds of his guitar. When I was riding 10-12 miles a day on my bicycle about 12 years ago, this was a must have for the iPod. Nothing like riding between Holcomb and Stillman Valley on those big hills with the wind in your face and this in your ears.