Pete Crow-Armstrong – Picture by Todd Johnson
For a holiday week, it was quite a bit of news in and around the system. We kicked off our second year in production with four prospect list. Greg Huss, Greg Zumach, and myself all pulled out our own individual us. And then on Tuesday, we put out a another list by merging all three of ours together. Thank you for reading those as it was a lot of fun to do and to see all your responses on Twitter. We topped it off with the debut of the five series, the initial position ranking series post, and another mailbag post.
In about eight days, minor league news is going to takeoff at the winter meetings. The MLB Draft Lottery will be held on December 5 at 6:30 Central and I'm pretty excited about that for reasons that will go on mentioned at this time. The Rule Five Draft will be held on December 7. They'll be a major league phase and a minor league phase. The cost to take someone has now moved from $50,000 up to $100,000 this year in the major league portion; that's a pretty hefty price to pay. 
One thing that is happening that no one is really talking about is the Iowa Cubs' roster can expand over the next couple weeks. The Cubs will "officially" place certain rule five eligible players on Iowa's roster to avoid losing them in the minor league phase of the draft. With over 67 players eligible, the Cubs can protect not quite 40. 
According to Arizona Phil Of the Cub Reporter, here are the players the Cubs are protecting in the minor league phase of the draft. This list has not been made official on Iowa's web site.
SP – Luis Devers, Chris Clarke, Riley Thompson, Kohl Franklin, Richard Gallardo, Michael Arias 
RP – Danis Correa, Cam Sanders, Brendon Little, Cayne Ueckert, Michael McAvene, Yovanny Cruz, Luis Angel Rodriguez, Jake Reindl, Saul Gonzalez 
C – Bryce Windham, Pablo Aliendo
IF – Jared Young, Bryce Ball, Andy Weber, Chase Strumpf, Levi Jordan, Jake Slaughter, Luis Verdugo, Fabian Pertuz, Luis Vazquez 
OF – Nelson Maldonado, Darius Hill, Cole Roederer, Ezequiel Pagan, Yonathan Perlaza, Yohendrick Pinango
Who has been left off?
Hunter Bigge, Ben Hecht, Jack Patterson, and Manny Espinoza to name a few of the 20+.
Interestingly, MLB Pipeline published an article on Friday about the most intriguing prospect left off the 40-man and they picked Luis Devers. Here's why:
A steal at $30,000 out of the Dominican Republic in 2017, Devers is coming off a breakout season in which he ranked seventh in the Minors in ERA (1.91), third in wins (13) and tied for ninth in WHIP (0.95), while posting a 122/26 K/BB ratio in 117 2/3 innings between Single-A and High-A. His fading low-80s changeup and his command are the keys to his success, and the Cubs are taking a calculated gamble that his low-90s fastball and distance from the Majors will leave him unpicked.
Ryan Jensen Development and Why He Was Placed on the 40-Man
Ryan Jensen was recently had his contract selected to be added to the 40-man roster for the Cubs. This game after an up-and-down year at Tennessee where he also missed six weeks of competition on the development list as the Cubs redid some things in his delivery. When he came back, he was armed with a cutter and a shorter delivery that had a lot fewer moving parts.
This week, The Athletic put out a really cool article that looked behind the scenes at what Jensen went through and revamping his delivery
One of my favorite parts was when the pitching coach organizational pitching coach Casey Jacobson explained what they were trying to do with Jensen in May and June:
"The precipice of it was there were some extreme movements that had really manifested in the (Arizona) Fall League last year. He had a great stretch to finish the year in (Class-A) South Bend, and then he got his promotion to Tennessee. But we saw some really extreme things happening in the Fall League, and then they were still present in spring training (this year). We wanted to give him a chance to work through some of it."
What was also revealing is that Jensen is still continuing to work on some things this winter. Jacobson also added:
"The continued focus this offseason is on the lower half of his body, using force plates and KinaTrax to identify issues and find very specific items to correct. The Cubs are concentrating on the three pillars of delivery: force production, force acceptance and momentum transfer."
What I like about this whole Jensen reconstruction is that he did buy into it. And his program is not for everybody. Every pitcher is different and I'm interested to see what they're doing with other guys this winter to help them become more efficient and better pitchers.
Video of the Week
2021 draft pick Liam Spence is playing for Adelaide in the Australian Baseball League and he had a really nice web gem on Thursday!
PCA Gold Glove
In the least shocking news of the off-season, it was announced this week that Pete Crow–Armstrong was awarded a gold glove for his defensive capabilities with Myrtle Beach and South Bend last year. I'm excited to see him play his craft in Tennessee in 2023!
Things to be Thankful for…
MLB Pipeline released an article this week that had what each organization should be thankful for. Here's what they said about the Cubs:
Trades brought in Pete Crow-Armstrong, Kevin Alcantara and Ben Brown among others, and the shrewd Draft pick of College World Series star Cade Horton at No. 7 adds to the high-end talent.
Ezequiel Pagán Injury
The young outfielder from Puerto Rico had an excellent season at Myrtle Beach as he forced his way into the lineup by proving he could hit every day. This week, he released a picture on Instagram that looked like he had undergone surgery on his right leg. We wish him a speedy recovery and hope to see him at South Bend when the season starts.
Reclamation Project
When MiLB-Transactions announced pitcher Brendan McKay had been released by the Tampa Bay Rays, I immediately wanted the Cubs to sign him. I do know that he is injured quite often, and that's probably why he was released, but I'll be interesting to see if the Cubs, out of all teams, are the ones who could bring him back as he would be a possible rotation piece if they can get him healthy and strong.
Whatever Happened to…?
When I started checking out to see who the Cubs moved to the Iowa roster, I began to think of lefty pitcher Faustino Carrera who pitched at South Bend in 2019 and then was taken by the raise in the minor league phase of the rule five draft. He did undergo Tommy John surgery and missed all of 2022. I am hoping he comes back healthy and if the Rays don't want them, I think the Cubs could find a spot for him as he did pitch well at Double-A Montgomery in 2021.
Card of the Week
A few weeks ago, I made some new baseball card templates of some more recent Topps cards. Where is South Bend Cubs pitcher Sheldon Reed in a 2021 template.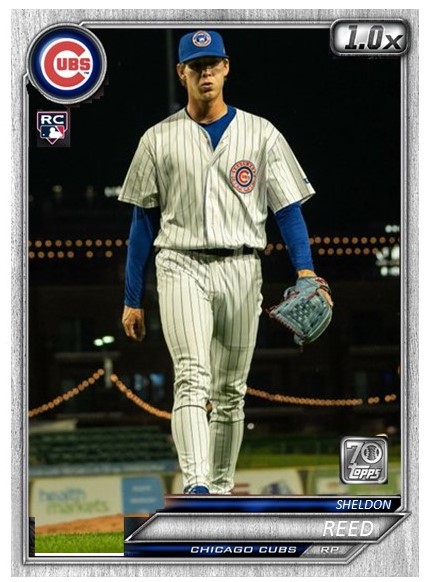 Coming Up Next Week
Let's see, we hope for some breaking news or a prospect list to drop next week. In between, will have our position ranking series with a look at first base, I'll take an affiliate sneak peek of Tennessee for 2023 as I look at the starting rotation in both the first and second half. We might also have a mail bag or two and maybe even an interview or two. The five series will be back next week as I look at Ben Brown who are the Cubs recently placed on the 40 man roster.
Jam of the Week
I am not sure how I got hooked into listening to Squeeze but it was at some point in late high school and I'm pretty sure it was this performance on Saturday Night Live where they played "Pulling Mussels from a Shell." I am a sucker for a good hook.