Chris Clarke – Picture by Micah Manuel/Tennessee Smokies
One of the more under-recorded stories so far in the second half has been the emergence of Chris Clarke as a starting pitching option. What Clarke has done quietly this year has been quite amazing once you dig deeper into statistics rather than just look at the overall ERA. He's put himself in a position to head to Triple-A at any moment. If he does not go there for the rest of this year, he most definitely will begin the year there in 2023. He will then be just one step away from Chicago.
I first saw Clarke pitch in person last summer when he debuted up in Appleton, Wisconsin. The first thing you notice about him is his size. The second thing you notice is that he pitches downhill even with a three-quarters arm slot. At 6-foot-7, Clarke came to the Cubs after a successful career at USC in the bullpen. He originally started out there in the rotation but found success throwing in the upper 90s coming in late in the games, first as a setup guy, then as a closer. The Cubs took him in the fourth round of the 2019 draft. 
He spent that first summer in Eugene throwing just 23 innings. But in those 23 innings, he struck out 26 and flashed a plus breaking pitch that got me a little excited for the future in 2020.
After that season, he was ranked #21 on the Cubs Top 30 by MLB Pipeline. Here is their evaluation after his performance at Eugene.
Clarke's hammer curveball ranks as the best in the system and is effective against both left-handers and right-handers with its powerful downward break. He elicits a lot of ground balls with his fastball, which parks at 92-94 mph and tops out at 96 with run and sink. His feel to spin also translates into a solid slider and he's working on refining his changeup after not using it much as a college reliever.
Unfortunately, the pandemic hit and when Clarke returned in 2021, he was dealing with a hip issue that sidelined him for more than half the year. Returning to action from a hip injury as a pitcher takes some time. Adjusting to being a full-time starter again took even more time for Clarke. He did get in 50 innings last year at South Bend and threw his fastball in the low to mid 90s. He was known for getting ground balls because the angle from which he delivers the ball makes it hard for hitters to pick up and square it up. 
Still, his ERA was 4.65 and he was, plain and simply, susceptible to the big inning. He could be cruising along for three or four innings and then give up three or four runs in one fell swoop after allowing just one hit in the previous frames.
Clarke has always been known as a guy who throws strikes. He pounds the zone, literally. Sometimes that can be a detriment if a fastball slated for the outside corner runs back over the middle of the zone. It happens. For Clarke, that is usually what happens.
In looking forward to this season, this is really Clarke's real first full year in the minors. He started out 2022 in South Bend and by the middle of April, it was clear he did not belong at High-A. It took the Cubs a little bit longer to recognize that and he was sent to Tennessee in late May. What Clarke has done since has been impressive.
Overall, he's thrown 75.2 innings at Double-A in just two-plus months. But it has not been without some adjustments. At times, it was pretty rough those first six or seven weeks. But since the beginning of July, big innings have been rare (twice). In fact, Clark is one of the leaders in all the minor leagues when it comes to FIP. The stat looks at just pure pitching and doesn't incorporate anything that happens after the ball is hit. He is currently ranked sixth in the minors with a 3.34 FIP.
The author of the tweet didn't see Chris at six until I pointed it out to him.
Over his last three starts, everything we saw bits and pieces of all year like ground balls, elongated scoreless streaks, the potential for improved K totals, and low walk rates are all coming together as Clarke is on a roll. Since July 28, he' thrown 16 innings with 16 Ks and a 2.25 ERA. His K%, or percent of batters he strikes out, is now up to 25%. Conversely, he's only walking 3% of batters. All that means is he is throwing strikes and putting pitches where he wants them. When walks at a minimum, hits don't mean that much because that's about the only way for guys to get on base. I like where this is all headed the last three weeks.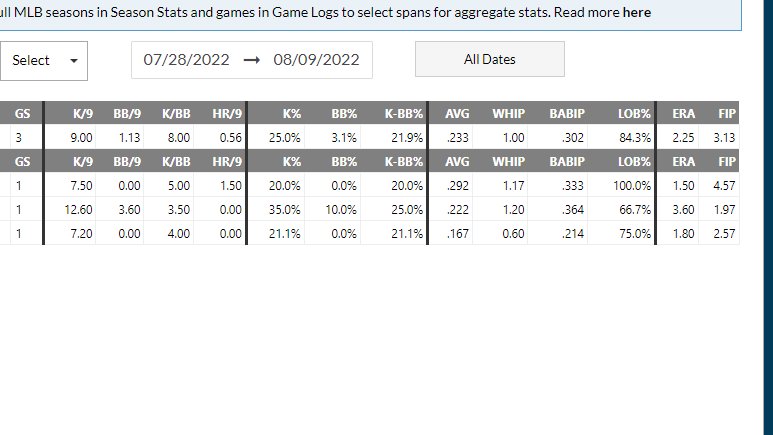 I am really looking forward to his last five or six starts to see how he finishes up. Now at 99.1 IP on the year, his season will end when the regular season's does. He will not be going to the AFL as he should be close to 130 innings on the year. That'll do. 
I am excited to see how he finishes out the year and starts 2023!