This will be very fast paced today and take about 5 hours. So, we are in for the long haul.
For each pick, we will try and get some video, a quote if possible, some basic info and stats, and a card. That is not always immediately possible.
Each draft pick is slotted at $125,000. Anything over that counts against the bonus pool.
Remember to refresh or update the page to get the latest pick and info!
---
Round 11 – Branden Noriega – LHP – No affiliation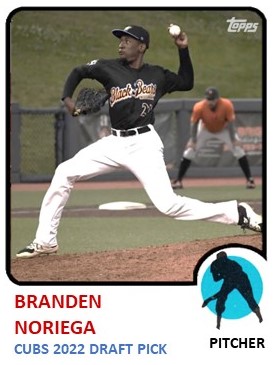 He had some big time numbers in the Draft League sitting 96 most nights. He threw 11 innings for West Virginia with a 4+ ERA. Looks like he could be a project but a big time arm that could benefit with pro coaching!
6-foot-2, 180, THROWS – Left, Turned 21 on July 9
---
Round 12 – Mathew Peters – RHP – Indiana Institute of Technology
He appeared in 6 games this year. Threw 30.1 IP and struck out 54. Big kid! As a senior in high school, he was only 5-foot-7 and he grew 9 inches and gained 70 pounds.
PL said – Peters has good size and a good operation for a starting pitcher. He's been up to 97 and lives 94-96 over several innings. Command isn't great, but he stays around the strikezone and gets a lot of swing and miss with the pure stuff. Throws a hard slider in the mid-80s with varying consistency, but has feel for the offering. Can also turn over a changeup, but it lags well behind the other two offerings. The size, operation and stuff is intriguing, even if it's not a complete product right now.
6-foot-4, 215, THROWS – Right, AGE – 21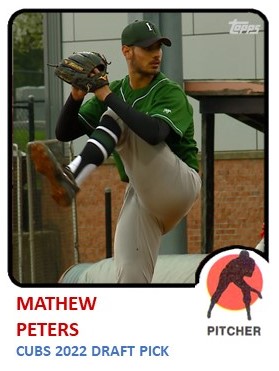 ---
Round 13 – Luis Rujano – RHP – Sunshine State Academy
MLB Pipeline said – The big right-hander checks off all the boxes in terms of his physicality, using his 6-foot-4 frame well and making it easy to dream on more to come once he gets pro instruction. He's been up to 96 mph with his fastball, typically sitting in the low 90s now. He has a tight slider but struggles to spin his breaking ball consistently, and while there's some feel for a changeup, it's also inconsistent.
Born in Venezuela, he was committed to South Florida, could be persuaded to turn pro. Ranked 234 on MLB Pipeline's top 250. I like the raw tool set.
6-foot-4, 200, Throws – Right, Age -19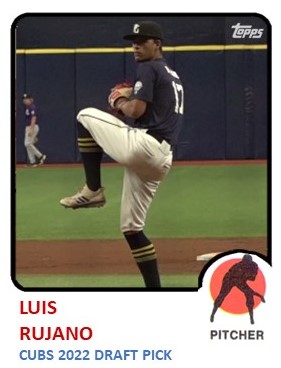 ---
Round 14 – Shane Marshall – RHP – University of Georgia
Two way player at Georgia, only made two appearances out of the bullpen this spring. Totaled 1 inning. He's a big kid, which will help, but he's going to be a bit of a conversion product who mostly played in the field this year. Went to the Draft League. Probably a reliever at best.
6-foot-4, 210 lbs. Throws Right, Age -22
---
Round 15 – Haydn McGeary – C – Colorado Mesa
Two-time D2 player of the year. Big kid, and has a commitment to play at Kentucky this fall.
Over the last two years, he's hit .481 with 55 HRs and 167 RBI. Mind you, that is at altitude. Still, dingers are dingers.
6-foot-5, 235 lbs. Bats and Throws Right – Age 22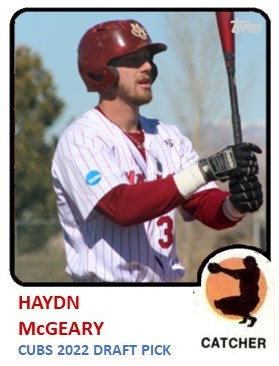 ---
Round 16 – JP Wheat – RHP – Next Level Academy in Alabama
Committed to Georgia Tech, inexperienced, only been pitching a year. But wow! Huge potential!
MOCOCRBI.com Stated – Jon Paul 'JP' Wheat projects as a mid-to-late round pick in the 2022 MLB Draft. Electric repertoire features an explosive plus fastball with decent movement, a knee-buckling 12-to-6 curve, and changeup that keeps hitters off-balance. Can throw all pitches for strikes, doesn't allow opponents to sit on anything. Has frame to add weight. New to pitching, mechanics need much improvement. Effective for first 3 innings, but hasn't shown stamina/ability to pitch beyond.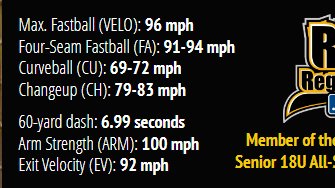 6-foot-5, 185 lbs., Throws Right, Age – 19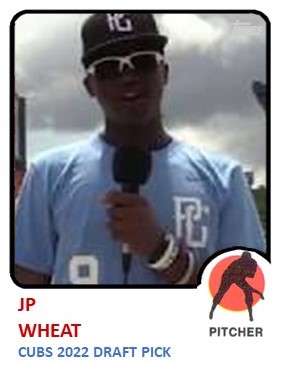 ---
Round 17 – Andy Garriola – OF – Old Dominion
Big kid, a senior, he hit .322 with 25 dingers and 80 RBI as a senior. Last year, he hit 14 and 72 with a .323 average. Could be a first base/DH candidate. Likes to hit bombs….then again, who doesn't!
6-foot-5, 235 lbs., Bats and Throws Right, Age – 22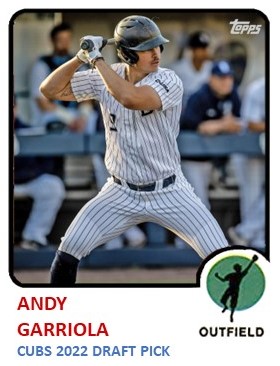 ---
Round 18 – Garrett Brown – RHP – University of Georgia
He's rather tall at 6-foot-7. Coming off TJS, he made 10 starts and appeared in two other games in relief. He had a 7.71 ERA. He only threw 25.2 total innings, so it is clear he is still coming back from TJS. Before the surgery, he only appeared in 4 games that year.
6-foot-7, 218 lbs., Throws Right, Age 22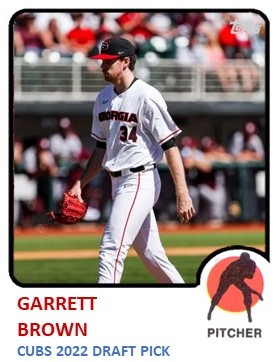 ---
Round 19 – Brock Blatter – RHP – Billings Central Catholic
Legit top 500 prospect with a commitment to Alabama. Not well known as Montana doesn't "officially" have HS baseball. Still, Blatter was able to make a name for himself. I like this pick. I would like it even better if he signed.
BA said of him – Blatter has the makings of a prototype RHP with a low-90s fastball, up to 95 with the accoutrements of a curveball, slider and changeup. The two breaking ball are far ahead of the offspeed offering. An Alabama commit, Blatter has gotten plenty of big league interest this summer.
6-foot-6, 215 lbs, RHP, Just turned 18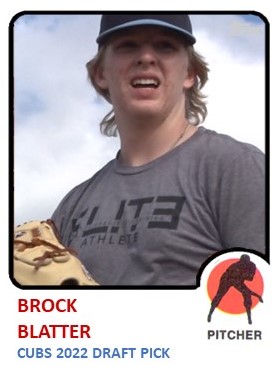 ---
Round 20 – Ke'Shun Collier – OF – Meridian CC
He hit .3570 with 19 stolen bases this past year. Game built on speed as you can tell from his size. Very interesting style of game that is so different from most kids today.
5-foot-8, 160 lbs., 21 years old, Bats Left, Throws Right
---
I suspect the Cubs will be able to sign most of these ten, but not all. Rujano might be the toughest sign along with Wheat, Blatter, and possibly McGeary, although he just tweeted he's ready to go!
Most of these guys scream loud tools and even Marshall, who pitched an inning, has something to build around. The Garriola pick might be my favorite from the day. The dude can mash! How high he will get – we will see. Peters has a cool backstory and Noriega has no college affiliation. It's almost a Willie Mays Hays thing where he just showed up. So, it will be fun learning his back story in the coming days!
Let free agency begin!!!