Nazier Mule – Pic by BVM Sports
I'm excited to get going here in a few minutes. Today's draft will be quick. There will be one minute between each pick or about a half an hour a round. So that gives me plenty of time to find information on each player. I will try to have a description, possibly a quote, a video or Tweet, and a baseball card, which I make. More information is going to be coming all next month as I'll do a "full" profile on each player the Cubs take. As for when those start, that's for another day. Greg Zumach will be pitching in some profiles too! He will also chime in with his whole analysis as the week goes on.
All the picks are all laid out here and it's just a matter of me filling in the outline as the day goes on. All you need to do is click refresh or update or to click on this post to see who the Cubs have taken.
---
Round 3 – Christopher Paciolla – SS – Temecula Valley HS
Slot value – $735,200
6-foot-2, 190, Bats and Throws – Right, Age -18
What Pipeline said – "He has a knack for making contact and does not swing and miss very often, using a very comfortable and relaxed setup in the box. He's capable of driving the ball, with quick hands and bat speed pointing to a future ability to have good extra-base pop."
Ranked 166 on Pipeline, 99 at PL, and 128 on BA's Top 600, the youngster flashes plus skills at the plate and a body that screams power and is still growing. With his wide shoulders, he probably moves off the position in time. Look for him in Mesa in early August. Love the power profile!
Top Skills – Arm and Power both ranked 55/80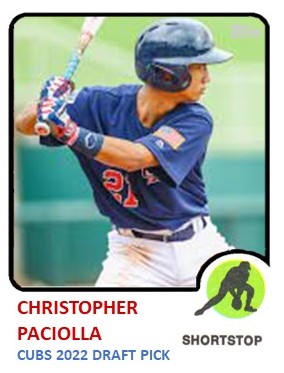 ---
Round 4 – Nazier Mule, RHP, Passaic County Technical Institute
Slot value – $538,400
6-foot-3, 210, Throws – Right, Age – 18
What Prospects Live said – "Elite level two-way athlete. Up to 101 off the mound from a short, low 3/4 arm slot. Immense arm speed. Flashes a gyro-slider and some feel for a changeup. Top of the class bat speed with significant raw power, though it's more of a batting practice approach than it is production in-game to this point. Hands work really well on the infield with plus arm strength, maybe more. Hyper-athletic abilities suggest he can stick at the position. Mule projects better on the mound for us, currently. Some similarities to Masyn Winn, a two-way draftee in 2020."
Ranked 96 at BA, 95 at Pipeline, and 214 at PL.
This kid is just plain raw. However, he is a heck of an athlete which will help him repeat his delivery. I love that he is raw and toolsy and athletic. I wouldn't call him a project either. He has experience but has never really committed to one side of the ball. Should be fun!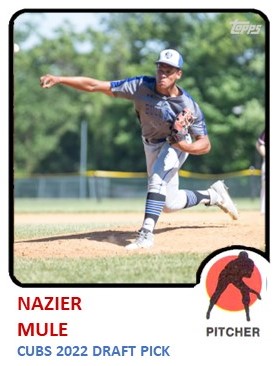 ---
Round 5 – Brandon Birdsell – RHP – Texas Tech
Slot value – $402,100
6-foot-2, 240, Throws -Right, Age -22
What BA said – "Birdsell's plus four-seam fastball sits at 95-96 mph and has touched 99. He carries that velocity through his starts. His above-average mid-80s slider has more depth than tilt, which allows it to be effective against lefties as well as righties. He throws a fringe-average 86-87 mph changeup almost exclusively to lefties. Birdsell has at least a solid path as a two-pitch reliever, but his control improvements give him a shot of going out in pro ball as a starter."
Ranked 137 by BA, 101 by Pipeline, 160 by PL
I love, love, love, love, love this pick!!!!!!!!!!!!!!!!!!!!!!!! He's a bulldog, strong, body to start, already had TJS. A little older, yes, but he might not take that long. I wonder if the Cubs plan on him starting. I do not know why they would not. He's a beast out there!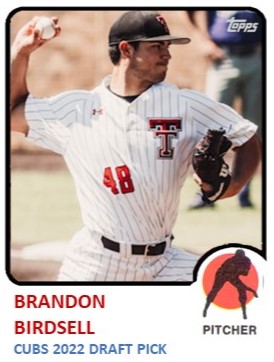 ---
Round 6 – Will Frisch – RHP, Oregon State
Slot value – $303,700
6-foot, 220 lbs. , Throws – Right, Age – 22
What PL said – "Frisch comes packed into a big, strong frame with strong shoulders and some barrel chest. He's been up to 95 in Corvallis with a breaking ball that flashes plus from time to time. He'll be reasonably young in the 2022 class. The narrative, however, changed a bit this year with some arm trouble and injuries forcing him out of action. He was fairly dominant in his first crack at college innings in 2020 and 2021. His 2.38 ERA over 51 innings last season was pretty impressive. Scouts want to see more swing-and-miss from the opposition, as well as the limitation of free passes. If he takes the next step forward in both of those categories in 2022, Frisch is the type of college performer and ultra-competitor who could pitch his way up into the first few rounds of the draft, similar to Andrew Moore in 2015 for the Beavers."
He missed all of 2022. Should be an interesting arm and to see how the Cubs use him. He will come in underslot but not too underslot as he does have some bargaining. However, he also needs more experience. Intriguing.
I am sure Greg Zumach will have more info on him later. Go, Beavs!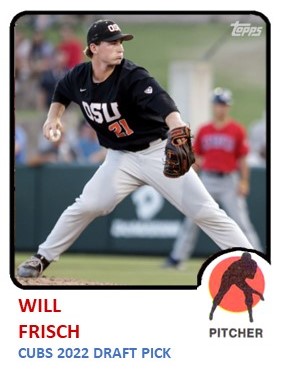 ---
Round 7 – Nick Hull, RHP, Grand Canyon University
Slot value – $237,300
6-foot, 205 lbs., Throws – Right, Age – 22
Not ranked on any list.
This is your basic senior sign in terms of money, but he has a slider and a track record this year. Threw 96.2 IP, struck out 102. 3.72 ERA, only walked 28. Had a 1.77 ERA as a reliever in 2021 and only was a starter this year. It will be interesting to see what the Cubs have him do.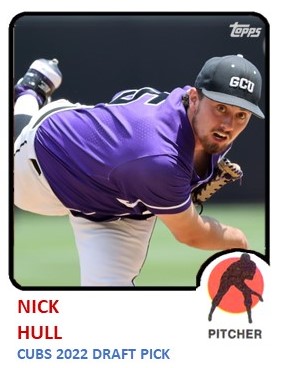 ---
Round 8 – Mason McGwire, RHP, Capistrano Valley HS
Yes, he is the son of who you think he is.
What Perfect Game said – POWER IS IN THE ARM AND NOT IN THE BAT, FASTBALL UP TO 92 MPH WITH MORE TO COME, SPLIT FINGER CHANGE IS AN OUTSTANDING PITCH WITH SUB-1,000 RPM SPIN RATES AND BIG DIVE
Word is that he is up to 95 since that report from earlier in the year.
Slot value – $188,900
6-foot-4, 190 lbs., Throws – Right, Age 18
You have to love the projection here. You are betting some on the pedigree, but more on the frame, experience, and he was highly thought of within California. He was committed to Oklahoma. I wonder if the Cubs are having to pay a little extra here or not to keep him from going to school.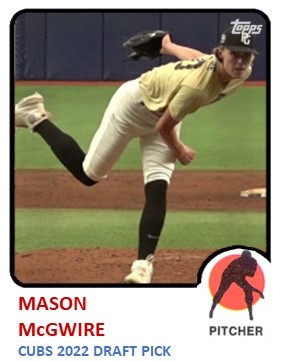 ---
Round 9 – Connor Noland, RHP, Arkansas
Slot value – $164,500
What BA said – "3.65 (ERA) in 116 innings and 19 starts. Noland's 89-91 mph fastball would be a below-average pitch in pro ball, but it does effectively set up his average, mid-80s slider and above-average, mid-80s curveball. He has above-average control.:
6-foot-2, 215 lbs., Throws – Right, Age – 22
I am not sure of his role. What you have hear is a guy who can hit his spots consistently. Whether the Cubs can work with that and help him improve on a 89-91 mph fastball. Should be intriguing to see how he used.
Another senior sign who could be a good find if you watched the video above, because that pitch is MLB nasty. His stuff could tick up out of the pen where he pitched until this year.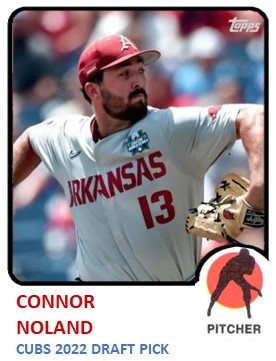 ---
Round 10 – Brody McCullough, RHP, Wingate
Slot value – $154,200
What Prospects Live said – "McCullough is draft-eligible for the second time, but had a gangbuster year for Wingate in 2022 and parlayed that into more success on the cape this summer. He's a traditional 4-pitch guy with a fastball in the low-90s up to 94, coupled with a low release slot. It pops at the top of the zone. He's got a couple of fringy breaking balls that can flash average, as well as a changeup that is average more often than the latter. McCullough will check some metric models for teams and has the track record of performing to back it up."
6-foot-4, 205 lbs., Throws – Right, Age – Just turned 22
He was the D2 Pitcher of the Year in 2022 and followed that up with an impressive turn in the Cape Cod League where he struck out 30 in 20.1 IP with a 2.70 ERA. As I watched the video above, I thought, "Just think what pro coaching is going to do for him!"
McCullough sits in the 90s, a slider in the 80s and a mid-80s changeup. The Cubs are going to want to get some seperation between those three pitches. This pick excites me as you could take a guy whose good and make him even better by fine tuning what he throws and how he throws it.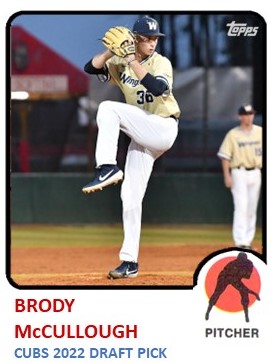 So, that wraps up Day 2. 7 RHP and a SS. I don't care they took 7 pitchers. They already have plenty of position guys. In addition, they have ten picks tomorrow, nondrafted free agency after that, and a trade deadline to go get big named bats. No rush. They went bulk today and that is fine. I am pooped and ready to go stretch my legs!
I will be back tomorrow at 1 PM for rounds 11-20.
Special thanks to Greg Huss and Greg Zumach who ran the NSB Twitter account today and supplied some vids!