Wow!
---
Wow, wow, wow, wow, wow!
I am still shocked. It's been about an hour and it really hasn't sunk in.
The Cubs selection of Oklahoma pitcher Cade Horton with the seventh pick of the 2022 MLB Draft came as quite a surprise! With Cam Collier, Brooks Lee, and Kevin Parada still on the board, the Cubs decided to roll the dice with Horton who was phenomenal in the College World Series for the Sooners!
Before the draft, Horton was not someone who most people thought of as a top ten guy until the past week. Prospects Live had him going at 9 in their latest mock and FanGraphs had him ranked in the 12 slot and went tenth in their mock while Pipeline had him going 13. To those following the draft and its fluctuations, his selection in the top 10 was not a surprise. The surprise was that it was the Cubs.
And the more I read and watch, the more I am interested about what he could be in time.
In other words, he is a "POSSIBLE" top of the rotation arm. Possible is the key word there as I am sure the Cubs' "pitch lab" will clean up some things, make some tweaks, and add a wrinkle or two. He is far from a finished product. The fact that Joe Doyle of Prospects Live loves the selection sort of turned my head and I was practically screaming for Collier.
I remember stating back in March that the Cubs had an opportunity to get a top arm at seven, possibly "THEE" top arm based on the plethora of top bats from the prep and college ranks. And when would they have that chance again? However, back then, that arm was Dylan Lesko. Horton was not even a blip on the horizon.
So, he's come a long way in a short time. And he is actually pretty well thought of by many evaluators. Here are the stats for his CWS run that turned him into a #7 pick – 2.61 ERA, 49 Ks, 31 innings in five starts. Pretty, pretty, pretty, pretty good numbers there. But is that enough?
We will find out.
Basic Info
Height – 6-foot-1
Weight – 211
Throws – Right  
Oklahoma 
20-years-old
---
Here is what some of the top publications had to say about him.
Pipeline
Horton's fastball velocity came back quickly but his life and command didn't, so his heater got hit until the playoffs, when he sat at 94-96 mph and topped out at 98 with improved arm side run and carry. His biggest difference-maker was a slider that got much better after he toyed with trying to add a cutter before the Big 12 Conference tournament, giving him a wipeout breaking ball that parks in the mid-80s and reaches 90 mph with two-plane depth. It's an upgrade over his low-80s downer curveball. 
FanGraphs
Horton, who ranked 52nd in our draft rankings in the fall, had a breakout sophomore campaign (he's age-eligible) after returning from Tommy John, and he is arguably the best college pitcher in a draft that dealt with an unusual rate of attrition among that demographic. His slider took an especially huge leap and has become a plus offering in the mid-to-upper-80s, featuring two-plane wipe. Horton will also use a low-80s curveball with more vertical shape to both get ahead of hitters and finish them off. He also has nascent feel for changeup location, not often imparting bat-missing movement on the cambio but locating it in the right area. Considering how few reps Horton has had, that pitch (all his pitches, really) has an extra bit of projection. He very comfortably has the repertoire depth and command to start, it's just that he's only thrown 53 total innings in college and there is rightfully less confidence in Horton's durability than there would be had he been healthy and pitched two entire seasons looking like this. That risk is counterbalanced by the possibility that he's just scratching the surface in literally every other area.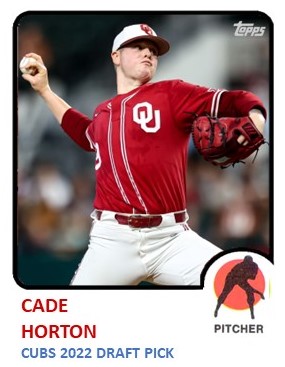 Overall, this pick is a risk like any other. However, it cannot be undone and that cannot be understated.

He's already done the Tommy John thing.

He's only 20.

I like those two facts.

The thing about the draft is that you can't judge a player's true value for years. However, I am sure several of you already have made a decision already.

I am willing to see him in person, hopefully next month in Appleton, Wisconsin, because Horton will probably break in with South Bend to get a head start for 2023 with the Cubs High-A affiliate. I don't see him throwing much more than 40 pitches a night for a few weeks, maybe 10 innings total this summer.

He is always going to have what happened tonight hanging over his head. And that's unfair to him. Still, that might prove to be a good thing that he carries around with him for career, like a chip on his shoulder.

The pick is done, he's a Cub, and we will just have to be patient to watch him develop the next two years.