Picture by Todd Johnson
Happy Independence Day!
The past week was very busy for me and it was also the start of the second half for Tennessee and the first full week of the second half for Myrtle Beach and South Bend. South Bend has just been on a tear as they are just going out and demolishing teams right now and it was a lot of fun to witness them prepare behind the scenes, see it in action, and to capture it digitally in pictures.
Affiliate Roundup
For Myrtle Beach this week, it took a couple of days to get back in the swing of things after winning a playoff sport. They had to turn it back on quickly as their nemesis Charleston was in town. The Pelicans went 4-2 on the week punctuated by a lot of home runs including two each by Kevin Made and Felix Stevens while James Triantos, who looks to now be locked in, had three.  
South Bend went 5-1 in Beloit. It was amazing every night except Sunday, which I did not go. One reason for their success is that they truly believe in themselves and their teammates to do what it takes to win and to also come from behind. They never believe that they are out of a game and it is fun to watch them scrape and claw every night. One player who I was really impressed with this week was Yeison Santana. I knew he could hit. However, back in the Quad Cities I saw him make several mental mistakes on the basepaths and in the field. That has changed greatly. He was a little wizard out there at second base all week making solid play after solid play (see why down below in the play of the week section). As for why they won 10 in a row…
Tennessee lost their series with Rocket City 2-4. Jake Slaughter's amazing June looks to be the real deal in July as well. I don't think Slaughter will be on any of our prospect lists though. Ryan Jensen, on the other hand, will be an interesting name to see where he is slotted this week by everybody. A month ago, he might have dropped off a few lists. Apparently, Jensen is all on board with his new delivery and loves the new arm action. His fist three starts coming off the Development List all were grand. This week…not so much.
Iowa limped through the week at 1-5 as they had some serious pitching problems against Columbus. Narciso Crook was bumped up to Chicago which cemented more playing time for other players. As for their starting rotation, it is in a disarray as they are not getting very much production this week giving up 16, 12, 13, 10, and 9 in consecutive games. Wow!
One Play of the Week
I was sitting in the first base camera well when this play went down and I thought there is no way he gets to that ball. He did. Amazing!
The Other Play of the Week
Here's the funny part about this play. I was at the far end of South Bend dugout on the third baseline and I saw that the ball was hit slowly and I knew it was gonna be a close play so I began focusing my camera on Jonathan Sierra at first base. I did not see a Santana flip the ball with his glove to first until I got home that night. And I'm still amazed that he was able to get it done. I remember one of the trainers asking me if I got that and I'm like "No, I was focusing on Sierra." Still, it's still just an amazing play.
Coming Out Later Today
This afternoon, I have four affiliate updates coming out every hour on the hour beginning at noon as Iowa will be first and then we will make our way down to Myrtle Beach at 3 PM. Iowa | Tennessee | South Bend | Myrtle Beach
Then tomorrow, we start our midseason prospect list roll out as Greg Huss will be first up with his new list. My updated compendium will be out on Wednesday followed by Jimmy Nelligan's on Thursday and Greg Zumach's on Friday. We will compile and assign points where a prospect is ranked and then will have our own new NSB list come out next Monday.
Card of the Week
I haven't made cards for almost a week but it is on my list of things to do tomorrow. Still, Larry Kave took this fun one of Kevin Made jacking one. Now that I see this one, I may make some today after I mow the yard!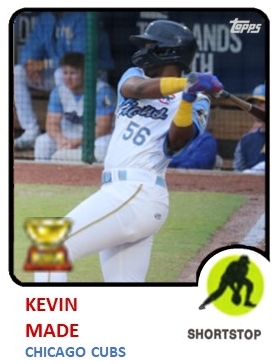 Hitter of the Week
While Luis Verdugo hit .471 this week, he only drove in 1 for South Bend. So, he gets the runner up. The award goes to James Triantos who hit a system leading 3 HRs this week along with a system leading 6 RBI. In addition he hit .373 on the week.
Starting Pitcher
Anderson Espinoza wins this week as he went 5 no-hit innings with 7 Ks for Tennessee. Kudos go to runner up Tyler Schlaffer of Myrtle Beach who went 6 IP with 7 Ks early in the week.
Reliever of the Week
Johzan Oquendo of Myrtle Beach takes the award for this week as he went 5 innings with 6 Ks. I really like his live arm.
Team of the Week
South Bend, baby! All the way!