Pete Crow-Armstrong – Picture by Todd Johnson
The big news of the day was none other than word that Miguel Amaya would begin a rehab stint in the ACL tonight. He was 0-for-2 at press time with 2 pop outs. In addition, pitcher Sam Thoresen made his return in the ACL as well as he is also coming back from TJS. Thoresen was a favorite of mine in 2021 in Myrtle Beach after signing as a nondrafted free agent out of Minnesota. Glad to see him back on the bump even if it was only for one inning!
Tonight was another fun night for me in Beloit as it was Star Wars night. Beloit pretty much packed the house which is awesome to see that the community is coming out to support the Sky Carp in their beautiful new stadium. 
Picture of the Day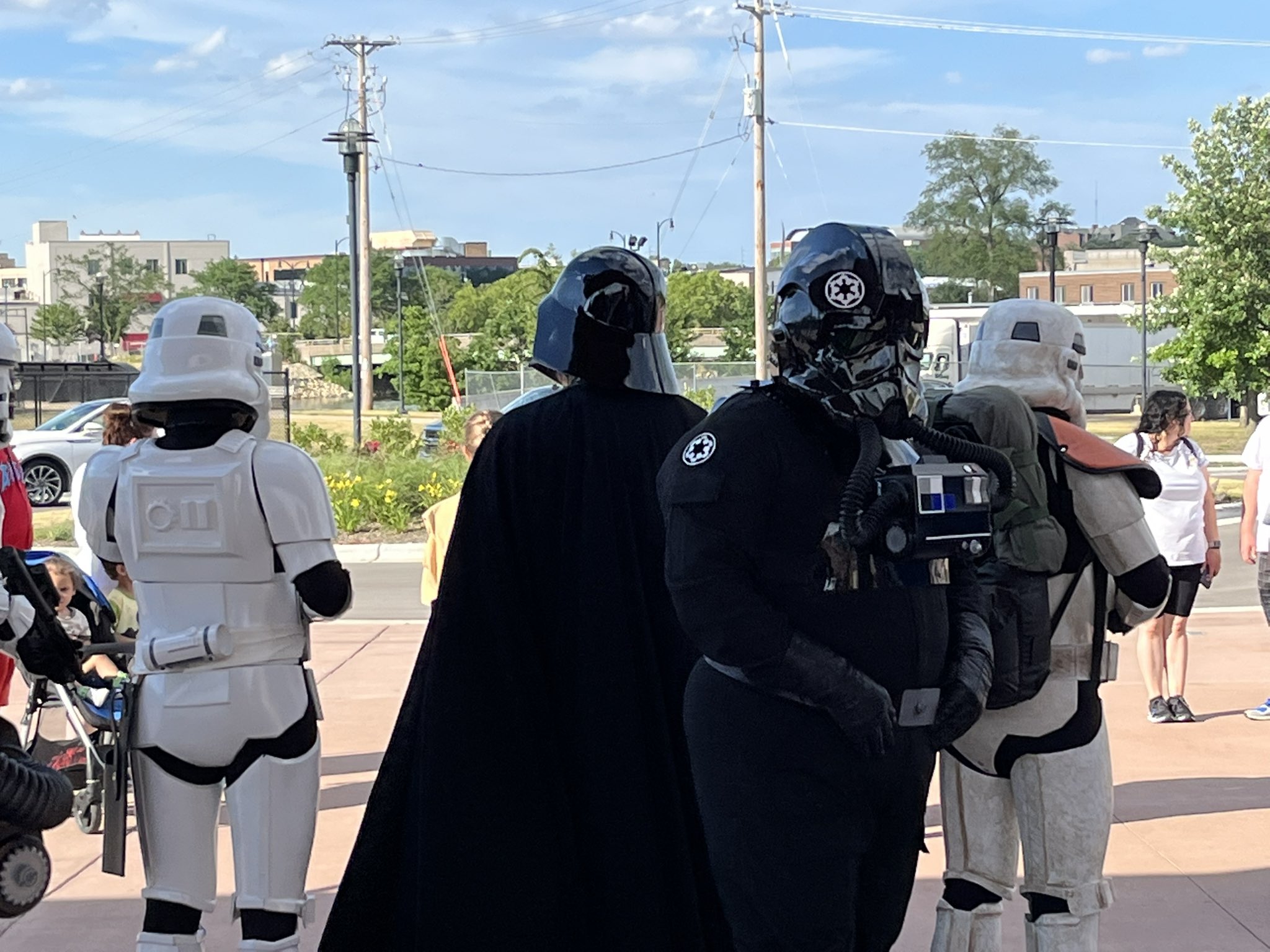 As for the Cubs system, it was not a good night to be a starting pitcher. Every single one of the four major affiliate starters did not have the best nights of the season. It was up to the bullpens to lock things down and keep the clubs close so the offense could strike at the right time.
Myrtle Beach would sneak one out over Charleston in 11 innings for their third win this week. South Bend kept their winning streak alive as they now 7-0 in the second half and have won nine in a row as they beat Beloit 8-5, even after the first nine guys on South Bend struck out to start the game. Tennessee lost despite HRs from Matt Mervis and Jake Slaughter and Iowa was pummeled into submission early by Columbus.
Web Gem of the Day
This is laying out for the ball.
Dingers of the Day
It was nice to see James Triantos get back on the HR parade with his dinger as well as Kevin Made just murdering a baseball, both in Myrtle Beach!
Hitter of the Day
Pete Crow-Armstrong is feeling it now at South Bend. He went 4-for-5 tonight with 2 RBI and was just a terror on the basepaths. For the week (4 games), he is hitting .450 and he has been a ton of fun to watch in person this week. He might be the most exciting player I have seen in South Bend! Then again, that only goes back to 2015. However, PCA is just amazing!
Reliever of the Day
Graham Lawson of Tennessee came off the injured list this week and tonight he pitched really well going 1.2 innings with three strikeouts. I really like it when a pitcher comes off a list and does well right out of the gate. That has to give them a boost of confidence and it has to give Lawson a lot as he missed almost a month of action. 
Starter of the Day
Tyler Santana came in relief of Luke Little in Myrtle Beach and pitched six innings where he did not allow an earned run and he struck out four. I've been saying all year that he should be in South Bend and he approved it tonight. In fact, he's been doing it all year. Hopefully, he'll get a chance to start on a regular basis as the cup system is a little bit backed up right now when it comes to pitching.