Chase Strumpf (2021) – Picture by Micah Manuel 
Today's games were a little bit overshadowed by some news of the day.
Top prospect Brennen Davis underwent back surgery. Apparently, Davis had back pain and what they thought was going to be some sort of sciatic issue. Instead, it turned out to be a bundle of blood vessels pressing up against the nerve. After that was alleviated, doctors think that Davis will make a full recovery since there was no structural damage to his back or any discs. There was no timetable set for his return.
The other big news of the day came from Iowa in two parts.
Part one was that infielder Levi Jordan was promoted from Tennessee and the bigger part was that pitcher Caleb Kilian is going to start the second game in Chicago tomorrow in primetime. Acquired in the Kris Bryant trade last summer, Kilian took off in the Arizona Fall League in 2021 and has been lights out at Iowa this spring. In nine starts, he has a 2.06 ERA with 41 strikeouts in 39.1 innings. I'm excited to see how he does at the major league level!
LATE NIGHT TRANSACTION UPDATE
Now let's get to some action on the field!
Reliever of the Day
Joe Nahas came into South Bend's game in the bottom of the fourth inning. He immediately gave up a solo home run and then allowed just one other hit over the next five innings. Along the way, Nahas struck out eight batters and only walked one. Someday, the Cubs should just let him start. 
Starting Pitcher of the Day
This award goes to Max Bain who gave up two runs over five innings on four hits while striking out four. It was his best start since being promoted to Tennessee.
Hitter of the Day
Tennessee Smokies put up 10 runs tonight, nine of them came via the three-run home run. Matt Mervis started it off, followed by Chase Strumpf, and then Bryce Ball. Ball and Mervis both went 2-for-4 with a walk on the night while Strumpf went 3-for-5 and he also had an extra RBI to give him four on the night. That was the difference in giving Strumpf today's Hitter of the Day. But kudos to all three players for cranking out some dingers for the Southern League's most potent offense.
Stats of the Day
The Smokies are obliterating the Southern League. They lead in several offensive categories including HRs, RBIs, slugging, and OPS.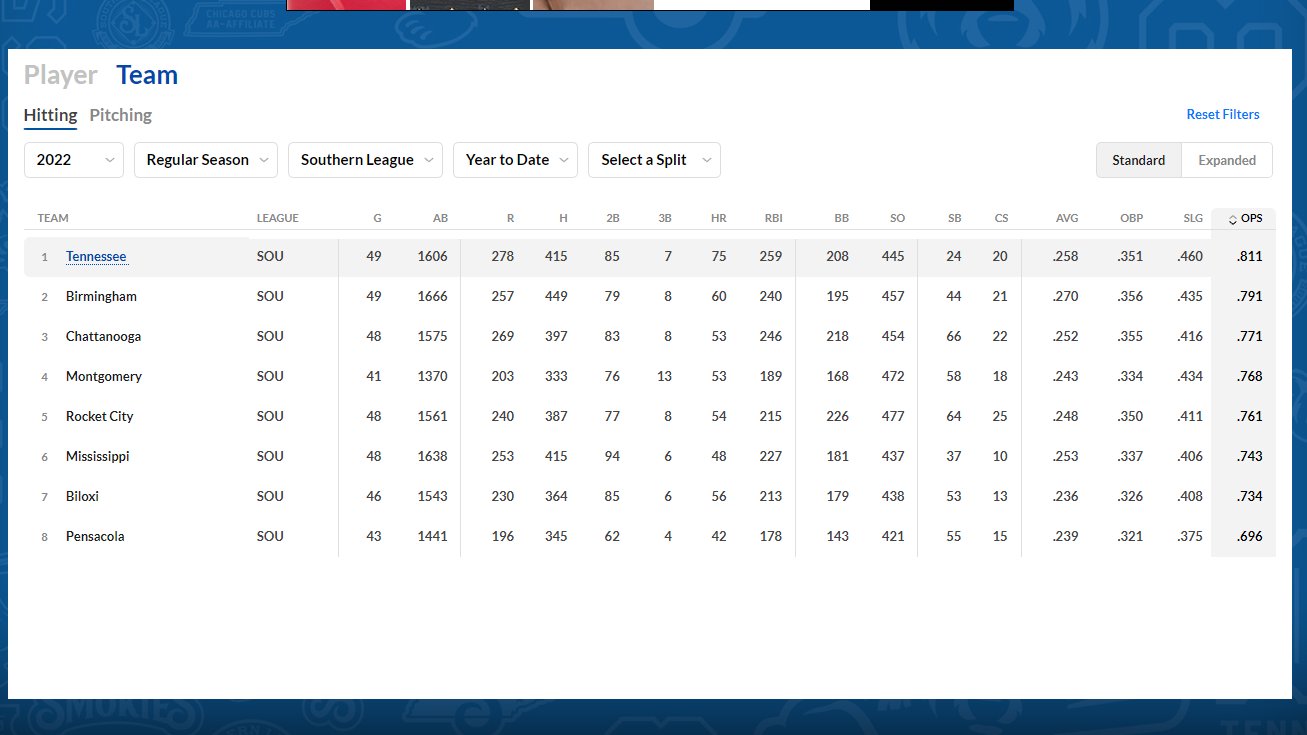 I will be back in the morning with a look at the fourth round of the draft.