I hope you are sitting down for this bit of news. Tomorrow is the end of May. I know! It's hard to believe that we've gotten seven weeks of baseball in. I am still a little stunned it is happening so fast but this month was a doozy for the Cubs system.
Last week did not see anybody get named to be a player of the week for the first time all summer. I'm hoping that changes today when minor-league baseball releases the hitter in pitcher awards for each league. I'm thinking Levi Jordan could win the southern league. There was not a dominant turn by a starting pitcher this week that resulted in eight or nine strikeouts which will usually net you the award. Maybe next week.
Another change last week was that the Cubs did most of the transactions on Monday. With this being the end of the month, we could see several moves take place before games begin on Tuesday. I could see a reliever shuffle in the wake of South Bend's Jake Reindl going on the IL. We could also see some catcher shuffling with Tim Susnara and Casey Opitz about ready to return. 
We still have yet to see Parker Chavers and Christian Franklin in any EXST games in Mesa. I am hoping that happens very soon. 
And then there are the big moves that could ripple throughout the system. With Nelson Velazquez and Matt Swarmer headed to Chicago today, be ready for a flurry of moves, most of which could come today.
Card of the Week
With three of the four teams on the road, there were not a lot of pictures taken from this week. Still, I was able to find a few. This week's card is made in a 1982 template with a picture of Moises Ballesteros who looks ready to break out this summer in Mesa AND possibly Myrtle Beach.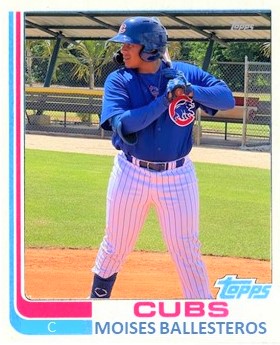 Affiliate Round Up
I also looked up this year's playoff procedures yesterday morning.
"The format for the 2022 Postseason will consist of four teams per league in a best-of-3 division series, followed by a best-of-3 championship series. The four participants per league will be the winners of each division from both halves based on the best winning percentage of each half. In the event the same club wins both halves, the club with the next best full-season winning percentage in that division will advance."
So, there will be no wild cards in the first half. For Myrtle Beach, they are in a for a literal dog fight with Charleston to win their division. South Bend and Tennessee have a little bit of catching up to do. There are about three and a half weeks left in the first half.
Iowa – It was a rough week for the Cubs as they went 1-5 and fell below .500 on a year. Right now, they are the only affiliate with that kind of record and with what seems like half their team either being in Chicago or on the IL, it is understandable. Hopefully, Brennen Davis will be returning to action soon.
Tennessee – The Smokies also had a rough week. They were facing their division rival in Rocket City and it was a battle for first place. However, rain got in the way the first two days of the week which necessitated six games being played in four days. In other words, they played two doubleheaders this weekend on Friday and Sunday. Needless to say, the Smokies bullpen was shot. They threw out Delvin Zinn to get an inning on Friday.
South Bend – South Bend seems to be steam rolling right along as they are in contention for a playoff spot just three games behind Cedar Rapids. The Cubs surprisingly had some bullpen issues this week but they still went 4–2 on the week. 
Myrtle Beach – On Friday night, their winning streak reached 12 games and on Saturday Augusta burst that bubble with a 5–3 victory and did it again on Sunday 3-1. Still, the Pelicans run has been impressive. Equally impressive is that Charleston RiverDogs, the Tampa affiliate, hung right with him and is only one game behind. So, the two teams with the best records in all of minor league baseball happen to be in the same division. That's a trip!
Dinger of the Week
I just love Kevin Alcantara. He generates such easy power with his beautiful swing.
Hitter of the Week
Levi Jordan – He is just crushing Double-A pitching. He should find his way back to Iowa fairly soon.
Starting Pitcher of the Week
DJ Herz had a very good outing. He went 5 innings for the first time this year and allowed just one hit while striking out three in a scoreless start. Even more impressive was that he was at 42 pitches after 2 innings and needed to only use 30 the next three frames.
Reliever of the Week
Jeremiah Estrada is just waiting for a call to Tennessee. This week saw him go 3.1 scoreless, of course, and strike out 5. His fastball has much jump to it, hitters have a hard time even getting wood on it.
Team of the Week
The Pelicans. Rinse and repeat.