Jordan Wicks – Picture by Todd Johnson
I always find my head is spinning when school ends because it just ends. There's really no cool down. It's just over. The baseball season is sort of the same way. bu that's not going to happen for quite a while. We've got a lot of baseball coming up this summer and I'm pretty pumped to go see quite a bit of it in June. I will be in the Quad Cities in two weeks and Beloit for the last week. Looking at the calendar, I am even thinking about a day trip to Des Moines. Don't hold me to that.
As for the News of the Week…
It was really cool to see that the Cub system had the best record in all of minor-league baseball. While winning is important, it's really about developing players left and right. We've seen a lot of breakouts this year and there's more coming as the Arizona and Dominican leagues begin a week from tomorrow.
The Marquee Sports Network will also be broadcasting MiLB games and they dropped that schedule on Friday. That is going to be exciting to see the minor league kids on the big TV screen. 
It was also cool to see Pete Crow Armstrong get a bump into a couple of top 100 lists now. His torrid start has people calling for him to head to South Bend. He will, but I'd be wary of rushing him too much. The opposite is also true if he sits and spins and begins to press in order to get promoted, but that does not seem to be happening. I hope to see him when I go to the Quad Cities in two weeks.
Kyle Boddy of Driveline listed the Cubs pitching system as MiLB's leader in xERA which measures how well a pitcher is actually performing compared to his normal ERA. 
Names Seen in EXST Box Scores This Week
It was cool to see some familiar names getting into the Box Scores of Extended Spring Training games per Arizona Phil of the Cub Reporter. This week saw catcher Casey Opitz (hitting lefty only), reliever Zac Leigh, catcher Tim Susnara, and pitcher Yovanny Cruz made his first appearance since undergoing TJS last year. That was exciting to hear about.
Best Secondary Pitch in the System
MLB Pipeline dropped an article this week that listed the prospect with the best secondary pitch in each organization. For Cubs prospects, they listed Jordan Wicks' changeup followed closely by DJ Herz and his changeup. They wrote:
Wicks established Kansas State records for season (118) and career (230) strikeouts in 2021, when Chicago selected him 21st overall and scouts graded his low-80s tumbling changeup as the best in the Draft. It has helped him thrive in High-A, where he has posted a 3.55 ERA with a 37/9 K/BB ratio in 33 innings. Fellow Cubs lefty prospect D.J. Herz also has a well above-average changeup that ranks right with Wicks'.
New Pipeline Mock Draft
Jim Callis and Jonathon Mayo are going to be alternating doing a mock draft the next seven weeks. This week, it was Callis' turn and he had the Cubs taking 17-year-old Cam Collier. We shall see who Mayo has going to the Cubs at 7 next week.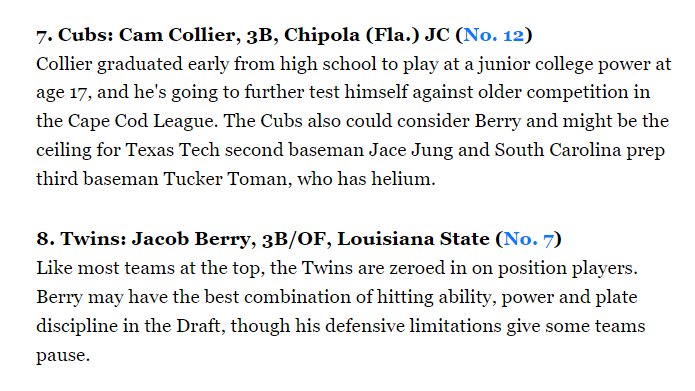 June 6 to August 23
That is going to be the length of both the Arizona Complex League and the Dominican Summer League. That's a little bit different than usual. Normally, Arizona doesn't start until the middle of June. That is going to have a huge impact on draft picks. The draft is not until July 17. The signing date will probably be before August 10. That only leaves a couple weeks to get players signed and a couple weeks to get them indoctrinated. Then maybe the new guys could get a week of play in. However, college position players would have a definite advantage as they could wind up in Myrtle Beach along with some of the top performers from rookie league and head to Myrtle Beach quickly. 
I will have my preview of the Arizona Complex League team at some point this next week. I'm going to have to wait until rosters are released to do a full work up on the two Dominican Summer League teams, though. There is still a lot of time left for the Cubs to go out and sign some players, especially pitchers, for those two squads.
Coming Up at North Side Bound
Next week is going to be a busy one here at North Side Bound. "The Breakdown" will be out tomorrow and then Tuesday Transactions will detail any movement in the system. I will also put out the May All-Star team Wednesday and that has some interesting guys who are going to make up that team. I also have a Levi Jordan prospect update just about ready to go. Jimmy will have his game of the week on Monday while Greg Zumach has a couple of interviews in the can already and hopefully one of them will be out this week. Or maybe he will drop another mock. Greg Huss will be around with his Midweek Report and Friday Five.
Jam of the Week
I have been listening to early REM the past two weeks almost non-stop. Their first ten years of records were and still are little moments in time for me. Murmur, Reckoning, Fables of the Reconstruction, Life's Rich Pageant, and Document are just a stunning quintet of career starting albums. Here's one of my favorite all-time songs – Driver 8.