It's hard to believe that today is the 22nd of the month. That means there are less than 10 days left in May and I only have to teach four of them. It also means I need to start getting together more draft stuff as the conference tournaments are next weekend. And, I need to get my truck serviced before I start traipsing all over Iowa, Wisconsin, Iowa, and Indiana this summer.
The end of May also signals that there's going to be a lot of promotions on the 31st. Usually the first or last day of the month is a big day of prayer movement in the system and the end of May/beginning of June should be no different.
Picture of the Week
I took this picture of Cole Roederer yesterday in Appleton. The kids were really letting him have it and Cole enjoyed every second of it. When I showed the kids the pic, they told me I should delete it! I laughed.
To see more of the pics I took, check out the album on Facebook!
Who Could Be on the Move Soon?
Here are some of the big names who should be on the move to new homes for June…or even before.
1. Sheldon Reed – He has not allowed a run once at Myrtle Beach. I don't know why he is still there.
2. Pete Crow-Armstrong had a little slump in the middle of June and seems to have rebounded nicely thanks in part to playing Columbia who the Pelicans just seem to own. My only concern that I have is just how well he's doing against elite pitching. Yes, the Carolina league is a pitchers league, but does it have elite pitchers this year?
3. Jeremiah Estrada – he's been outstanding this year at South Bend. He's had a couple hiccups, usually about once a month but he gets right back on the horse and goes at it again.
4. Andy Weber – I would not be surprised to see him moved this week if he wasn't on the IL. He's been tearing it up this month in Tennessee and showed no signs of slowing down before his tumble last week.
5. Kevin Made – Yes, he is just 19. He's ready for High A. I was surprised he was in Myrtle Beach at all this year. 
On the Fence
DJ Herz – I really would like to see him get stretched out to five innings consistently before he heads off to Tennessee. In order for him to get there, the Cubs are going to have to make a spot for him in a crowded rotation.
Jordan Wicks is still working on some things that he really hasn't put it all together yet. The changeup is definite plus plus, but he is still getting a feel for the other pitches. This week, he looked like a #1 draft pick. June could bring big things for him as he gets used to throwing his slider in concert with his other pitches.
Some Bad News
Jose Albertos underwent arm surgery this week and posted it on his Instagram.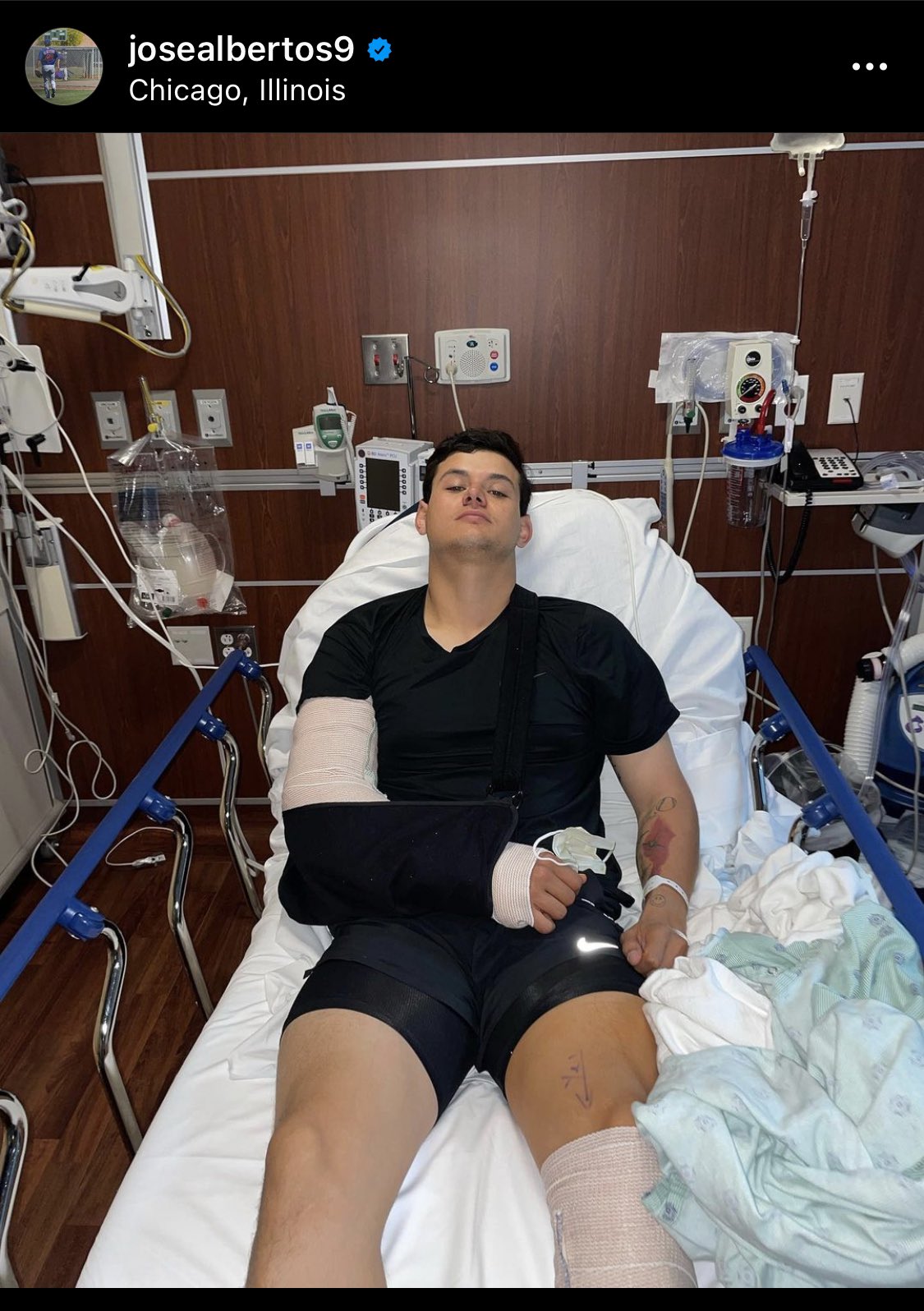 Regular News
The big news of the week came from an article by Tommy Birch of the Des Moines Register who interviewed GM Carter Hawkins who was more than happy to spill the beans about several prospects including Brailyn Marquez, Jared Young, Brennen Davis, and Caleb Kilian.
Here is the latest on Brailyn Marquez: 
"I think so. He started to get off the mound a little bit here over the last few days. It's been tough for him to get over the hump just from a  health standpoint. But once he does, we know he's got some pretty electric stuff."
When talking about Brennen Davis, you could also hear the silver lining in his injury almost being a chance to reset him back in Arizona after a rough start.
"He's back in Arizona right now with a lower back issue so we didn't want him riding busses around town. I feel like he'll progress from that. He'll be back this year at some point and we'll take our time with him, obviously. But we want to make sure he's right when he gets back and continues the progress he's already made."
Caleb Kilian is pretty close to being ready but there is really no rush to get him to Chicago. Here is what Hawkins said of the "sort of plan" for Kilian.
"He was a guy when I was in Cleveland that we were really on and really liked. So, when we saw that Chicago got him in that deal, I was like, 'Oh man, I would have loved that guy.' And lucky me, here I am. I get to work with him. But, obviously he's got that prototypical starter build, he's got multiple pitches he can throw for strikes. I think he's continuing to work on getting swing and misses and continuing to work on honing his secondary pitchers. I think he's going to help us out at the major leagues at some point if he continues to progress the way he is and I think even be patient and work every day to get better. He's got a shot to have a really long career."
Coming Up Next Week
Tomorrow will be a "stat heavy" issue of the Breakdown followed by Jimmy's game of the week around noon on Monday. We will have draft content and I will also update the profiles of Sheldon Reed and Jake Reindl. And it is getting close to a preview of the Cubs rookie league team in Arizona. They start on the 6th of June.
Jam of the Week
I am going with a deep dive into 1970s prog-rock great with the band UK. Originally, it feature former King Crimson bassist John Wetton, guitarist Aland Holdsworth, Keyboardist/violinist Eddie Jobson, and kinetic drummer Terry Bozzio. I loved their two studio albums. In fact, I spent most of the winter of 1984-1985 listening to them in college.