In terms of wins and losses, this was the best week of the year for the Cubs' system as the four affiliates went 17-7 highlighted by South Bend's six game sweep of Peoria. However, in terms of individual performance, there were some exciting moments taking place this week.
To keep things different and fresh, I'm going to mix things up this week and do the player awards first.
On Monday night, Cam Sanders went five innings and struck out nine and did not allow a run as he pitched possibly the best game of the year by any prospect. On Sunday, he went 4,2 IP, allowed a 2 run HR, but whiffed 6 more guys. For the week, that's 9.2 IP, 2 runs on 4 hits, and an amazing 15 Ks! For that he's going to get the Pitcher of the Week.
Joe Nahas went six innings on Tuesday allowing one run and striking out seven and he easily took the Reliever of the Week award for the past six days.
When it came to the Hitter of the Week award, Jared Young of Iowa went off this week as he hit .500 with an OPS of 1.498. The big lefty cranked out 3 dingers as he now has 8 on the year.
Honorable mentions go out to Pete Crow-Armstrong, Darius Hill, Bryce Ball, and Andy Weber who is most certainly on a tear
The Team of the Week is none other than South Bend who were just fantastic with a home sweep. What made it even better was that it was the Cardinals' high A affiliate out of Peoria. You might see a budding rivalry now that South Bend is in the western division. What I like most about the club this week is their pitching just seems to shut it down. They didn't score a ton of runs this, but they scored enough.
Tweet of the Week
My wife Anne had a great day yesterday!
Card of the Week
I spent most of yesterday morning making over 60 cards from pictures that I took in the Quad Cities. This was one of my favorites of Jeremiah Estrada in a 2001 frame and I just love how everything meshes together in this card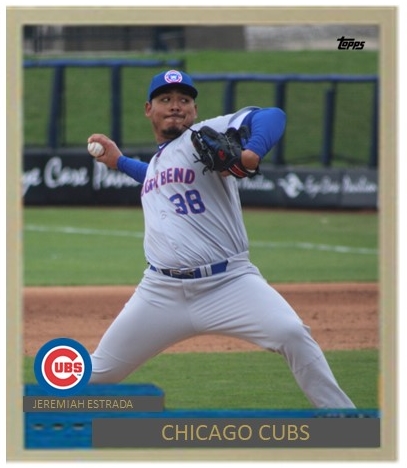 Who Is Hot at Each Affiliate?
Iowa (3-3) – Nelson Velasquez and Nelson Maldonado are not showing any kinds of intimidation facing Triple-A pitchers. Both are off to good starts and Maldonado could be knocking on Chicago's door fairly soon. I don't know how much seasoning he needs or what the Cubs are trying to help him work on at Iowa, but this kid just hits and hits and hits and hits and hits…and hits. I don't know what more PJ Higgins needs to work on either. He's up to .377 with an OPS of .987.
Tennessee (4-2) – Bryce Ball is easily the most improved player in the system this year got off to a really fast start, slumped a bit for a week, and has since rebounded and is hitting close to .300 with an OPS over .800. He has two home runs so far, but I'm expecting a lot more especially when the weather warms up.
South Bend (6-0) – The starting rotation and piggyback starters were just outstanding this week. We probably aren't talking about Manny Espinoza enough and we're definitely not talking about Chris Clarke enough. Max Bain has now lowered his season ERA to 2.84. That is about half of what his ERA was last season with South Bend.
Myrtle Beach (4-2) – The more I see Kevin Alcântara play, the more I just fall in love with that swing. He's going to do some serious damage this summer in the Carolina League. There's no need to rush him up to South Bend, just let him sit and dominate a level for a couple of months. Out of all the pitchers in the minors, Richard Gallardo is definitely making the biggest push to be promoted. Outside of one start, he's been excellent this year and he is still just 20 years old. When he gets to South Bend, he's going to be really tested by hitters that are a little more polished than what he's normally used to seeing. His next start in Myrtle Beach, could be his last if he continues to do what he has been doing.
I will be back tomorrow with Tuesday Transactions as I look at possible upcoming promotions. Some may happen tomorrow, some may not.