Who Is Heating Up Heading into May?
Before I left to go to the game in Davenport yesterday morning, I became engrossed in the stats page for each affiliate. Minor League Baseball now has several drop-down tabs that allow you to sort through the stats. This is going to make my job so much easier this year when it comes to figuring out hitters of the week and the monthly All-Star team for both pitchers and hitters.
For this week's breakdown, though, the drop-down feature allows me to see who is really kind of heating up heading into May. Yesterday's All-Star team was fun but April is now over, it is time to move on. 
As May now starts, there are several guys who are starting to put two and two together to equal four. Or in the case of Pete Crow-Armstrong, seven.
On the hitting side of things, Myrtle Beach second baseman Juan Mora has come up and he has not stopped eating since he arrived. His teammate, Kevin Alcantara looks to be back healthy after missing a few games and he is a bundle of joy to watch. I think once he gets it going, he's going to be a tour de force. 
As well, I really like BJ Murray as a breakout candidate, and I think we're going to see that this month. He's hitting in a well-protected lineup and he hit a home run on Saturday as well as hitting .400 for the last week. Chase Strumpf is also starting to string together some good AB's and once he gets going, he's going to really lengthen that vaunted Tennessee offense.
When it comes to pitchers, the seven day thing really doesn't work for them; they don't pitch every day and their results have to be more consistent over time. One bad outing can ruin the whole month. Two guys who improved from start to start, or piggyback to piggyback, this month were Chris Clarke and Max Bain. Both wound up with sub 4.00 ERAs for the month, but what I liked was that they were much more in control of their arsenal at the end of the month than they were at the beginning. Part of that comes from minor injuries in spring training and not getting stretched out, but also just figuring some things out as we get back in the swing of things.
Affiliate Roundup
Iowa (2-4) – It's getting to be that point in the year where Brennan Davis can break out of his funk any time. He did the same thing last year when he went to Tennessee. It took about four weeks before he started to catch fire and then he didn't stop. I would like the same thing to happen again. He's currently hitting under .200 on the season. My concern level right now is probably be pretty low. At some point, it will click in. As for the rest of the team, the hitting has kind of gone off the rails while the pitching seems to be quite excellent on a nightly basis. However, if you don't score any runs, it is kind of hard to win. Now that Brandon Hughes is here, I should have more reasons to tune in along with Davis and Kilian.
Tennessee (2-4) – The Smokies top four hitters are just fantastic this year. Darius Hill, Chris Morel, Nelson Velazquez, and Bryce Ball have been putting up some numbers and it is not uncommon that they put up a lot of crooked numbers fairly quickly in a game. The starting pitching for Tennessee, has a little bit to be desired. Outside of Javier Assad and Riley Thompson, Anderson Espinoza has struggled a bit and so has Ryan Jensen while Cam Sanders last start was pretty decent. I was starting to see some struggles in the bullpen as injuries pile up and rolls change. Yuri Ramos is looking good out there along with Blake Whitney who looks to have rebounded after a couple of poor outings.
South Bend (2-4) – This team seems like it's going to be this year's Jekyll and Hyde team. They're loaded with some great starting pitching but the bats don't seem to respond to well on cloudy and non-sunny days. When it's sunny and warm, this team can rake. They don't look comfortable playing in the colder weather of the Upper Midwest as I noticed early and often last week. When the sun is out, so are the bats.
Myrtle Beach (5-1) – This team is turning into a juggernaut pretty quick. The pitching in the rotation is coming along very nicely. Porter Hodge, Luke Little, and Luis Devers head really good outings this week and yesterday there was a no-hitter. The bullpen has pretty much turns any game into a five inning affair. This is still hard to believe, but Sheldon Reed and Jake Reindl have yet to allow run this season and Luis Rodriguez has been spectacular in a long relief. I wish I lived closer to South Carolina. If only Myrtle Beach were in Wisconsin or Northern Illinois, I'd be having a heck of a time every night.
Card of the Week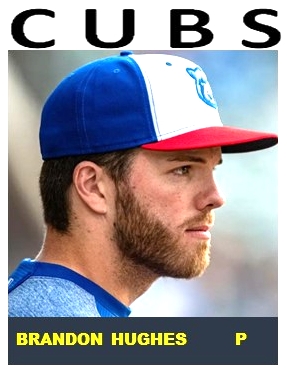 This was taken by Micah Manuel of the Tennessee Smokies and placed in a 1964 template. I love how up close this is of Brandon. Brandon was also promoted to Triple-A last Sunday, a well deserved promotion at that.
---
Hitter of the Week
This was a tough one as they were several good fitting performances this week. The question for me was do I go with the all out assault on baseballs by Alexander Canario or do I go with the complete shredding of the Carolina League by Pete Crow Armstrong who hit .480 and had an OPS of 1.159? Canario's power pretty much trumps anything PCA did, which was a lot. Canario wound up hitting .500 with an OPS of 1.536!!!
Starting Pitcher of the Week
It seemed like every day there was a guy who went five innings, gave up zero runs, and strike out five. And then Sunday happened. 2022 non-drafted free agent Walker Powell put on a clinic as he pitched five no-hit innings for Myrtle Beach. He struck out six.
Reliever of the Week
Conner Menez – 6 IP, 1 run, 12 Ks. That'll do, that'll do.
Team of the Week
Myrtle Beach – This team is in first place and their best run producer is just now warming up. Now that Kevin Alcantara is starting to warm up, this team will destroy the league. Did I mention the no-hitter? Yes, they threw a no-hitter.