When I began putting together who could possibly be on this month's All-Star team last weekend, I was taken aback a little bit. There were a ton of new faces and a lot of players who caught fire at the end of the month. With basically 3 and 1/2 series, one small stretch pretty much made a player's month. We saw a lot of that, especially at the lower levels.
When it comes to pitching, though, it's more about a consistent performance over an extended period of time. One good outing for them is not necessarily going to catapult them onto the squad.
Let's get to it!
Position Guys
Myrtle Beach – Pete Crow Armstrong dominated this month once he started playing. Not only could he hit for average, he displayed some power, he displayed a lot of speed, and he displayed the ability to get on base in a variety of ways and looks like a prototypical leadoff hitter for the future. A .375 average and a 1.083 OPS is something else for a debut in a pitcher's league. James Triantos took a while to get going and then, once he did, he was a lot of fun to watch. including a 5 hit night Catcher Malcolm Quintero did not play a lot, as most catchers do sometimes, but when he did he was extremely productive and probably will get some more playing time at DH this next month with his bat as he hit .368 for April. Infielder Yeison Santana is having a lot of success this year which is great to see as he struggled in his first go around at Myrtle Beach in 2021. Santana hit .286 with a .388 OBP.
South Bend – This group came right down to the last day. Alexander Canario showed some power early and then struggled in the cold weather. Once it warmed up a little bit, he just took off in terms of production as he hit 4 HRs, 3 this week, and drove in 16 for the month as hit .278 with an OBP of .350. Jake Washer also had an excellent month including a stretch where he hit three home runs in two games and led the system in wRC+ with 230. My guy, Luis Verdugo, showed off his smooth stroke and hit .286 to wrap up the month and he plays a mean third base. Matt Mervis still has some things to work out in the field, but things are starting to come together at the plate for him. He hit .305 with an OPS over .896. In addition, he drove in 16 to tie with Canario and he cranked 2 HRs.
Tennessee – Depending on what day it was, this team could really put up some runs in a hurry. The top four of the order made the All-Star team as Darius Hill was a hitting machine at .329, Chris Morel showed a blend of power and and improved discipline at the plate as he wound up hitting .301 for the month with a .912 OPS. Nelson Velazquez picked up where he left off at the end of last year, although it took about a week and a half for him to get going. He hit 8, count them, 8 HRs in April. That is amazing and he drove in 14. And to be quite frank, all that damage came in the last two weeks. Bryce Ball's April was the definition of a roller coaster as he started the month strong, dipped in the middle, and then went back up at the end of the month as he produced double digit RBI and hit .264 with 2 HRs.
Iowa – Nelson Maldonado played a massive three games for Iowa. The rest of the month, he tore apart the Southern League and his production made one question why he was assigned to Tennessee in the first place because he just destroyed that league hitting .465. PJ Higgins (.340) and Donnie Dewees (.286) both had good months at the plate and hopefully that will get them a little bit more playing time in May with a possible call up to Chicago if needed. Dixon Machado and his bat are more than ready with an average of .294 and an OBP of over .400. If the Cubs need an infielder at any time, he is it.
---
The Batch on the Mound 
The basic requirement to be placed on an All-Star team for starting pitchers is an ERA of 3.00 and under. Relievers, on the other hand, have to have an ERA under 2.00. Originally, I had 15 relievers. To narrow that down, I looked at a couple of different stats before deciding to split the bullpen guys into 2 groups – long relievers and short relievers. Those categorizations worked out well.
Starting Pitchers – 8 Guys – ERA in paratheses
Porter Hodge (1.56), Richard Gallardo (2.55), DJ Herz (1.29), Riley Thompson (2.25), Javier Assad (2.29), Matt Swarmer (2.11), Caleb Kilian (1.72), and Robert Gsellman (1.17)
Normally, I roll with six starting pitchers. This month it's a little hard to not put a starter with a 2.55 ERA on the list. As a result Richard Gallardo is going to make it along with seven other players. The biggest surprises here are Robert Gsellman of Iowa along with Javier Assad of Tennessee. I didn't see both of them in a starting role, but Assad wound up with a 2.29 ERA and Gsellman did very well in Iowa with a 1.17 ERA in a limited role. I like the fact that three of these guys had ERAs under 2 in Herz, Gsellman, and Kilian.
Long Relievers
Riley Martin, Manny Espinoza, Dalton Stambaugh, and Luis Rodriguez
With so many starting pitchers being on inning limits/pitch counts this month, I decided to go with a long reliever category because it's such a different role than somebody who only pitches in in in your tube each night. All four of these players pitched 2 to 4 innings a pop. Riley Martin just dominated this month at Myrtle Beach as he led the farm system in strikeouts with 27. Manny Espinoza was outstanding despite giving up one of his runs on a balk of all things. As for Stambaugh, I was all set to interview him on Thursday this week but he got promoted the day before, and deservedly so.
Short Relievers
Brandon Hughes (0.00), Jeremiah Estrada (1.42), Erich Uelmen (0.00), Eric Stout (1.52), Hunter Bigge (0.00), Adam Laskey (0.00), Sheldon Reed (0.00), Nicholas Padilla (0.00), and Jake Reindl (0.00) 
One of the things I've noticed is that the reliever depth in the system is kind of backed up. There's a lot of guys at South Bend who should be in Tennessee and almost the entire bullpen at Myrtle Beach should be in South Bend. There are a lot of relievers who were just lights out this month. Of the nine players in this section, seven of them did not allow a run in 3 and 1/2 weeks of play. That is extremely impressive!
---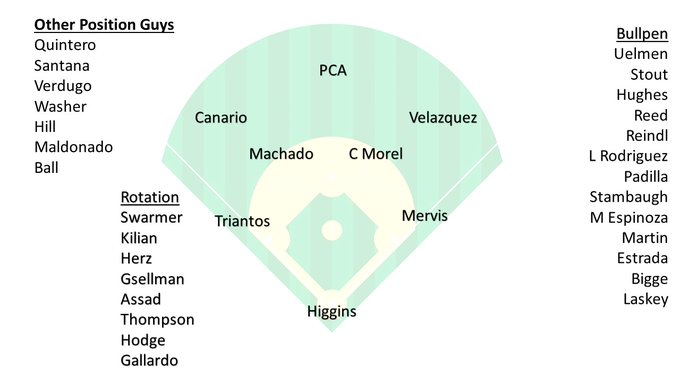 ---
Monthly Awards
Hitter of the Month – Nelson Maldonado
Everyone was wondering why Nelson Maldonado did not get assigned to Iowa to begin the year. Maldonado took it upon himself to show everyone why he should be in Iowa and this past week he was promoted there after putting up a wRC+ of over 200 in Tennessee.
Starting Pitcher of the Month – DJ Herz
This award came down to the last day. I wasn't quite sure how it was going to go. DJ Herz was fantastic for South Bend as he posted an ERA of 1.29 for the month while striking out 20 in 14 innings worth of work. In watching Herz pitch, he is working very quickly and the new pitch clock plays right into his work ethic as DJ likes to just get the ball, rock, and fire. It seems to working for him. Opponents hit only .139 against him and his WHIP was a very low 0.79.
Long Reliever – Riley Martin
Oh, he was just insane this month, especially the last two weeks, for the Pelicans. I got to meet him on Thursday in Davenport and he was pretty excited to be promoted already to High-A. This is a well-deserved award and he might actually win the Pitcher of the Month from the Cubs in a couple of days as he led the system in Ks with 27.
Short Reliever – Brandon Hughes
After pitching at Tennessee for just  three months last year, it was no surprise that Brandon Hughes began the year there again. And it was no surprise that he was came out and dominated Double-A hitters with his mid-to-upper 90s heat and new slider that he has been carving up hitters with. Finally, it was no shock to see him get promoted to Iowa last Sunday as he did not allow an earned run the entire month and he has not allowed one at Iowa yet. His conversion from outfielder to pitcher has been nothing short of amazing!
When the All-Star team for May comes out, the long reliever category is going to be gone. There's only a couple of guys who are still on innings limits. It looks like most starting pitchers are pretty much stretched out except for Riley Thompson, Kohl Franklin, and Anderson Espinoza. The Cubs are going to have to be creative to find guys innings this next month. That should make the bullpen awards quite challenging with a full month of games.