Riley Thompson – Picture by Todd Johnson
The last time I saw Riley Thompson pitch in person, he went five innings, struck out 10 Clinton Lumberkings, and did not allow a hit in leading South Bend to the Midwest League title. That was in September 2019. 
Here is what Prospects Live said of Thompson after that initial first full season:
On the hill, Riley features a fastball that can bump triple digits in short stints and sits 94-96 on the mound. He has a high-spin curve that is a plus pitch at least. His change is still something he's getting a feel for due to lack of playing time to use it in college, so that will be the key for him. With his long arms, he could be an ideal candidate for a split-change or a cutter as his third pitch rather than utilizing a true change.
Fast forward 2 and 1/4 years.
Thompson missed all of 2020 along with every other prospect due to the pandemic. He missed all of last year with some shoulder issues that did not require him to have surgery. He showed up early to spring training this year and was given the "all clear" fairly early on which allowed him to make the Tennessee opening day roster. 
Needless to say, I missed seeing him pitch.
What I like most about Thompson is he is just so intense.
I got to see him a lot in 2019 and, by just being around him, you would not think he is the most competitive player in the system. He looks like a hall monitor from the 1970s or an altar boy. But put a glove on his left hand and a baseball in his right and he turns into a pitcher who would throw the ball through a backstop if that's what it took.
After missing two years, not much has really changed about Thompson's arsenal. He still throws in the mid to upper 90s, he has a fall off the table plus-plus curveball, and a nice changeup. However, I think he's even more intense now than he was two years ago. He seems to be dialed in and focused at all times. 
In his first start back, his nerves had to be quite jumpy. It showed as he gave up two runs in the first inning. But when he came back out for the second inning, he did not look like the same pitcher who threw the inning prior. He struck out 5 guys in total that night.
In a second start on the 16th, he was dialed in from the get-go. He made one mistake up in the zone that got a little bit too much of the plate and somebody smacked it out of the ballpark. But he struck out every other batter the first two innings and two out of three in the third inning. That was a grand total of eight Ks for the night.
What Could Be His Plan Going Forward?
Thompson's return to form is probably going to be more about consistency in throwing his pitches after missing basically two years. The stuff is already back, it's going to be a matter of controlling it. 
His career high in innings is only 94 in 2019. He made 21 starts and was dominant the first three months of that season before he hit a rough patch in July and August. In college, he was the closer at Louisville and his career high in innings there was only 33 IP. So, Thompson still needs to develop and build up his arm. In a perfect world, he'd need about 140 innings at Triple-A before he's ready for the majors. He's not going to get 140 innings of Double-A this year, not even close.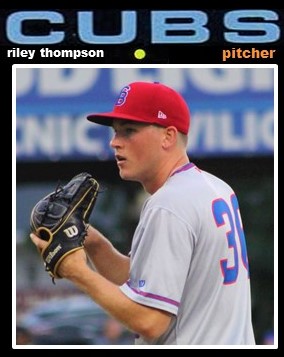 The Cubs could probably limit him to somewhat similar numbers to 2019. The Cubs probably will not let him go five innings for a while yet. They could be slowly building that arm strength up from 50 pitches to 55 to 60 to 65. The Cubs could be a little more aggressive and go in increments of 10. Still, it's going to take several weeks for him to get to 80 or 90 pitches. The Cubs could even install a cap of 80 pitches for the year.
One of the things the Cubs have done in recent years has been to give the players a lot of input into their development plan. Knowing Riley, he probably wants to throw 100 pitches in each game. But he's also smart enough to realize that's not possible. After missing two full seasons, his shoulder has got some work to do to build back up its strength. 
How quickly the Cubs increase his workload might turn into more of a series of plateaus versus a straight line graph going up. It's probably safest to build in plateaus. In doing that, Thompson might get to 70 pitches and stay there for a month. Then he goes to 80 pitches and he can stay there for another month. That way his body gets used to the workload.
Ultimately, the goal is to get him ready for Chicago.
Based on how he's pitching, it's beginning to complicate exactly where he's going to do his development. Pitching in the Southern League may not be much of a challenge for him after a couple of months. We'll see how it goes, but there is not a problem with him only throwing 70 pitches and going to Iowa to continue to develop there as he increases his workload throughout the season.
I am intrigued as to what course and plan the Cubs will have for Thompson because he was just a vicious last Saturday. I'm expecting more starts like that very soon.
There's no need to rush his pitch count back, none at all. This year is about getting back and staying healthy.