Last week's episode of "The Breakdown" covered a strange opening week as Iowa played six games while Myrtle Beach, Tennessee, and South Bend only played three. So, this was our first full week of baseball for all 4 squads. We got to see the debuts of Pete Crow-Armstrong, Jordan Nwogu, Andy Weber, Kevin Made, and Kevin Alcantara.
Hitting across-the-board still seems to be an issue in the lower parts of the system. Pitching is dominating at most every level and it's got me thinking about who are going to be the first players that are promoted at the end of the month. Darius Hill is putting his name at the top of the list along with Nelson Maldonado, reliever Brandon Hughes, reliever Jeremiah Estrada, and piggyback man Riley Martin in Myrtle Beach. If Riley Thompson, DJ Herz, and Jordan Wicks continue to throw lights out, they are not going to be around their current affiliates very long either.
For the players at Iowa, promotions are a lot more complicated. Erich Uelmen and Cayne Ueckert have been great and probably very close to being called. However, neither of them is on the 40-man roster which sort of slows their ascension down. Brennen Davis is a long ways away from getting to Chicago, but he's seeing a lot of pitches lately, which bodes well for future production. In 34 ABs, he's seen 179 pitches, a little less than 6 per AB. That will pay off later.
For the week coming up, I'm excited to see South Bend back at home. That means I am a week away from seeing the young Cubs over in Davenport three or four times. It's still up in the air how many games I am going to see that week. I'll have to see how tired I am come Friday. However, I will be there Tuesday, Thursday, and Sunday for sure. I will either attend Friday or Saturday night, but not both.
Let's get to the week that was!
---
Affiliate Roundup
Iowa (4-1) – Dixon Machado had himself a week as he seemed to be on base a lot, but also stealing them at every opportunity. Matt Swarmer continues to dazzle in relief along with Cayne Ueckert and Erich Uelmen while Ben Leeper seems to be having some issues to start the year. For many of the other non-homegrown pitchers in Iowa, they have an opt out in their contract that if they are not on the major league roster by such and such a date, they can become free agents. We're still a ways away from most of those, but it's something to think of for the future construction of the team, especially in June. As for Caleb Kilian, he's looking pretty good, but he also has some stuff that he can work on as he's just not quite ready, even though he's thrown 6.2 innings of one run ball so far.
Tennessee (3-2) – Just to start the year, this team has a little bit of a Jekyll and Hyde quality to it. You are never quite sure exactly who's going to show up and produce outside of a few relievers. The hitting has been inconsistent outside of Nelson Maldonado and Darius Hill. The arrival of Andy Weber also complicates things a little bit in the infield as players are really going to have to compete for playing time at second, short, and third. The best part of the week for the Smokies was getting to see Riley Thompson go at it for three innings and he just pummeled the strike zone as he struck out eight. He pitches with such intensity that it's hard not to envision him at the next level very soon. In addition, Chris Morel looks to be getting things in order at the plate.
South Bend (2-4) – Considering who is in the rotation, it's no surprise that the starting pitching has just been fantastic at South Bend. DJ Herz and Jordan Wicks Have been excellent in each of their starts. Kohl Franklin looked good at times, but he also looked rusty in others. The bats, on the other hand, are having a hard time putting it together at this level. So far, Yohendrick Pinango and Fabian Pertuz are doing well and Alexander Canario is slowly starting to figure things out. I'm interested to see how the Cubs divvy out playing time with his collection of outfielders now that Jordan Nwogu is there. That's going to be a storyline to follow the next few weeks.
Myrtle Beach (4-2) – The biggest surprise of the season so far has been the pitching in Myrtle Beach. Currently, they are keeping the Pelicans in games while the young hitters struggle to out it together. I've been impressed so far with the results of Porter Hodge, Tyler Schlaffer, Riley Martin, Luis Devers, Jake Reindl, and Tyler Santana as well as Sheldon Reed and Adam Laskey who are much improved coming out of the pen. The weirdest thing has been seeing the Cubs use Frankie Scalzo, Jr. as a piggyback starter. I don't think anyone saw that coming. At the plate, Jacob Wetzel and Pete Crow-Armstrong are doing well but we're only getting a little glimpses here and there of the rest of the Cubs' young prospects who seem to be struggling at the plate and striking out quite a bit. Sometimes it takes a while to get acclimated and this weekend we started to see him a little bit more production as Kevin Alcantara and James Triantos had some upticks that seemed to coincide with Alcantara's and Made's arrival.
---
---
Hitter of the Week
Darius Hill – .500, 1.154 OPS. 224 wRC+
This was a pretty close contest, but Hill's ability to get on base tipped the scales this week. Whether it is by bunt, single, double, or triple, or just plain beating out a grounder, this guy is all hustle. Check out this bunt on opening night that shows just how his "old school" getting on base by any means necessary works. He is one of my favorite players to watch hit and hustle.
Honorable Mentions – Donnie Dewees, Nelson Maldonado, Jared Young, Dixon Machado
---
Starting Pitcher of the Week
Riley Thompson – 3 IP, 1 run, 8Ks.
Other pitchers put in longer work and did not allow a run, but none of them dominated like Thompson who struck out 8 of the ten men he faced. It was an evisceration of the highest order. Now, I cannot wait for his next start!
Honorable Mentions – DJ Herz and Jordan Wicks
---
Reliever of the Week
Riley Martin was just a plain ole stud. He threw 4.1 innings in relief and struck out 8. He needs a plane ticket to South Bend.
Honorable Mentions – Bandon Hughes, Blake Whitney, Chase Watkins, Luis Rodriguez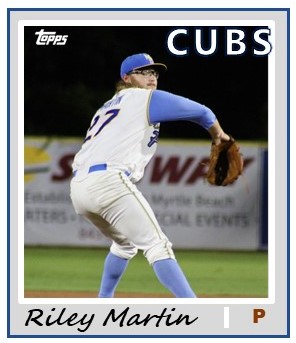 ---
Team of the Week
The Iowa Cubs went 4-1 on the week thanks in large part to the late game heroics of Donnie Dewees and a lights out bullpen.
---
Three Things I Am Looking Forward to This Week
1. Blake Whitney is off to a good start. I will be doing a prospect on him here in a couple of days. 
2. Fabian Pertuz still has one sweet swing. He is off to good start for South Bend and I really dug writing an update about him that will come out this week.
3. I am too pumped for my trip next week. I have already checked my camera twice, cleaned it, charged the battery, checked the SD card twice, and have been yelled at by the wife to stop. She's right, as always. I will wait 'till she is sleeping to do it again. I got to be sure. ; )