The excitement is palpable!
On Tuesday at 12:05 p.m., the minor league season starts as Iowa begins playing in Buffalo, weather permitting. Then, on Friday, Myrtle Beach, South Bend, and Tennessee start their campaigns. While some of you may focus on the opening day rosters, that will come out at any moment, my focus will be on who does well and where they will do well this summer. 
North Side Bound will continue our extravaganza this next week. On Monday, Greg Huss will preview the Iowa Cubs. Greg Zumach will profile the Tennessee Smokies on Tuesday. I will be covering the South Bend Cubs, as usual, on Wednesday. And Jimmy Nelligan gets to have all the fun with the Myrtle Beach Pelicans on Thursday. On Friday night, I plan on doing a live blog but I'm not 100% sure yet. The other option is to have a Twitter spaces but that would be a little difficult to do while watching the games at the same time. There's plenty of time in between pitches to jot down some notes or to upload a short video of a home run or a strikeout.

We are so close!
As for news this week, the Cubs were ranked as having the number 18 system over at MLB Pipeline and that should rise considerably throughout the course of the season as the Cubs young kids gain experience. Meanwhile, over at The Athletic, Keith Law dropped his thoughts about the Cubs system. He just raved about how Kohl Franklin should be the number 2 prospect in the system behind Brennen Davis. Baseball America also drooled over the young righty.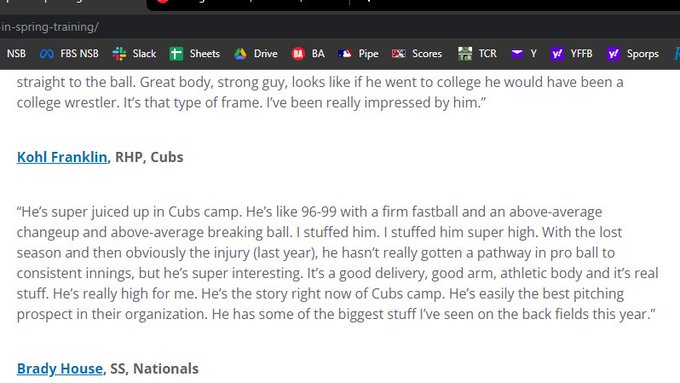 I am officially in "I cannot wait to see him in the Quad Cities" mode after reading both articles.
In addition, it's coming right down to the wire but it looks like Ethan Roberts and Cayne Ueckert are going to finish out camp with the big league club. Whether they head north with them is a different story. At this point, a lot of pitchers the Cubs signed this winter have not really come through in terms of playing time or performance. So there's a chance that either player could find themselves on the opening day roster Thursday.
New South Bend Copa Hats
The South Bend Cubs new Copa Cabritos Maldichos gear is straight up smoking hot1 I really like the simplistic design including the cursed goat hat. I will be ordering one on Tuesday this week.
The New Guy
The Cubs also signed an international free agent from that hot bed of baseball talent known as Bulgaria. Catcher/Outfielder Yoanis Aleksandrov has lot of power and some clips of his swing surfaced after the announcement . My concern is just how much elite competition he has faced. At 17-years-old, he's all set to be in extended spring training and then probably play in the complex league this summer in Mesa.
Pics of the Week
It is good to see Cole in game action. Luckily, Rich was there to capture it!
MLB Draft News
While I didn't really have a draft post this week, I may start getting back into those next week. College baseball season has really ramped up and by the time next week gets here, it'll be half over. That's a little hard to believe, but next thing you know there will be conference tournaments in about six weeks.
Check out our own Greg Zumach's Mock Draft 2.0 which dropped yesterday!
On most rankings, we're starting to see a lot of players rising up the boards. I will take a look at those next Saturday and just kind of give you a little preview today. I'll be talking about prep pitcher Brandon Barriera, Florida lefty Hunter Barco, and Florida Southern pitcher Orion Kerkering. As well, I'll talk about an interesting player that I found out of Eastern Michigan named Daniel Warkentin, the brother of Matt. Daniel is a 6'3" second baseman who was the MAC player of the week in late March when he had five home runs in a short span.
Baseball America also released their second mock draft of the spring. Again, they went with Daniel Susac to the Cubs at #7. Still on the board were Jace Jung, Cam Collier, Noah Schultz, Chase DeLauter, and Jacob Berry. All of this means nothing as we are still 3 months away. A lot can happen.
Lack of Cards
One of my favorite things to do throughout a season, as most of you know, has always been to make baseball cards. I just really haven't gotten into it yet because I really want to see the players in their new duds and make different cards. Right now, seeing them in the same blue jerseys all the time doesn't really do it for me. There's nothing wrong with the pictures, the pictures are great. I want something new and this week I'm going to get it!
Jam of the Week
Appropriate for what lies ahead!