While there is technically not a lot of hard news going on this week in terms of deals or transactions, there was plenty of action going on out in Mesa. My wife and I settled in every day at three this week to watch the Cubs. I've been on spring break and it was nice unwinding while watching some prospects play in Mesa.
The major league players only saw a little action the first week of spring training games. They usually went 2 ABs at bats or through the fourth or fifth inning and then the prospects took over. This week, we saw a lot of fun things out in Mesa with prospects. Ethan Roberts looked pretty studly in relief as did Ben Leeper, Brandon Hughes, Bryan Hudson, and Cayne Ueckert. Even Michael Rucker looked impressive along with Scott Effross. 
I am surprised that we haven't seen some of the Cubs top minor league starting pitchers get a lot of work in. So far, only Jordan Wicks and Daniel Palencia have seen some action. I would've thought by now that Caleb Kilian would've been in one or two games. We might've seen Riley Thompson, Kohl Franklin, DJ Herz, Ryan Jensen, or Max Bain.
Then again, the Cubs have an impressive number of relievers who are almost ready in a lot of minor league free agency, having been trotting out to try and earn a job with the big league club.
When it comes to position players, they've been getting a lot of work in the second half of games. Darius Hill, Donnie Dewees, and Brennen Davis have been playing almost daily. We've seen Delvin Zinn a couple of times along with Andy Weber. Owen Caissie started Wednesday and went 2-for-4 while James Triantos had two singles Friday.
There were also some reports from the backfields as Bleacher Nation's Bryan Smith was there and so was Evan Altman of Cubs Insider. Evan's shot, though, is at the big league game of my guy, Owen Caissie. Bryan got a good look at a Brennen Davis homer.
In addition, Baseball America captured this slo-mo shot of Cristian Hernandez.
As I wrote on Wednesday, prospect list season came to a screeching cult as both MLB Pipeline and ESPN released their top Cubs list. With those two lists, Brennen Davis became the first unanimous top Cub since Eloy Jimenez in 2017. Here are the point totals for this year.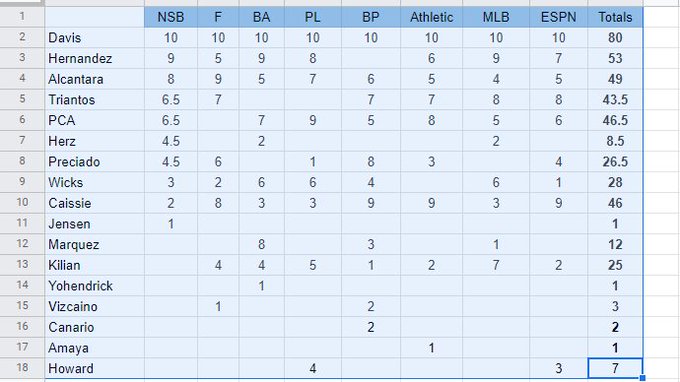 North Side Bound's Preseason Extravaganza Continues Next Week
It has been busy here at North Side Bound. On Wednesday, we rolled out on the first of a three-part statistics prediction series.. We are currently in the midst of our preseason All-Star team. Yesterday, hitters got all the attention while tomorrow will be the starting pitching rotation. Tuesday, the relievers will get there due. After that, we have four days of yearly awards to give out including hitter of the year, starting pitcher of the year, reliever of the year, and comeback player of the year. We will take a day off on Sunday next week with the weekly and then roll out our affiliate previews every day the next week. We also have other articles coming out each day so there's always something to check on here at North Side Bound.
Tweet of the Week
Other People's Words…
Baseball America released a cool list of the top power hitters in the minor leagues and I was a little surprised to see them put Chris Morel as the top cub. That has more to do with exit velocities and barrels than it does with the actual homeruns. But once I looked up some statistics, he snuck in 17 home runs last summer. Those are the quietest 17 home runs that I can recall.
Jim Callis of MLB Pipeline is out there visiting all the camps in Arizona during Spring Training. On Friday, he put out his article on his visit to Cubs' camp. It is a really cool article that takes a deep dive and examines the Cubs youth movement. The article ends with a quote from Cubs Farm Director Jared Banner plugging Ed Howard:
Actual News
The Cubs released pitcher Robinson Rodriguez. No date was given for the actual release, but he never made it out of rookie league. In addition, the Cubs acquired middle infielder Esteban Quiroz from Tampa for OF Harold Ramirez. 
Draft Information
Also, the college baseball season is not stopping anytime soon. Greg Zumach and I have been trying to keep up with all the action that's going on in college baseball as well as who is rising and falling on the draft boards. We sat and talked for an hour and a half about the draft and set the video loose upon the Internet. Just a warning, if you watch the video rather than listen to it, I cannot sit still. I am just one of those people that needs to be doing something at all times. And yes, it does drive my wife nuts – that's why I have an office. But check out the video as Greg drops some juicy bits about some of the guys the Cubs could pick at number seven in about 11 weeks and I do most of the asking.
Roster Chaos
We are still no closer to figuring out the rosters for the minor league affiliates. We're just going to go ahead and do our affiliate previews in a week and each one will have a disclaimer that the rosters are subject to change. Most minor leaguers will be breaking camp next weekend and heading to Des Moines, South Bend, Kodak, and Myrtle Beach. Iowa's probably going to leave a little earlier as they begin play on April 5. I do know that media days have been scheduled for the other three affiliates on either the fourth or fifth of April. So, that's when we'll know for sure. 
I am looking forward to seeing who goes where and I am also concerned about who will get left behind. They're also sure to be some cuts. We really haven't heard a lot about injuries this spring outside of Drew Gray. If there's only one injured player, that would be great after last year's cascade of casualties.
Jam of the Week (Pun intended if you know who Paul Weller, the Guitarist for The Style Council is)
To end the week, I have to have a positive viewpoint going forward.
So, I am rolling with The Style Council's "Head Start for Happiness." I loved this band in college. My friends thought I was nuts as I would listen to The Replacements and then this, back-to-back, and then maybe King Crimson, The Police, and Genesis and Rush. I was all over the place musically, Anyways, this has so many cool little composing nuggets. The bridges are a slice of heaven.
The End of an Era
I am a big Foo Fighters fan. They are probably one of my two or three favorite bands since 2000. I was deeply saddened to hear yesterday morning of the passing of drummer Taylor Hawkins. He was a tour de force on stage and helped to make the Foo Fighters one of the best live acts out there. I debated on whether to post a video of the Foo Fighters. It is 12 minutes long and contains a drum solo that shows just how good he was…so intense! My heart is just goes out to the band and their families.