Today is March 22.
Two weeks from today the Iowa Cubs will begin the 2022 minor league season on April 5 and three days later, Tennessee, South Bend, and Myrtle Beach start it up. That means, boys and girls, that today marks the halfway point of spring training for the minor league players. They will break camp somewhere around the third or fourth of April and head to their new affiliates, find some housing, and answer a bunch of questions on media day.
Currently, a lot of Cubs prospects have been playing for a few innings at a time in the major league spring training games. We've seen Bennen Davis, Jared Young, Donnie Dewees, Ben Leeper, and more get in a lot of action each day. That should be tapering off here in the next few days as the major league players gear up for their season which starts on April 7. We've seen some prospects stand out and it was cool to see so many play so early in the game the first couple of days. Now that more MLB players are playing, the prospects are relegated to mop up duty.
When the prospects return to minor league camp, it's gonna be a hectic two weeks. There are still a lot of questions to answer. Here are just a few of them.
Rosters
I said as early as last fall that trying to figure out who was gonna be where this year was going to be a hot mess. The Cubs had to sign a lot of extra players last year due to the fact of injuries, Covid, and a shortened season. Now that 2022 is here, the Cubs have an abundance of players that they're going to try to squeeze onto four full season affiliates and a rookie league team. Technically, the Cubs can have 180 active players in the system in the US.
Another thing I did not foresee this winter was the fact that the Cubs went out and signed a bunch of MiLB free agents to provide depth for the big league club. That's something they normally done in the past, but the Cubs have an abundance of their own prospect relievers who throw nothing but gas. I was quite surprised to see them ink over 10 guys the past two weeks once the lockout ended. That's only going to further complicate who goes where that first week in April.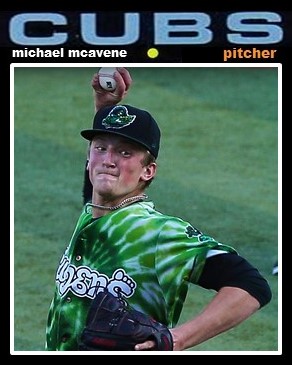 Changing Roles
I've tried to construct some rosters about 3 times the past six months and I end up with about 35 players for each team. I tend to get a headache after about 10 minutes trying to figure out which pitchers are going to be starters and which are going to be relievers. We could see some guys that have started for four years find themselves in the bullpen and their career may be transformed. We don't know that yet. And we could see guys that were relievers all of last year make their way to the rotation. Scott Kobos could be one of those.
Injured Guys
With just two weeks left, we really don't have a clear cut answer as to the status of all the pitchers that were injured last year. We don't know where those guys will go in terms of which affiliate and we also don't know what role they're going to have. Will they be starters? Will they be piggyback guys? Will they work strictly in long relief or will they just be working out of the bullpen for a couple of months? We also don't know what their pitch counts are going to be and if they have any limits for the first couple months or for the year. Some of them could even be held back in extended spring training just to keep their arms warm for another month and to make sure that everything is on the up and up when it comes to returning to normal activity.
Hernandez Role
On Saturday, Cristian Hernandez played for the Pelicans' minor league squad in a spring training game. However most of the other players in the lineup with him were guys that were likely to start the year in extended spring training in Mesa. I would be surprised if Hernandez makes a full season roster to begin the year. That might be somewhere he goes later in the summer rather than Mesa when the Arizona League begins play in mid June.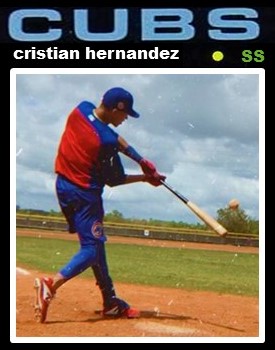 Cuts
The hardest part of any spring training is always the end of it. The Cubs have always been a team that waited until the end of camp to release players. Part of that is because sometimes injuries happen during spring training that force their hand to retain a player they thought about possibly releasing. There will be cuts. I'm wondering how many they're going to be. Considering the amount of extra players they signed last summer, we could see several released when it's all said and done. Nobody likes to talk about that as it's a sad part of the business, but it is going to happen.
On a lighter note 
My pit bull Seestra had some x-rays yesterday and after an exam it was determined that she had a partial tear in her ACL on her left hind leg. She is not going to require surgery, which is good. She already had the first of three shots that will help her knee produce more fluid to provide a cushion while the ACL tear heals. As a result, I placed her on the 10 day IL yesterday and I have to keep feeding her anti-inflammatory pills twice a day. It looks like a short road to recovery but she should be up and around and not limping in no time.