Picture of DJ Herz by Todd Johnson
We didn't time the release of our preseason extravaganza to coincide with the release of MLB Pipeline's top 30 Cubs prospects. It was a just strange happenstance straight out of Carl Jung and his book Synchronicity. 
In getting to the list, no one should be surprised at the top prospect and that is Brennen Davis. That selection makes him the unanimous top prospect selection by every major publication this prospect list season. ESPN is the only major publication that still has to release their top Cubs list, but he is going to be on top of that list as well. As for Pipeline's Top 30, this list didn't have a lot of surprises.
Normally, Jim Callis is pretty conservative when it comes to ranking Cubs prospects. He tends to put more stock in prospects that produce at the AA level. In this list, that philosophy holds true. We knew going in the list, Callis was going to have a lot of young kids peppered throughout. What I wanted to know was, "How will he rank Triantos, Caissie, Preciado, Christian Hernandez, and Kevin Alcantara? And will he give more stock to Jordan Wicks just because of his draft slot and his age?"
We got the answers to those questions and more.
When Pipeline released their top 100 prospects with last week, only two Cubs made the list. Brennen Davis was ranked number 15 while Cristian Hernandez was ranked at 92. So it was no surprise to see those two atop the Cubs' list. Rounding out the top five were Triantos at 3, Kilian at 4, and Wicks at 5. As I mentioned before, Callis really is a "Call me when they get to Double-A" kind of evaluator. Based on Kilian's turn in the AFL, his inclusion at 4 is not a shocker.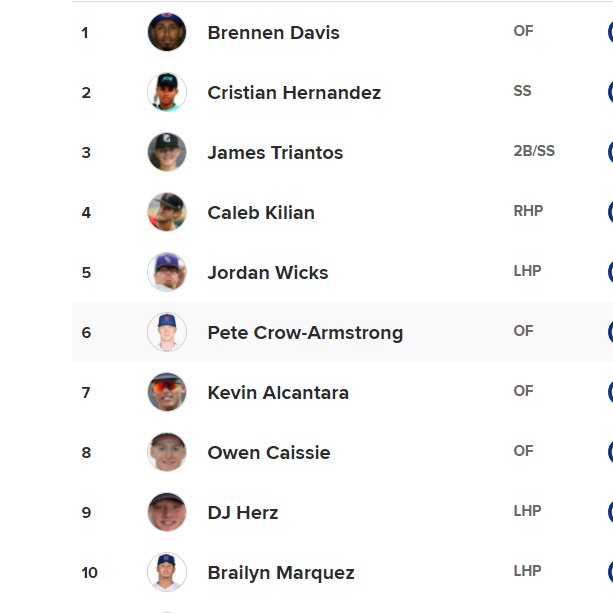 Six through ten saw a little bit of seismic shift as the list went young with PCA, Alcantara, Caissie, and Herz at 9 (woo-hoo!). Callis is still holding out hope that Marquez still has "it" and can get "it back this summer just based on the #10 ranking.
Going straight down from 11 to 20, the list is a mix of young and somewhat veteran prospects. It was nice to see Kohl Franklin at 12 after having not pitched in a game that matters for 2.67 years. Ed Howard slips to 14 and sits right next to Kevin Made. We shall see how they both fare later this year. I liked seeing Nelson Velazquez appear at 16 and this is where the list starts to get a bit trippy for me as there is just not enough separation between prospects from 17-30.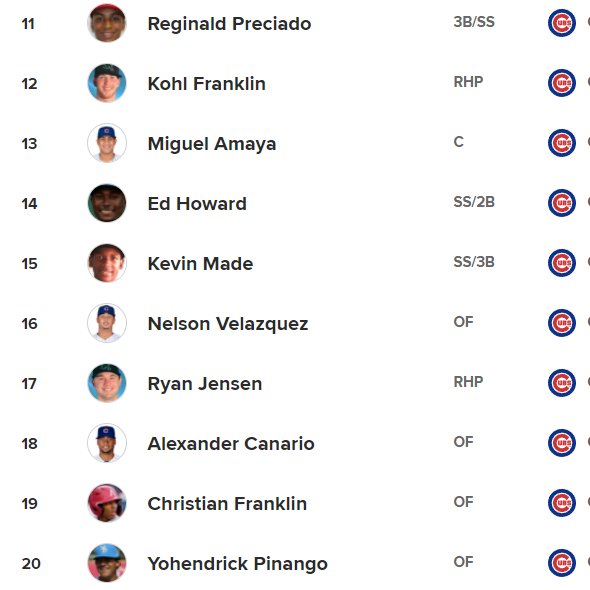 The final 10 show just how deep the farm system is as it included 3 relievers at the tail end in Leeper, Ueckert, and Roberts. I also liked seeing Alfonso Rivas move up quite a bit on this new iteration. Seeing Drew Gray's inclusion is a bit strange as he likely will not be pitching this year. Getting Palencia on the list is nice, but he is probably going to be the biggest riser by the end of the year.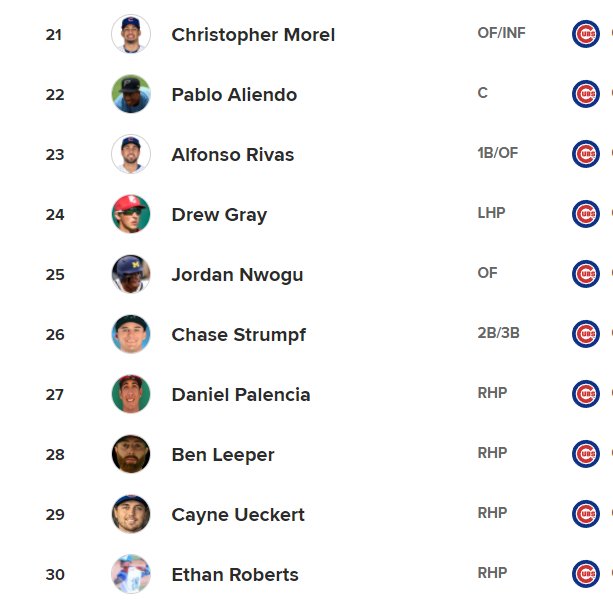 Two names I did not see were Cole Roederer and Anderson Espinoza. Cole is coming off TJS and basically missed two years. I am really pulling for Cole to have a big comeback year. As for Espinoza, there are those within the Cubs' organization who see him as one of the top 2-3 pitchers in the system, if not the top, when he gets back to full health. From all accounts, he is good to go for 2022.
In addition to the rankings, there was an accompanying article that had some superlatives that are worth mentioning. The most interesting aspect to the superlatives was how this top 30 was built. One fact left out was that the Cubs acquired, signed, or drafted 15 of the top 30 since the Yu Darvish trade in December of 2020. That's a lot of talent to bring aboard in just 16 months.
We shall see how this list fluctuates over the course of 2022. In the meantime, go compare Pipeline's list to North Side Bound's Top 20.
Hit: 60 — James Triantos
Power: 60 — Brennen Davis
Run: 60 — Christopher Morel (Pete Crow-Armstrong, Brennen Davis, Christopher Morel, Jordan Nwogu)
Arm: 65 — Christopher Morel
Defense: 70 — Ed Howard (Pete Crow-Armstrong)
Fastball: 80 — Brailyn Marquez
Curveball: 60 — Ethan Roberts
Slider: 60 — Ben Leeper (Cayne Ueckert)
Changeup: 65 — Jordan Wicks (DJ Herz)
Control: 65 — Caleb Kilian
How they were built
Draft: 14 | International: 7 | NDFA: 1 | Trade: 8
Breakdown by ETA
2022: 8 | 2023: 8 | 2024: 12 | 2025: 2
Breakdown by position
C: 2 | 1B: 1 | 2B: 2 | 3B: 1 | SS: 3 | OF: 10 | RHP: 7 | LHP: 4