It's hard to know where to start this week as there were games, transactions, and some prospect and draft lists.
Over the last three days, we got to see prospects get in some action with the big league club. That was not unexpected as the major league players are just not quite ready to amp it up after just a few days. By the end of next week, we should see the major league players begin to take over most of the games as they gear up for their season opener on April 7. 
On Thursday, it was cool to see Jordan Wicks, Daniel Palencia, and Darius Hill get the spotlight along with Brennen Davis (who cranked a homer Saturday) and Pete Crow-Armstrong. Both Wicks and Palencia were impressive in their brief appearances while Darius Hill went 2-for-2 in his split squad debut. Delvin Zinn got a hit in each game he was in this week and he just missed a dinger by another biscuit for breakfast. My wife seems to have fallen in love with Bradlee Beasley – she likes how he plays all facets of the game. Jared Young and Alfonso Rivas both went yard yesterday and Kevin Made looked good at SS.
Meanwhile Back at MiLB Camp...
Arizona Phil of The Cub Reporter broke down some class A action on the backfields for the first time this year.
It looks like the young hitters who will be at Myrtle Beach were playing for South Bend while the Mesa hitters were playing for Myrtle Beach. It was odd seeing James Triantos listed for South Bend and Cristian Hernandez down as a Pelican. The pitchers, though, might be at the right level. We shall see as the spring unfolds. Less than 20 days for those two squads.
---
Transactions Galore
The big transaction of the week was the inking Japanese of outfielder Seiya Suziki to a five-year deal. 
The Cubs made several minor transactions this week as they kept adding to the bullpen and building starting pitching depth. With news that Adbert Alzolay would be out for two months, the Cubs need another starter or two to fill the void. The Cubs brought in starter Drew Smyly, RP Chris Martin, SS Andrelton Simmons, RP Daniel Norris, RP Robert Gsellman, IF David Villar, and RP David Robertson on MLB deals while adding Jesse Chavez, Jonathan Villar, Brandon Liebrandt, Mychal Givens, and Eric Stout on MiLB deals. While I like Chavez, and he has a chance to stick with the MLB squad, I wish the Cubs would give some of their prospects a chance to get a MLB gig.
---
North Side Bound Extravaganza Coming Soon
When it comes to the minor league news, things are cooking. We are now less than three weeks away from opening day. It's going to happen very very soon. Iowa rolls out the fifth while Myrtle Beach, South Bend, and Tennessee start the 8th of April. We are very busy behind the scenes of North Side Bound getting ready to get you fired up for the MiLB season.
There will be two plus weeks of articles that take a look ahead at the upcoming season. It'll begin on Wednesday this week (23rd) as the four of us do a prediction series where we discuss who's going to be the leader in statistical categories in hitting, pitching, and relieving. That'll be over three days. I will start my All-Star team preseason all-star teams for hitting, starting pitching, and relieving. We will follow that up with our look at who we predict is going to be the hitter of the year, the starting pitcher of the year, the reliever of the year, and the comeback player of the year. Jimmy Nelligan will also have a post on his top underdog guys.
And we're not done.
We will wrap up our preseason extravaganza with our affiliate preview series starting with Iowa on April 3, followed by Tennessee, South Bend, and we finish with Myrtle Beach on the seventh. Then I will either be live blogging opening night for South Bend, Myrtle Beach, and Tennessee. Who knows, I might even be on Twitter Spaces that night.
We are pretty excited for the rollout to begin the extravaganza to minor league season! 
---
Back to the News
MLB Pipeline is already gearing it up for the season. They released their top 10 list at each position in the minors this week. Brennen Davis was the only Cub to make it.
On Thursday, Pipeline also released their top 100 list with Brennen Davis and Cristian Hernandez making the list.
Look for Pipeline to drop their top 30 Cubs list any day next week (see tweet below) and ESPN cannot be too far behind. Once prospect list season is over, we will release the cumulative rankings. However, I can tell you that Brennen Davis is the first unanimous top Cubs prospect since Eloy Jimenez (still hurts to write that name) in the winter of 2016-2017. 
Looking Ahead: Roster Construction
When it comes to roster construction for the affiliates, we're still a ways away from getting those figured out. We have a pretty good idea where a few of the top prospects are going to be, but it's still up in the air where a lot of starting pitchers and relievers are going to begin the year. One thing that possibly threw a wrench into the mix was the lat strain of Adbert Alzolay which could require Cory Abbott or another Iowa pitcher to begin the year in Chicago. Then that sets off a chain reaction of other moves. So, we're just going to have to wait and see how the big league club is constructed in the next couple weeks before we get a better idea on which pitchers are pitching where. It will trickle down to Des Moines and then to Tennessee and so on.
Other News
When it comes to news of the week, everything old is new again. MLB did away with all the High-A Central and Low-A East type of classifications from last year and returned to the traditional names for each league. We will see the return of the Carolina League, the Midwest League, and the Southern League. The only thing that's new is that Iowa is now in the International League instead of the Pacific Coast League.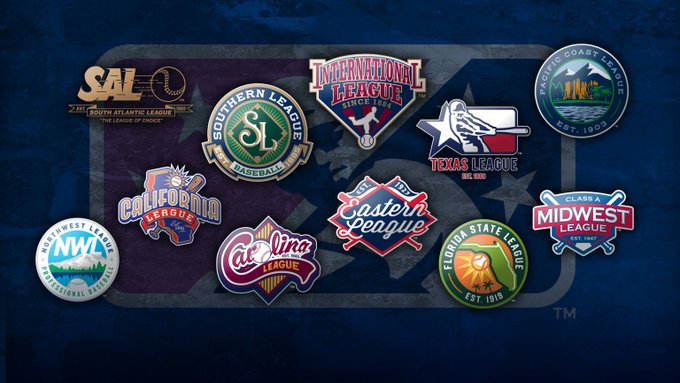 Marquee Sports Network's Lance Brozdowski was also pretty busy this week as he filed three interesting articles early on the new ways the Cubs are doing infield defense practice in the minors, how the pitching development program is going, and what Max Bain has been up to.
Video of the Week
Card of the Week
I started making some baseball cards this week. Using pics by NBC Sports, Jordan Bastian, and Scott Changnon, I made about ten cards the past few days. I have more from Rich Biesterfeld sitting in a folder. I will probably get to those this week as I will be on spring break. 
Baseball Is Back Jam of the Week
A fitting title for what is going on with baseball…