As for the big news  of the week, North Side Bound debuted on Twitter Spaces this week and it was a lot of fun talking prospects and taking questions from some of you that read our stuff on a daily basis. It was weird hearing people's voices for the first time, but we had a blast doing it and can't wait to do it again. We'd like to do one before the season begins on April 5, and, at some point, I'm sure we'll have a draft space session as well in the next month or two. Click on the link below in the tweet to hear our debut and just go ahead and skip the first ten minutes before we figured things out.
And that's really the thing about this week is we are extremely excited for the minor league season to begin especially since there's not going to be any major league baseball going on for the time being. The lack of a CBA has only amplified our thoughts and excitement about prospects in the upcoming season.
Kohl Lights Up the Gun
For one inning yesterday, Kohl Franklin got back on the bump in Mesa and let it loose in mini camp in a live BP session. Franklin, according to Jordan Bastian, sat 97-99 for his one frame of work. Kohl was pretty amped about his experience and could not wait to call his parents. In the picture below, you can see South Bend pitching coach Tony Cougoule in the background. That's probably a good indicator that Kohl might be with South Bend for now…for now.
Here's what he told Marquee:
Kyle Johnson Signing
The Cubs signed free agent minor league pitcher Kyle Johnson this week out of the California League. Johnson last pitched in 2018 for the Yankees. He is a 2016 graduate of Purdue where, for most of his career, he was an outfielder. He did pitch in seven games his freshman year and the Yankees converted him back to a reliever in 2016. He had some pretty good success that year in the Gulf Coast League with a 0.60 ERA in 15 IP and a batting average against of .105. ,Then he missed all of 2017. In 2018 he made it all the way up to Low-A before the injury bug struck again. For the year, he had a 2.42 ERA over 22 IP. This winter, he pitched in California and it looks like the Cubs are going to take a chance on the big 6-foot-4 and 220 pound right-handed reliever.
MLB Beat Writers Go Crazy
When it comes to information and prospects,, there were plenty of articles, pictures, and video coming in from Mesa this week as the major beat writers were there covering the minor league mini camp and interviewing prospects left and right. Here are some in a nutshell:
Meghan Montemurro – Chicago Tribune – Adjustments Prospects Made Over the Winter
Jordan Bastian – MLB.com – Jordan Wicks Coming with a New Arsenal
Patrick Mooney and Sahadev Sharma – The Athletic – Caleb Kilian
Lance Brozdowski – Marquee – Mini Camp Notebook
Maddie Lee – Chicago Sun-Times – Mini Camp Summary
Reggie Preciado got some love from Baseball America as one of ten prospects to breakout this year.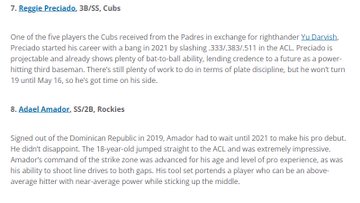 Own Caissie ealso got some pub from Baseball America as one of 30 hitters looking to build on 2021.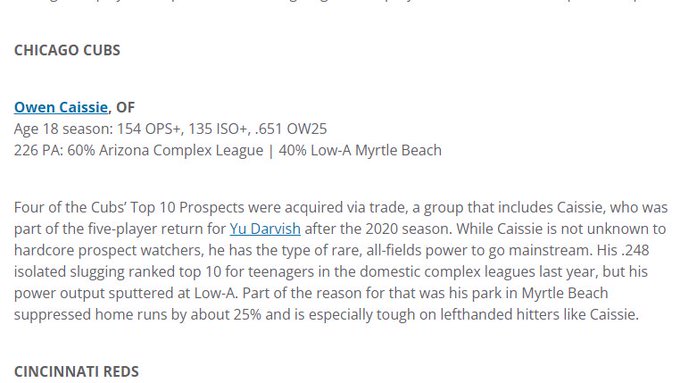 Baseball America Position Rankings
Baseball America tended to hog the national publication headlines this week as they published the top players in the minors at each position. Miguel Amaya was ranked as the number 20 catcher while Cristian Hernandez had the same ranking for shortstops. I really like the fact that both those guys cracked the top 20, especially since Amaya barely played last year and Hernandez has not played stateside yet outside of instructs. You can also add in the fact that Hernandez plays at the deepest position in the minors in terms of talent.
The big ranking came on Wednesday when Brennen Davis was ranked as the number two centerfielder in the minors. My eyes opened wide when I saw that they tend to think of him more as a corner outfielder, specifically left. I mean he could play centerfield, but his bat is really going to be his calling card is going to get him to Chicago in left field is the most obvious place for him to land.
Owen Caissie got some serious love as a top 10 corner outfielder. He came in at #7.
Caleb Kilian rounded out the lists as he was ranked 39 out of 50 on the top right-handed starting pitcher list.
Shadows of the Week
I just love how Alcântara shadows loom large in the background as he approaches the fence.
Other Video of the Week with Someone not Named Kohl Franklin
I have to go with my guy Owen Caissie taking some BP this week. I can't wait to see him in action this year at some point for South Bend. Hopefully he does well this year and makes his way from Myrtle Beach to the Midwest.
Baseball Card Making
For some reason, I've just not been into making baseball cards seen this winter. Normally I make around 150 new ones between October and spring training. I don't think I topped 100 this winter. Then again, there were a lot of things going on here at home. I do have some pictures sitting in a folder on my computer that I'm going to make cards of once spring break gets here on March 18. 
Coming up on North Side Bound
My busy week is season at school is going well. My little Scholastic Bowl team went 3-0 last week to move to 7-2 on the year and 6-1 in conference. We have the IHSA regional tomorrow, we close out the regular conference season on Tuesday with three conference matches, and the conference tournament is on Thursday. We haven't lost a conference tourney since 2016. I am hoping the streak continues but you never know.
I will be back at some point in the morning tomorrow with a short article about Prospects Live newest Top 100 Prospect list. It should be out sometime after 8 a.m.
The other guys should be carrying the website the rest of the week. Look for Greg Zumach to drop his second mock draft of the offseason. I am very interested to see who Greg penciled in at number seven for the Cubs this time. For his last set of rankings, Greg had catcher Daniel Susac of Arizona at number seven. I'd like to see Cam Collier slide it in at the Cubs' spot.
Later in the week, I will bring up where  Ed Howard should begin 2022. I'm going to warn you right now, some of you are going to disagree with me. Well, let's make that a lot of you are going to disagree with me.