Writer's Block… Sort of…
I am so ready for baseball to begin. It's getting to be that time of the off-season where my subconscious has totally forbidden my conscious mind from writing any kind of new material. Some may call it writer's block but I think I'm pretty much ready for a new year of baseball in the minors. In other words, my mind is ready to shift from writing about what could happen to writing about what is happening.
Prospect List Updates – ESPN's Top 100 Prospects
Early in the week, Kiley McDaniel released his top 100 minor league prospects and the Cubs only placed one guy on that list.That was none other than Brennen Davis at number 28. Here is what McDaniel said about the Cubs number one prospect.
On Friday, McDaniel dropped his top organizational rankings and he placed the Cubs at 19 which was up from last year's 22. In the comments, McDaniel intimated that number should probably be much higher next year as the Cubs are likely to have two or three guys be added to the top 100 list.
Jordan Wicks Publicity
The Cubs 2021 first round pick received some nice press this week as he was named the top collegiate prospect in the Cubs' system by MLB Pipeline. Here's what they had to say about the 22-year-old lefty out of Kansas State.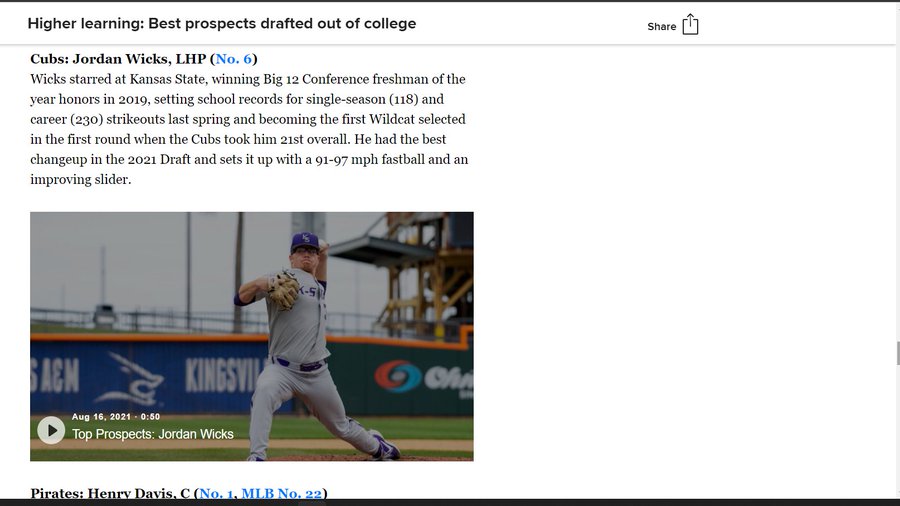 I am excited to see a fresh Wicks on day one of the 2022 season.
Pictures of the Week
John Antonoff used his lens to show the 15 pounds of muscle James Triantos added this winter.
Rich Biesterfeld got a cool shot of Cole Roederer, Owen Caissie, and Pete Crow-Armstrong getting some work in. 
D1 Baseball Begins
While the JUCO ranks have been playing for a couple of weeks, Division I baseball kicked off Friday and, rest assured, Greg Zumach, Greg Huss, Jimmy Nelligan, and I are well aware of what's happening so far. With the Cubs picking at number seven, some of you might have your eye on a certain hitter or a pitcher this spring. Remember that the draft is a long way away. In fact, Major League Baseball has not even set a date for the draft.
There were a few great hitting and pitching performances. One of the coolest things I saw was this weekend were signals being relayed to a watch. I can't imagine what's gonna happen when a pitcher shakes a sign off on their watch. It's gonna take some tweaks to figure this thing out if this is the wave of the future.
Dylan Lesko Turning into Weekly Watching
On Friday night, Twitter was a buzz with the video of Dylan Lesko pitching and I must say he looked impressive from what I saw throwing in the mid 90s with some pretty good control .
I'm not all in on Lesko, per se, but the Cubs have a unique opportunity this year picking at number seven. Who knows who is going to fall to them. The draft has become somewhat of a signability issue at the top versus taking the best player. But if you were to take the players as they were ranked, Lesko would be there at 7. It would be extremely hard for the Cubs to pass an opportunity up to take what could eventually be a top of the rotation type starter. When are the Cubs gonna have a chance to get that kind of guy in the draft? They're not going to be found in the back of the draft or in the middle. They can only be found in the top 10.
Even with Lesko on the board, it's not a sure thing the Cubs would take him. Outfielder Cam Collier is clearly pushing up into the top 10 now that he's playing junior college just to be eligible for this year's draft. At 17, Collier has some really loud tools. I see a mixture of hitting for average and for power. Whomever is available on draft day, know that the Cubs are going to have their hands full in picking either a generational pitching talent or their new number one position player.
Fantasy Baseball Team Drafted
I know the Super Bowl just happened, but I had my first fantasy baseball draft and I feel pretty good about it as I got Vladimir Guerrero, Junior along with Corbin Burnes, Nick Castellanos, Kris Bryant, and I even picked up a couple young prospects in Bobby Witt and Adley Rutschman of the Orioles. 
I used to play a lot of fantasy baseball, but it's too big of a time commitment for me to have a lot of teams. I just do one or two teams a year now. Even then, keeping up with them is a challenge for me unlike fantasy football which I am all over because it's only once a week .
Coming Up on Cubs Central…
The Iowa Cubs get a sneak peak this week and Greg Zumach will have another of his "System on the Rise" series. I have a couple of things percolating in my brain. Whether I can get them dictated, edited, and then downloaded to a computer is another story.
Jam of the Week
I just love solo George Harrison. Here's his little retort to the "My Sweet Lord" lawsuit.