It was a pretty busy week here at North Side Bound. They were a lot of prospect things happening. Many of those we already covered like "The Athletic's Top 20 Cubs Prospects" and Baseball Prospectus dropping the Cubs in at 7 on their farm system rankings.
One story we did not cover this week was an article by Baseball America that called the Cubs one of the five farm systems who could really rise up their rankings over the next year. I totally agree with that sentiment and I think their ranking of the Cubs at number 15 is probably pretty close to where they're actually at until some of the kids can get out and prove themselves at the lower levels of the system and get to AA, some possibly by the end of the year.
We also saw the Cubs finally released their managerial assignments this week and Greg Huss made this cool graphic with all the details.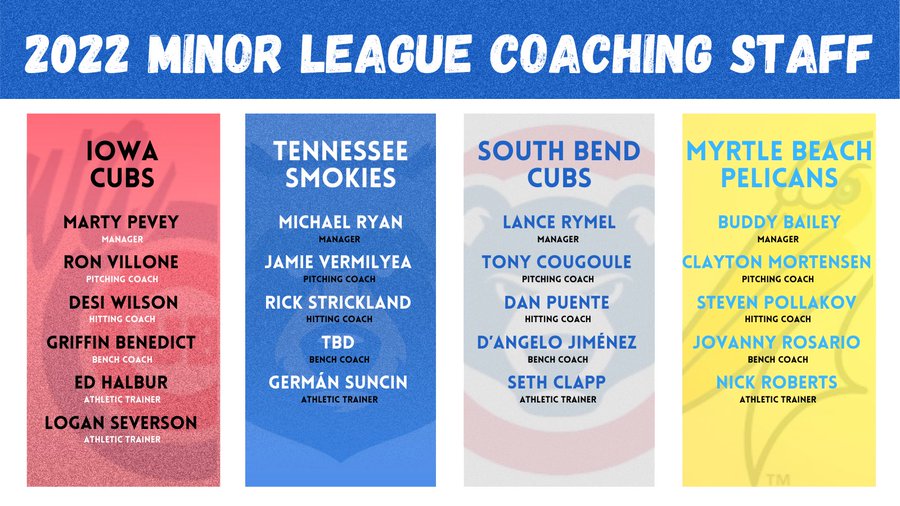 Take of the Week
As these new prospect lists dropped this week, I began checking out about how many of the top 100 prospects at MLB Pipeline are likely to disappear off the list this year. With the pandemic sort of scrunching a couple of classes together, there are a lot of players who are going to be making their professional debut this spring and summer and we could see between 35 to 40 players move off the top 100 list. That's a pretty high turnover in one season.
As a result, there are a lot of things that could happen as it pertains to the Cubs.
We could see Brennen Davis as a top 10 prospect fairly easy this summer until he 135 MLB at-bats. We could also see several Cubs pop on a top 100 list as a result. It's going to vary from publication to publication, but I would not be surprised to see seven names appear somewhere on a list of some kind or by somebody. We could see Kevin Alcântara, James Triantos, Pete Crow Armstrong, Cristian Hernandez, Jordan Wicks or Owen Caissie all be mentioned.
Baseball Prospectus is definitely not going to agree with everybody while Baseball America and MLB Pipeline could be pretty similar on their top 100s. Kylie McDaniel of ESPN is going to be different from Keith Law of The Athletic and Prospects Live is often in outlier status along with FanGraphs.
Prospect List Standings
With just two major prospect lists left to go, I totaled up the prospect point standings earlier this week. Brennen Davis is the unanimous leader in the clubhouse with 60 points. He is closely followed by Kevin Alcântara in second with 40 while Cristian Hernandez is in third place and Pete Crow-Armstrong and Owen Caissie are in a dead heat in fourth and fifth respectively. It looks like Jordan Wicks, James Triantos, and Reggie Preciado will be in the top 10 and it's pretty iffy after that depending upon what ESPN and MLB Pipeline end up releasing either this month or next. Caleb Kilian and Brailyn Marquez currently sit at 9 and 10, but anyone could sneak in there like DJ Herz, who has only appeared on one list besides Northside Bound's. That's an interesting thought.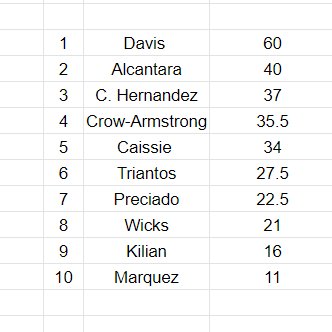 ---
Card of the Week
MLB Draft News
Baseball America also dropped their first full round mock draft this week. They had prep right handed pitcher Dylan Lesko, a favorite of mine, going to the Cubs at number seven. The Cubs are not going to have a shortage of elite guys to pick from at the spot. I really like Lesko because he is a possible top of the rotation arm. There aren't many in this draft and if he's the best one and, if he's available, it's going to be extremely hard to pass on a guy who could be an ace for your team for several years. Unless somebody drops from the top six, which is a distinct possibility due to signability and other teams signing underslot guys above them, it's gonna be very hard for the Cubs to pass on that kind of talent.
A Retirement
Word leaked out yesterday the 1B Tyler Durna is retiring. Durna had a blistering spring in 2019 after getting drafted in 2018 out of UC San Diego in the 15th round. He was the first 1B the Cubs had taken since 2012. He hit .364 for South Bend that spring before getting promoted to Myrtle Beach but he was injured for most of the second half. When he returned to now High-A South Bend this spring, Durna struggled with a wrist/hand injury in May and he never seemed to get on track all year hitting just .232 on the year.
Video of the Week
Max Bain and Bryce Windham get a hard start in Michigan ahead of Mesa.
Upcoming Stuff at North Side Bound
Greg Zumach will be rolling a second post soon about some more offseason changes players have made. I will have my affiliate sneak peek of South Bend on Tuesday and then I'll have a profile of catcher Moises Ballesteros on Thursday.
I am also working on an article about who I think will be the prospects that get promoted first. I have to find some time this weekend to write it because I'm going to be pretty busy the next few weeks at school through March 10. I have five conference academic meets, an IHSA regional, and a conference tournament to get in starting this upcoming Thursday. I'm kind of excited because we did not have conference play in 2021 due to the pandemic. We only competed in regionals. It is going to be fun and I will update you on how the team does.
Jam of the Week – Burn and Shine – The Posies
They could not have picked a worse time to release their first few records which was the same time as when Grunge exploded, but this band kicked butt everyday of the week and twice on Sundays. I still think they are the most underrated band of the 90s.