One of the most pleasant surprises of last summer was the breakout season by Gabriel Jaramillo. The 23-year-old out of Venezuela made his stateside debut in 2021 after last pitching in 2018 in the Dominican. Armed with a mid-90s fastball and a developing slider, Jaramillo pitched at two levels at Myrtle Beach and South Bend and did so impressively in his 2 and a 1/2 month stay.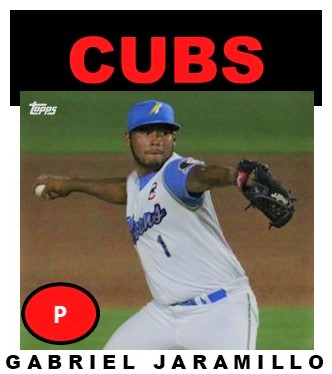 Basic Info
Height – 6-foot-1
Weight – 176
Age – 23
From – Maracay, Venezuela
Signed as an international free agent in July, 2018.
Jaramillo is what I like to call a late bloomer. He didn't sign him with the Cubs until he was 19-years-old. He only pitched 3.2 innings after signing in 2018. He missed the rest of that season and all of 2019 with an arm injury. Throw in the pandemic and I began to wonder if he was a ghost, similar to Danis Correa.
On June 1 last summer, I got my answer. Jaramillo was moved from extended spring training to Myrtle Beach and did not disappoint. He had a 2.33 ERA over 38.2 innings as a Pelican. In addition, he struck out 49 and had a .162 batting average against.
When I watched the Pelicans games on MLB TV, I was impressed with his fastball as it had some life to it, especially up in the zone. He matched that with a nice breaking ball. Take a look for yourself.
After two months with the Pelicans, Jaramillo made his way to South Bend right at the beginning of September. I got to see him quite a bit the last two weeks of the year in Beloit and the Quad Cities. He pitched a total of four games for the Cubs and I even got to see him up close and personal in side sessions.
When I go to the Quad Cities to see a game, I get there about two hours before game time. I get to see the players go through the workouts, maybe see some batting practice, but in Davenport, they have this picnic area down by the visiting bullpen. I get to sit right there within 10 feet of two guys throwing 90+ miles an hour and I get to see and hear what they're working on. 
For Jaramillo, the Cubs were working on a slider with him. If he can get that down by the spring, that's gonna be a pretty formidable three pitch mix out of the pen. What impressed me in that side session was how willing Jaramillo was to take instruction from pitching coach Tony Cougoule.
2022 To-Do List
1. Stay Healthy
If Jaramillo comes in to camp next year in good shape, he's more than likely going to make his way to South Bend at least to start the year. If he can stay healthy he could easily make his way to Tennessee by the middle of the year.
2. That Third Pitch
Most guys can get by in Low-Class A as relievers with just two pitches. But if you're going to take the next step to get to AA, a definite third pitch is needed. Jaramillo doesn't need it right away, it's something he can work on all spring to find the one of the best compliments his fastball and curveball right now.
Jaramillo will be 23 for all of next season and won't turn 24 until November. He is still relatively young with a low mileage arm after missing 2 full seasons and I'll be hopeful that he can carry over what success he had last year into 2022.