Wait? There was a Weekly – Part 1? Yes indeed. There was so much to cover this week, I wrote a part 1 yesterday afternoon and this is the sequel, part 2. Enjoy!
A Little Hype Video to Get Your Day Started
Spring Training is about a month away for minor leagues and Riley Martin is getting ready.
100% Pure Speculation from a Picture
One interesting resting aspect of this week was that we got to see more than just pictures of Cristian Hernandez. John Antonoff was able to capture a nice slow motion swing by Cristian in all his glory that Greg Huss talked about on Wednesday. Another piece of information that needs some explaining is a picture of Hernandez talking with his hitting coach from the Dominican, Stephen Pollakov.
It's rare for the Dominican coaches to come north for any kind of instructs camp, which makes me wonder if Pollakov is going to have a stateside assignment. He could be assigned almost anywhere but I'm wondering if the Cubs are going to continue Pollakov's tutelage of Hernandez to provide some continuity going from the Dominican to playing stateside. As we discussed before, the Cubs have a lot of options on where to assign Hernandez this year. He could start out in Myrtle Beach, he could go to extended spring and then Myrtle, or he could go to extended spring and then Mesa. Playing at Myrtle Beach doesn't look out of the realm of possibility and would be an extremely aggressive assignment for the now 18-year-old.
---
Luis Vazquez and Nelson Velazquez Never Stop Playing
Both Luis Vazquez and Nelson Velazquez are representing Puerto Rico in the Caribbean series this week. Both were part of the Criollos championship team in the Roberto Clemente Puerto Rican Winter League. It almost seems like the two have never stopped playing since the end of 2021 season. Both then played in the Arizona Fall League before heading to Puerto Rico. Let's hope they don't get too burnt out and get some time off before spring training begins in early March.
Scouting News
Congratulations go out to Luis Eljaua, the Cubs international Scouting Director, who was named by Major League Baseball as the international scout of the year!
---
Draft League Update
The draft league proved to be successful for many teams including the Cubs who wound up taking three players from the league. They took SS Christian Olivo, RHP Dominic Hambley and LHRP Chase Watkins. MLB is going to continue the league again this year with a few changes and I would not be surprised to see the Cubs revisit taking some players from here on days two and three of the draft.
There will be two halves, with the first half concluding on July 16 and featuring amateur, Draft-eligible players. After a break that matches up with the big league All-Star break, the second half will start on July 22 and run through Sept. 6, with the addition of a Championship Game. The second half will feature professional players who no longer have amateur eligibility or want to start their pro careers.
Draft Prospect News
In a somewhat devastating blow, Arkansas ace right handed pitcher Peyton Pallete will be undergoing Tommy John Surgery and miss all of the 2022 season for the Razorbacks. Pallette was ranked between seven and 15 depending on most boards for the upcoming draft. He could still be available for the Cubs in the second round but he also could redshirt this year and have two more years of eligibility. He has a lot of options at his disposal for his future. 
One player who is starting to rise up boards is 17-year-old Cam Collier who reclassified from the 2023 draft this week. He is now attending Chipola Junior College in Florida. He is already ranked number 20 on MLB Pipeline's Top 100. He has a great set of hands for a kid that young in a 6-foot-2 and 210 growing frame. I am all in on this kid.
Here's what Prospects Live had to say about this up-and-coming prospect
Collier has a bat path that big league scouts drool over. He doesn't sell out for loft and instead generates his power inducing backspin on the baseball and driving through pitches in the zone. On the dirt, Collier is certainly destined for third base where his plus arm soft hands project well for the position.
---
Obvious Shirts Shirt of the Week
Welcome to my somewhat new feature! With Obvious Shirts now supplying shirts for two affiliates in South Bend and Myrtle Beach, I thought it would be fun to show off some of the company's wonderful shirts. As the President of the Kohl Franklin Fan Club, it is my duty and privilege to show you this wonderful new item!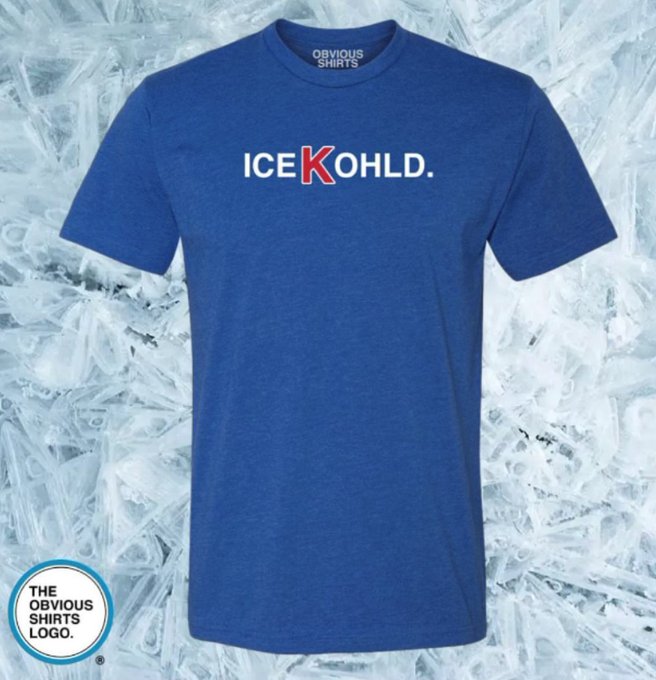 ---
Upcoming Articles
Since it is the last week of January, that means the offseason series are wrapping up. The position rankings finished last week on the 20th while the "To-Do List" profiles and mailbag posts will wrap up over the next five days. Our Roundtable Series will continue year round and we had one yesterday on hitters we see as sleepers while next week we discuss possible sleeper pitchers. Greg Zumach has some Draft Q & A going on today and tomorrow around noon. Check back later for those wonderful articles.
Once February gets here, we will have some brand new content for you. Greg Zumach has been busy doing interviews the past few weeks and you'll hopefully get to start seeing those the week of February 8. I will also be dropping a very short series called "Affiliate Sneak Peeks" where I do a short preview of one aspect about each affiliate for the coming year. There will be six total posts of those spread out over three weeks. All four of us will be back with our roundtable discussion again next weekend as we look at starting pitchers who could be sleepers this year. Make sure and check out yesterday's hitters we think could be sleepers.
Also – The Best News of the Week
My wife finally finished her radiation treatments – all 25 of them! She's good to go and cancer-free and she doesn't have to set foot in a doctor's office for 3 months!
So, to honor her wishes for the Jam of the Week, let's crank up one of her favorite songs by Boston! "It's been such a long time" is a most fitting lyric this week.