Felix Stevens – Picture by Rich Biesterfeld
When the 2022 baseball season begins, the Myrtle Beach Pelicans will have quite the outfield. Youngsters Owen Caissie, Pete Crow–Armstrong, Kevin Alcântara, Ezequiel Pagan, and Felix Stevens will be competing for playing time in the field as well as getting some work in at first base and DH. Of the five, Felix Stevens probably has the most potential for power as he's already inside a man's body. In addition, he wound up playing more at first last year as the year progressed.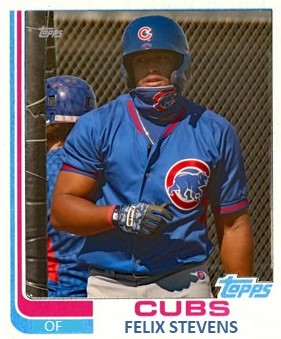 Basic Information
Age – 22
Height – 6-foot-4
Weight – 225
Throws – Right
Bats – Right
From – Havana, Cuba
Acquired – Signed as an International Free Agent in March 2019
Before signing with the Cubs in 2019, not much was really known about Stevens and just exactly what he could do. All that was out there was a grainy YouTube video from 2017 which showed a lot of promise including a beautiful swing, and that he was a rather large individual who was not exactly physical sculpted yet.
Stevens' debut in 2019 in the DSL was pretty impressive. He put up good hitting splits every month and he cranked out 4 dingers with 15 RBI in July. When he arrived stateside for instructs over the next year, there was some thought given that he would begin his stateside career in Low-A. He was, after all, a big young man. However, that move to Myrtle Beach did not happen…initially.
Instead, Stevens wound up this spring in Extended Spring Training and then made his way to the Arizona Complex League. Over 30 games in Mesa, Stevens did well hitting .298 with a .365 OBP while cranking out 7 homers and driving in 25 for a wRC+ of 143. The only concern, and it's a big one, is that he struck out 32% of the time. 
Stevens ended the season in Myrtle Beach for about ten days. He appeared in 5 games and got in 15 ABs, not very much of a sample size. It is expected he will be there again to start 2022. 
"To-Do" List for 2022
When it comes to next year, Stevens' "To-Do List" is pretty small.
1. Visit the Weight Room
Although Stevens is a good sized prospect now, he could refine his body even more in the wright room to be more streamlined to withstand the rigors of a 140-game season.
2. He Needs to Keep Hitting. 
Stevens was on a 30 HR pace last year for a full MiLB season. Although, playing at Myrtle Beach is not going to be as conducive to hitting HRs as Mesa was. However, Stevens has shown that he can hit for average at both spots in rookie ball. Odds are that he could continue that trend as well as show power if can accomplish number 3.
3. Cut Down on Ks 
Stevens' is really going to have cut his K rate way down. He struck out at 29.5% in 2019 and 32% in 2021. Neither of those numbers is inspiring. Getting that rate down to 25% and eventually 20% would be a major improvement for next year. 
One thing that could drive Stevens' performance is that he is going to have some heady competition for playing time with the aforementioned players in paragraph number one. It won't be easy but it can be done.
I am pumped to see him get his whacks next summer, but at good pitches that he can drive.