Usually, the buzz on a player who is about ready to breakout starts to happen at some point in Arizona. It could be during the season, Rookie League, or instructs, whether it be fall or winter. Such is the case this year as right-handed starting pitcher Luis Devers is getting some buzz around the system. Who knows, maybe Cub execs Matt Dorey or Craig Breslow will talk him up at some point this winter as the two start making the Podcast rounds online.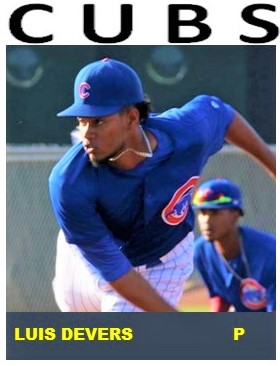 Basic Info
Age – 21
Height – 6-foot-3
Weight – 178
Throws – Right
Signed as an international free agent in July 2017
From Samana, Dominican republic
When Devers signed with the Cubs, he had just turned 17. He debuted the next year in the Dominican Summer League at the age of 18 and seemed to hold his own as he had a 2.60 ERA in 14 games. He threw 55 innings and struck out 48. Normally, that's good enough to get you a trip stateside. For whatever reason, the Cubs decided to keep Devers in the Dominican one more year.
In 2019, Devers had almost identical stats. He made 14 starts, he had a 2.66 ERA, he struck out 59 in 54.1 innings but he did lower his WHIP and batting average against. Those are two pretty good seasons as anything under three in the DSL bodes well for the future.
This past summer, Devers showed up stateside and did not disappoint. At the end of the year, he actually was named an All-Star in the Complex League just after he was promoted to Myrtle Beach at the end of the year for two games.
Over 51.1 innings, Devers had a 3.33 ERA and struck out 54 guys well having a .245 batting average against, which is pretty decent in Arizona as it is known as a hitters league. He did appear in Myrtle Beach with a 6.00 ERA but that was only over three innings. I don't think you can hold those stats as a harbinger of things to come.
A couple weeks after the season ended, Devers was back in Arizona and dazzled the eye of Arizona Phil of The Cub Reporter who wrote:
So, when the 2022 season begins Devers will be 21 for about a month and then turn 22. That's still relatively young for a pitcher at that level. Still, there are some things he needs to work on for 2022.
1. It's a Long Season
The pandemic is going to affect pitchers for a couple of years as they build their arm strength back up. Granted, Devers has not really thrown more than 60 innings, but you still don't wanna increase those innings 40% between two given years. Being that he threw just 54 innings this year total the Cubs would probably like him to throw 80 innings at a minimum and 100 tops. In order for him to do that, he's going to have to be in really good shape at the beginning of the year and stay that way throughout the year.
2. Short Memory
For Devers, he will be pitching in a pitcher's park, but there will be times where he struggles depending upon the opposition. He's going to have to have a short memory going from start to start as he begins to make his way through the league. Last year, the Pelicans only played a few teams. In 2022, they're playing most of the teams in the league. So he'll have a variety of players to pitch to rather than just four other teams. As a result, he will have an advantage that first time through the order for most of the season.
I'm excited to see him stretched out quite a bit more this summer. I'm wondering if the Cubs will start him off slow with two or three innings a start and work his way up to five innings just like they did this last year. It'll be interesting to see how the Cubs handle these young guys to try and get them to a full complement of innings.