Brailyn Marquez – Picture by Todd Johnson
Carlos Archila@carchila1 : Any predictions on who makes their MLB debut next year? Davis-June? Morel/Jensen/Killian-August?
Well, I think you did half my job for me. In all honesty, though, most of the prospects you mentioned will have their future decided by what happens in Chicago. The Cubs could still go out this winter and continue to add talent. If they are in contention for a playoff spot, outside of Brennen Davis, we might not see too many of them come up to Chicago this year. Then again, sometimes a prospect can bring a little energy, a little swag to the party and that could be what the club needs going down the stretch.
However, if the Cubs start trading away MLB assets, this could be an entirely different post. Just based on the early returns of November before the lockout, it looked like the Cubs were in a buy-now mode.
It is little bit hard to predict just exactly who will get promoted to Chicago right now because the prospect picked is going to be selected based upon how they're performing during the season. I can give you names of possible guys, but until they go out and produce it's just all speculation.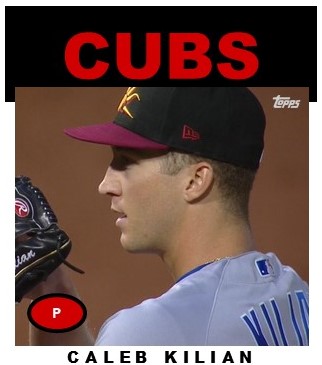 The three players at the top of my list could arrive at any point are Brennen Davis, Cory Abbott, and Caleb Killian. They could arrive anytime from late May to the end of the year. Kilian might be a guy who could take a little longer just because it's unclear just exactly where he's going to start 2022. I'd like to say Iowa but Tennessee might be a better landing spot for a month or so. There's no rule that says the Cubs can't bring him up from Double-A.
When it comes to relievers, Ben Leeper should also be in this conversation and I would not be surprised to see him up at any time after the first three weeks of the season. In fact, he's probably going to be the first one up unless there's an injury in the starting rotation.
As for Ethan Roberts, he's out there working hard and we will hopefully see him at some point this year in Chicago and that will be one exciting story to cover! Since he is already on the 40-man roster, that makes that transaction a more likely opportunity.
I am also pulling for Cayne Ueckert to get a call. His fastball-slider combo is pretty vicious and we will see how that plays at Iowa to start the season.
The wildcard when it comes to pitchers is Brailyn Marquez. Depending on how quickly, and accurately, he recovers from shoulder issues from 2021, we could see him as early as May or as late as September.
The wild card hitter is none other than Chris Morel, who has some maturing to do at the plate. Morel's ability to play all over the field, along with Andy Weber, make them a more valuable piece. However, would that be in a bench role or an everyday role?
When it comes to most other position players, I don't necessarily see them forcing their way from Des Moines to Chicago based on their performance. I'm hoping that Alfonso Rivas makes the club out of spring training as he's really the only guy that could step in and perform everyday at the MLB level aside from Davis when it comes to position players.
If the Cubs are out of it by July 1, we could see anybody and everybody in Chicago those last three months to get a sneak peek for 2023 and beyond.