Normally, I start piecing together The Weekly post for Sunday on Wednesdays. I actually don't start writing it, though,  until Friday morning on my walk. Anyway, by the middle of Friday afternoon, I just had way too much information for one post as there was a lot of stuff that went on this week, most of which we have covered at North Side Bound. Still, there was one specific area that kept adding more and more information throughout the week and that was more forthcoming details about the Cubs' 2022 international free agents.
Last Saturday, I detailed throughout the course of the day the Cubs' comings and goings with international free agents. One thing that did strike me as odd was that Adan Sanchez was out playing in a tournament somewhere on Saturday with his team in Panama. He was not present at any of the Cubs main signing ceremonies. That changed on Monday when he officially signed for about $1.5 million.
Throughout the course of the week, more information kept coming in. One thing that really caught my eye early in the week was a picture of Alexis Hernandez signing with his mother and father in the picture. Alexis looks very similar physically to Cristian. But what nobody really caught on was that there was another little Hernandez brother in the picture with Alexis and his parents. He even looks like a mini-Alexis or mini-Cristian.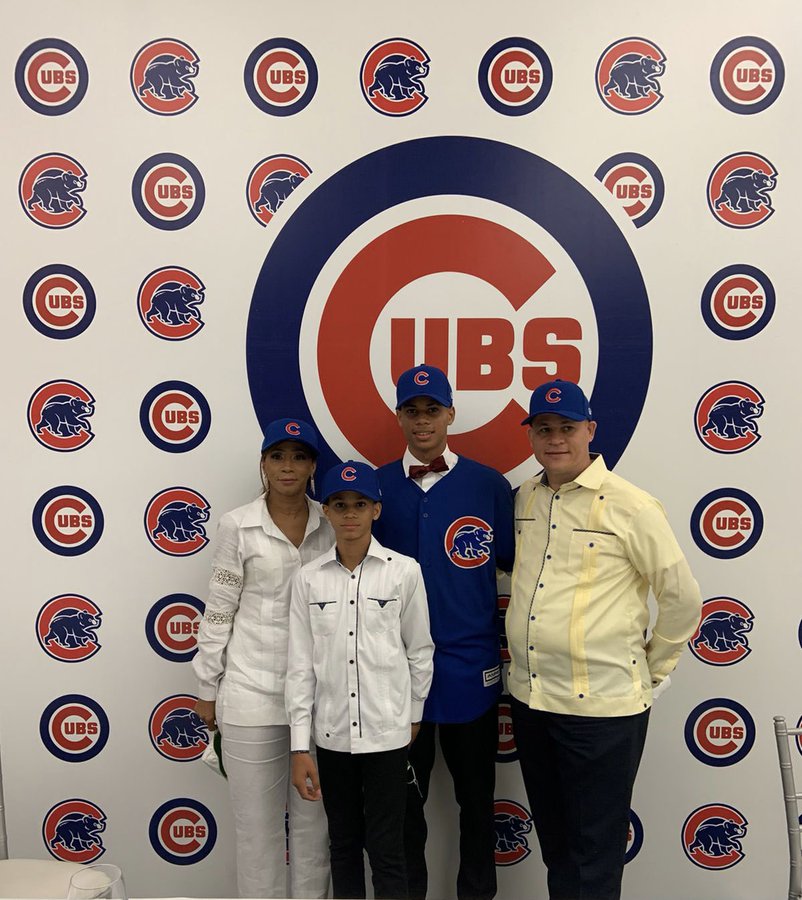 Early in the week, the Cubs signed their very first player ever from the island of Aruba. Daniel Benschop is a supposedly speedy outfielder with good physicality after having previously played shortstop earlier as a youngster. One thing I really like about him is I was able to see two videos of him this week. One was from 2019 where he had this gigantic leg kick and toe tap from when he was just 14. In the video you see below, Daniel has pretty much made that disappear and his swing, which still needs some work as a most 16-year-old swings do, looks much better.
On Friday, Ben Badler of Baseball America also announced that the Cubs had signed right-handed pitcher Orlando Reyes from the Dominican Republic. It was also announced yesterday that the Cubs had signed catcher Abel de Leon from Panama. That brings the total collection of IFAs to date up to 15.
We should see more and more pitchers sign over the next few months before the season begins in the middle of June in the Dominican.
MLB.com writer Jordan Bastian spoke with the Cubs Director of international scouting Louis Eljaua about some of the talents of the new IFA prospects. Eljaua spoke lesser known guys as well as the top talents like Adan Sanchez and where he will play as a Cub. He said: 
"He's got a strong arm. He's very headsy. He's a leader. So, yeah, everything that goes with playing that position and excelling behind the plate, he's got that in his toolbox. We expect him to handle the transition fairly easily."
Also, I really like the fact that Eljaua described Jefferson Rojas as a bat first shortstop who also has the ability to play elsewhere on the diamond, not just at short.
One player I did not know much about on signing day was catcher Yadel Diaz, who apparently has two brothers already in the minors and heading towards the majors fairly quickly. In other words, his pedigree is strong.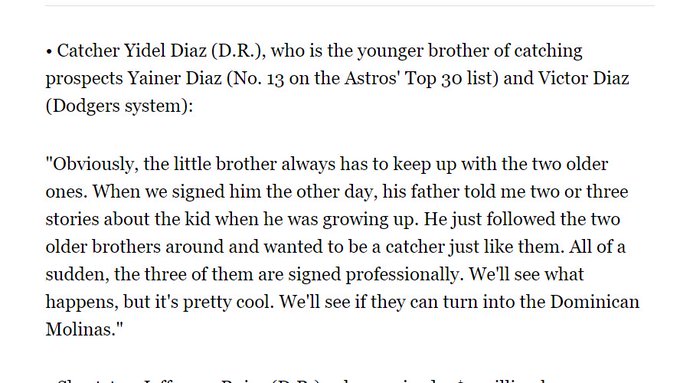 When it came to outfielder Josefrailin Alcantara, Eljaua almost gushed in terms of talent that the young 16-year-old outfielder has.
"He's a left-handed-hitting, right-handed-throwing center fielder. We think he's got the athleticism to stay in center long-term. He's a five-tool guy. I mean, he can run, he can throw, he's got power. He's got a chance to be more of a physical guy that can play that position and bring some power to his game and really impact the game in many different ways. He's just an exciting type of prospect."
The most mysterious part of any international free-agent class are the pitchers that are signed. A lot can happen in terms of physical growth for an IFA pitcher between the ages of 16 and 18. The Cubs have been holding off the past few years in signing a lot of young arms, tending to go more with late blooming kids who are more physical and have a better frame for withstanding the rigors of becoming a starter in the minors.
Still, here is what Eljaua said about Freilyn Silverio who actually signed for a $100,000 bonus:
"He has the potential to be a starter. He's got a pretty good three-pitch mix. We've seen him up to 92 [mph] right now, recently, and probably sits 89-91 for the most part. And we still project more in the tank long-term. His curveball is his best pitch right now. It's a potential out pitch. And he's got a feel for a changeup."
A lot of things are still in play when it comes to international free agency. I would not be surprised to see the Cubs eventually sign over 30 players when everything is all said and done. The Cubs are going to have two teams in Boca Chica this summer. It'll be interesting to see just exactly who all comes north in June to play in Mesa. I think some of those decisions are still being worked out as we speak, especially when it comes to pitching. I'm not so sure we're going to see any of this year's high profile international free agents head north. But if there is one, it might be Sanchez.