Miguel Fabrizio – Picture via MiLB
The history of Cubs prospects is littered with players that have done well in rookie league and petered out once they got to class A. It's not uncommon to see a guy do well at one level and then struggle at the next. However, It's when a player excels at two levels, the chances of his success at the next level are pretty decent. Such is the case with Miguel Fabrizio, a 2021 Arizona Complex League All-Star.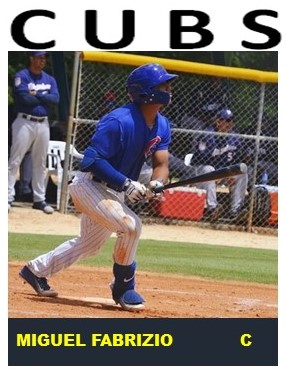 Basic Information
Age – 21
Height – 5 foot 11
Weight – 178
Bats – Left
Throws – right
Signed as an international free agent 2018
From Venezuela
For Miguel Fabrizio, he's put together two good seasons in a row in the Dominican and in Arizona. As a result, his odds of success and doing well in class A next year are much higher than the average player.
When Fabrizio signed, he had about two weeks of training and then he was thrown into the fire in the Dominican Summer league in 2018. Between the two DSL teams, he hit .277 in 37 games as a 17-year-old. The Cubs kept him in the Dominican again in 2019 and he held his own hitting .270 in 41 games. It's unclear why he stayed in the Dominican for two years, but it was probably more about him learning the catching position and gaining experience behind the plate.
When he showed up in Arizona this summer, he was part of a crowded corps of catchers in Mesa. Clearly, Fabrizio distanced himself from the pack by hitting .372 with a .441 on base percentage. He was also a major run producer as drove in 28 over 33 games with a 166 wRC+. He did get a promotion late in the year to Myrtle Beach but he only got in two games and went 0/6. 
Heading into 2022, things bode well for Fabrizio as he's going to be playing with a talented team but he's also going to be in competition with several other catchers on a daily basis. Last year, he caught 10 times but played first base for more than half his games. I look for that to continue in 2022, especially if his bat is as productive as it was last year.
2022 to Do List
1. Have bat, will play
This is pure and simple. If Fabrizio shows up and starts hitting the ball all over the ball park like he did in 2021, he's going to be playing somewhere every day. Cubs will find a spot in the lineup for him and probably in the field as well. To be quite frank, he may catch some, but probably not much. He's going to have some heavy competition to stay behind the plate. As a first baseman, he's not exactly the ideal size, but if the bat produces, no one is going to mind.
2. Get ready for the grind
I follow Fabrizio on Instagram and he is showing several pictures and videos of himself getting ready for next season. That's good that he is starting early but he's also going to have to maintain his body for 140 games. It's going to be much easier to do at first base than at catcher.
Taking into account the lineup he's going to be playing with, Fabrizio is going to have plenty of opportunities to hit the baseball and drive in runs. He will be 21-years-old for all of the 2022 season. How much HR power he generates is not really an issue right now as there's plenty of time to develop that later.