This week was a strange one. Between going back to teaching, snow, high winds, and cold temps, I was not really focused on baseball news most days. Still, the baseball world went on living and breathing. 
The baseball news of the week was the fact that the New York Times purchased The Athletic. When The Athletic first came out and started signing a bunch of very popular and well-known writers, I wondered just exactly how they could employ so many high profile writers and be profitable as a startup. With the amount of local coverage they had, those concerns grew for me. On top of that, The Athletic also had several beat reporters for certain NFL teams.
It was also reported that The Athletic lost $41 million in 2021. At some point, the company is going to have to balance the spreadsheet. The fastest way to do that normally is by cutting salaries. On the other hand, this sale might be the way the New York Times expands its brand by taking the company under its wings and infuse such much needed capital into The Athletic. It is going to interesting to see how this all shakes out the next few months.
In addition to that non-Cubs news, it was officially announced that Fanatics purchased Topps, Inc. As most of you who have followed me for years at Cubs Central know, I love baseball cards, more specifically, Topps cards that I collected in my youth. I am all about making cards on my own of Cubs prospects in old 60s, 70s, and 80s Topps' frames. Anyway, I am all for Fanatics buying Topps as it secures the company making cards for what will hopefully be another generation of baseball fans. 
 As for Actual MiLB News….
Baseball Prospectus dropped the third major prospect list of the offseason on Friday. No surprise, Brennen Davis sat atop that list and should be sitting at number one on every list this winter. We covered it for you on Friday and noted how young their list came across. 
In the meantime, I have been keeping track of the 4 released prospect lists (which includes our list) and assigning points to each prospect based on where they are ranked. Brennen Davis leads with 40 points followed by Kevin Alcantara with 28, Cristian Hernandez with 23, and Owen Caissie with 22. In fact, only four players are on all four lists – Davis, Alcantara, Caissie, and Jordan Wicks. James Triantos, Reggie Preciado, Caleb Kilian, and Pete Crow-Armstrong are on three of the lists  In other words, there's not a lot of consensus on who should be ranked where.   
Picture of the Week
After seeing John Antonoff's re-tweet of a pic of Kohl Franklin, Ryan Jensen, and Cam Sanders walking to spring training last year, I am so ready for spring training this year. 
A New Mock Draft
Prospects Live dropped their first mock draft this week and they had Dylan Lesko falling right into the Cubs' lap. That is something I would be 100% behind. In fact, I would probably be OK with any future top of the rotation starter being available for the Cubs in that spot. Most rankings right now are pretty bat heavy at the top. But the Cubs might not have a chance to basically get an ace for a long time unless 2022 turns into a train wreck.
DJ Herz Gets Some More Pub
Jordan Bastian wrote a nice piece about how DJ Herz really broke out in 21. It's a cool article with some nice quotes by Matt Dorey, the Cubs Director of Player Development, and DJ. Here are my favorite quotes from the article. 
"The [shutdown] was bad for a lot of people. But I think it was a blessing in disguise for me. I was 19 still, and I'm a late bloomer, so my body was still catching up." […] However, narrowing his focus to one sport since signing with Chicago has actually been beneficial. He no longer feels pulled in so many directions.
Card of the Week
I love the 1999 card from Topps and this pic by Stephanie Lynn of Kevin Made is a perfect fit.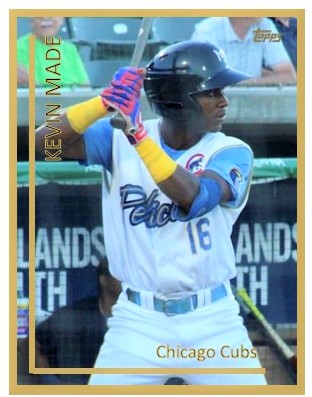 Tweet of the Week
As a big Illini basketball fan, it was a good week to see Kofi just go off against Minnesota and Maryland.
Coming up Next Week
On Monday, I'm going to do a little mixed mailbag as I'll be answering several questions about the Cubs' system. On Tuesday, Carlos Garcia, my breakout pitcher for 2022, will get a profile and a To-Do List. Later in the week, the left-handed starting pitchers in the system get ranked as they have moved up to the second ranked position in the system.
Jam of the Week
My brain sometimes feels like this song…just a lot going on these days. There is a massive amount of noise going on in this song by The Police. I think that is its charm to me.