Johzan Oquendo – Pic by Rich Biesterfeld
When the Cubs took Johzan Oquendo in the 16th round of the 2019 MLB Draft out of high school in Puerto Rico, I wondered aloud if he was going to be a project. The Cubs have a history of drafting kids out of Puerto Rico on day two of the draft in the past few years. But up to 2019, they all were hitters, and most of those hitters were shortstops. To take a pitcher out of Puerto Rico was a new thing. I was interested as to when he would debut and how much time he would spend in Arizona. I wound up waiting for quite a while as he did not pitch at all in 2019 and then the pandemic further delayed his debut.
Basic Info
Age: 20, turns 21 in January
Throws: Right
Height: 6-foot-2
Weight: 180
16th round pick, 2019 MLB Draft
From Leadership Christian Academy, Guaynabo Puerto Rico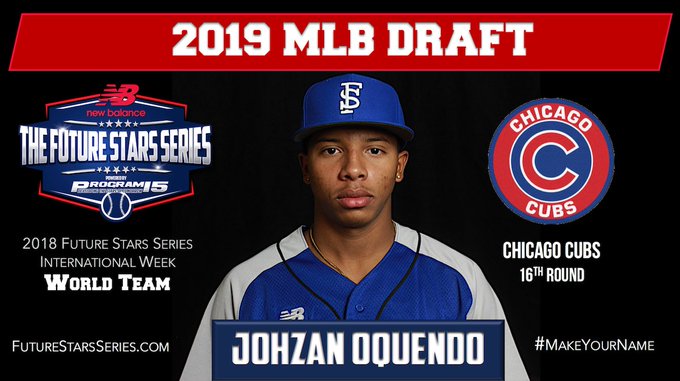 I still remember on draft day trying to find anything I possibly could on Oquendo. It was very hard to find almost anything on Twitter. There was some stuff online but it didn't really give you a good idea as to exactly what he could throw and how fast he could throw it. I did find this video and that he was going to attend a junior college in Miami if he did not sign with the Cubs. 
As you can see in the video above, he has a nice frame to build and looks fairly smooth but there was some effort to that delivery way back in the fall of 2018. That was a long time ago.
For whatever reason, Oquendo did not pitch after signing. And that debut that I talked about for 2019, finally happened in 2021 in the Arizona Complex League. It was a bit of a roller coaster first season.
The first six weeks of Oquendo's debut season last summer went really well. He threw 12 innings in relief and had an ERA under one. At the time, I thought that the Cubs may have found themselves something here and I wondered how he would do being stretched out a little more.
I did not have to wait very long. Unfortunately, Oquendo's transition into August did not go well as he struggled with the big inning throughout the month. That continued into September.
It's a little hard to assess his talent just based on some box scores. But his to-do list for 2022 might be more for the Cubs than it is for him.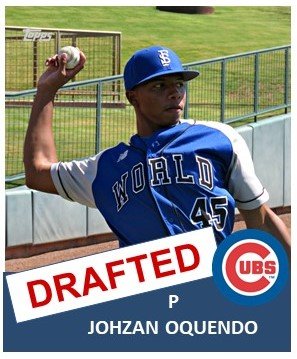 1. Time is not an issue
He is still going to be 21-years-old for the entire 2022 season and there's no rush on trying to get him up to Myrtle Beach. They can take their time and wait until he's producing at a much higher level.
2. His role for 2022 is not permanent
What the Cubs need to do is decide what would be best for Oquendo going forward. Is it going to be as a starter or a reliever? Once the Cubs do that, they can then begin working on building him up and working towards that goal. That might include going to spring training and jumping to extended spring training instead of Myrtle Beach. Then, when the time is right they could move him up to Myrtle Beach in a relief role. If the Cubs envision him as a starter, he's probably going to stay in Mesa through extended spring training so that he can be fully stretched out.
3. A Baseline of Data
Oquendo did strike out 49 guys in 41.1 IP this past summer. That is something for the Cubs to build on. They can take that data and figure out what worked for him and build on top of that. They should find out what needs to improve and convince Johzan to make some adjustments to improve his pitches.
One thing that could change everything for Oquendo is that he's playing winter ball right now. He's just getting one inning a week but his first three outings resulted in no runs. He may already be building up to 2022.
The thing about young pitching is that it can improve very, very quickly. One new grip or one mechanical adjustment to a delivery can change everything in an instant. How the Cubs tinker with Oquendo is going to be interesting because he's so different from most of the other young prospects. Oquendo probably lacks the game experience that stateside players get growing up. So, him playing in winter ball will get him some extra work and maybe he can learn a thing or two from some of the older pitchers. 
I am more than interested to see him actually pitching a game in Myrtle Beach. Hopefully, that will come in the first half of 2022. He's another one of many prospects who would really have benefited from having a short season league to go to in 2022 rather than Mesa or Myrtle Beach.