Richard Gallardo – Pic by Stephanie Lynn
The pandemic had a huge effect on development. However, those hurt the most were probably the youngest players in the system who were either signed as international free agents in 2018 and 2019 or were drafted in 2019 and 2020. Richard Gallardo fits that bill and his full season debut reflected that lack of development. Had there been a 2020 season, Gallardo probably would've been assigned to short season Eugene with a chance to go to South Bend at the end of the year. That did not happen. Instead, Gallardo's first full year stateside at Myrtle Beach was inconsistent but he did flash some of the potential about why the Cubs signed  him.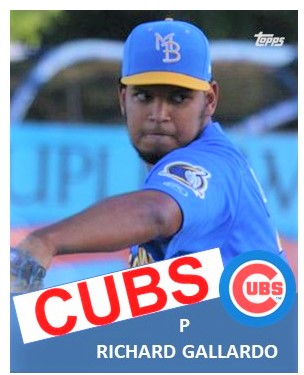 Basic Information
Age – 20
Throws – Right
Height – 6-foot-1
Weight – 180 at signing
From – Maracay, Venezuela
Signed as an international free agent in 2018
In 2018, Gallardo was pretty much rail thin but flashed upper 80s to low 90s fastball, a plus curve, and a pretty solid command of three pitches. He was the highest ranked pitcher in the 2018 international free agent class and the Cubs were able to sign him for a little over $1 million.
Here is what MLB Pipeline's Jesse Sanchez before the signing:
Gallardo made his professional debut in 2019 in the Arizona Rookie League. Gallardo threw a little over 30 innings with a 4.15 ERA and then got a late season bump to Eugene where he made two 2-inning starts and only allowed one run. Just based on that small timeframe, many people were excited to see Gallardo pitch in 2020.
Instead, we had to wait until 2021. And things did not start off well for Gallardo in spring training.
Rumblings began happening from Arizona Phil as he mentioned that Gallardo had been relegated to the bullpen for Myrtle Beach. But before the season could begin, injuries took their toll across the organization and Gallardo was given a spot in the Myrtle Beach rotation to begin the year.
May and June were not good. Occasionally he would flash a good pitch here and there. He was prone to the big inning and he looked like he had put on some weight since Eugene and he just appeared to be relatively thicker than he was in 2019.
For most young Latin pitchers, the number one thing they need to develop is game experience. And Gallardo got that in 2021 and it took a while for him to start putting starts together consistently. In July and August, he looked like the number one international free agent pitcher in his class. He also looked a little thinner and pitched very well as he put up ERAs of 3.42 and 3.91. But by the end of the year, you could tell he was running out of gas. That first full season, especially after missing all of 2020, was a big-time grind. Gallardo got to experience that firsthand and hopefully he will take much better care of himself this winter to be ready to stand the rigors of pitching for 5 to 6 months.
2022 To-Do List
I think it's pretty clear what Gallardo has to do as a 20-year-old heading into High-A (still extremely young for that level) next season.
1. Physical Conditioning
It is unclear at this point if Gallardo's training regimen during the pandemic was part of the reason for his struggles at the beginning of the year or it could've been just a lack of game experience. He went from throwing up a little over 30 innings in 2019 to 91.1 innings in 2021 and that includes one stint on the development list to give him a break in late July. Whether the performance and the conditioning are related, it might just be a coincidence. But still, he's going to really need to take care of himself if he's going to hit 120 innings in 2022. He's already off to a good start this winter as you can see in the video below. Good for him!
2. Mental Toughness
In 2021, most prospects missed the opportunity to play in 30° weather during the first weeks of April in and around the Great Lakes region known as the High-A Central. That's not going to happen in 2022. Gallardo's going to get to experience what it's like to play in temperatures well below what he's accustomed. He's going to have to get that out of his mind and focus on baseball while dressing warmly. Then, it will be over quickly.
3. Learning to Adapt to New Hitters
2022 is going to be a process where he improves from month-to-month against more advanced competition. He's going to be facing a whole new set of batters this year that he's going to have to learn how to attack and adapt. He'll only play against guys he's already faced at the Quad Cities and Lake County a few times while all the guys at all the other affiliates will be new to him. It could be a very challenging year and it could also be a very good year if he can take care of himself this offseason and be in the right frame of mind from day one.
I'm looking forward to seeing Gallardo pitch in person next spring and summer to see just how much he's improved over this winter. I forget that he is still so young and still so advanced. He will only be 20-years-old for most of next season and at High-A. I don't really have a lot of expectations for him, but I do expect him to be better and much improved physically from last year.